Elevate Your Event By Renting Fitzgerald Chairs
Posted in

-

Chair Rentals, Columbia, Event Rentals, Guest Blogger, Rentals, The Lace House, By Invitation Only, Columbia, South Carolina, Tent Rentals, Event Rentals, Wedding Rentals, Tented Events, Wedding Rentals
Reading Time

-

4 minute read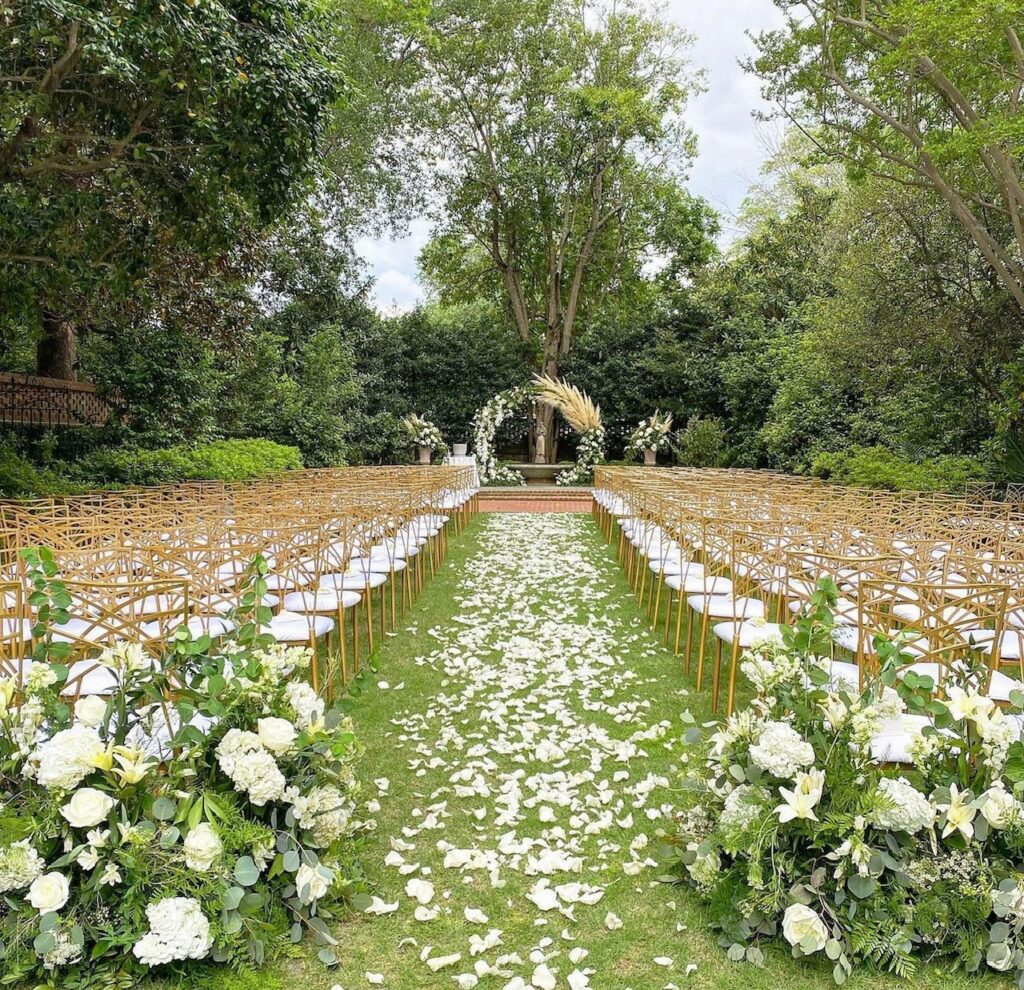 Are you looking for a way to elevate your event? Do you want your wedding to be unique from everyone else? Whether it's a wedding, birthday party, or corporate event, you can always personalize your event by adding an element of design to the occasion. Choosing a unique chair to rent is the perfect solution. That's where Fitzgerald Chairs come in! These chairs are considered one of our specialty chairs and offer a great substitute for standard ballroom chairs. Read on to learn more about how Fitzgerald chairs can help make your next event stand out.
What Are Fitzgerald Chairs?
Fitzgerald chairs are lightweight, elevated chairs perfect for any event. They come in gold and silver finishes with options to swap out cushion colors. These art deco-looking frames are perfect for seating at tables or as audience seating areas. You can easily add an element of design and class to any event with these beautiful pieces.
Why Do Customers Love Them?
Of course we love the Fitzgerald chairs, but what better insight can you get than from a wedding planner who has used them so beautifully in her event designs. This was the perfect opportunity to invite Melanie Murphy, owner and lead planner/designer for the firm By Invitation Only, in Columbis, SC, to collaborate on this blog and share her valuable knowledge on chairs, design and weddings. Join us for some Q&A with Melanie as we discuss how she has used this chair.
What do you like about the Fitzgerald?
What are the factors in using a classic chair vs. an upgrade?
How significant is a chair in your overall design and planning?
Describe the Fitzgerald chair and what designs styles you have used it in?
How has the style of the chair impacted your design choices?
Do you have a favorite? Gold or Silver?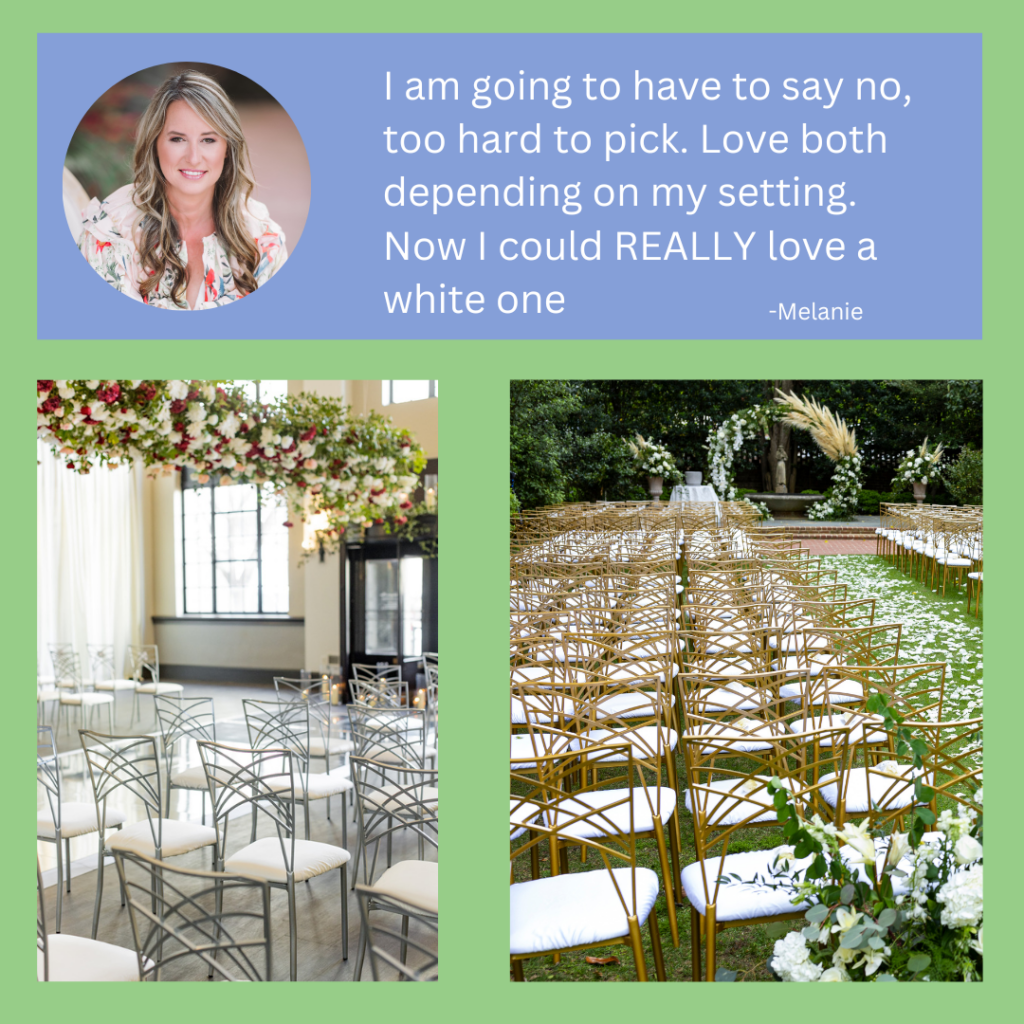 You have used this chair in a variety of applications – indoors, outdoors, ceremony seating, dinner seating… can you comment on the versatility?
When is it good to put a color on the chair pad and when is it best to leave it neutral?
Advice on how to incorporate strong design elements into your event.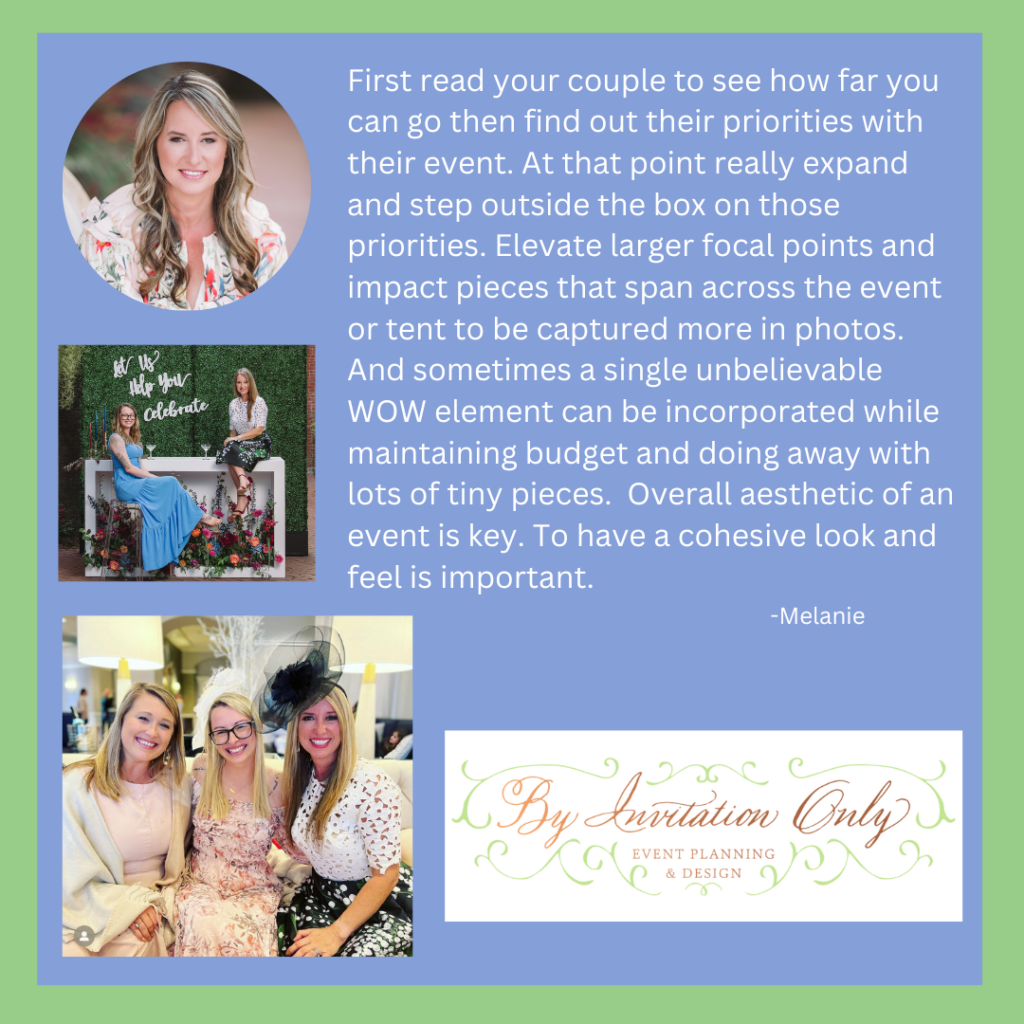 Elevate Your Next Event
Thank you Melanie for sharing your inspiration and design ideas behind renting the Fitzgerald Chair. Your use of them will inspire others to create a one-of-a-kind look for their next event. If you're looking for a way to make your next event truly special, consider adding a touch of style by renting our Fitzgerlad chairs! Not only do they look amazing, but they are lightweight and comfortable too. Your guests will appreciate the added bonus of sitting comfortably while enjoying your special occasion. Our customer service team is available should you need any advice or assistance selecting the right items for your special day – get in touch today and start creating unforgettable memories for tomorrow!
Party Reflections has showrooms in Charlotte, Raleigh, Greensboro and Winston Salem, North Carolina, and Columbia, South Carolina. We offer event rentals for any size event. We specialize in chair and table rentals as well as tent rentals for your party.