Launching PR PRO – A new lighting division
Party Reflections, Inc. is proud to announce the launch of PR PRO, a new division that is now serving the Charlotte Market. PR PRO is a team of visual designers that have the highest level of experience in audio, video and lighting solutions. Their expertise will elevate any event design and provide the visual impact the industry expects. While Party Reflections has had a standard level of lighting available for event installations, PR PRO now can collaborate and provide a professional level of lighting and AV options. The scope of their services is not limited to special event needs but can also be found in a variety of applications in the sound, stage and performance platforms. As visual designers this team can produce the effects needed to complete the vision of any client. The expansion of Party Reflections' lighting capabilities is now a reality and together with the PR PRO team we can deliver the most comprehensive event production available.
Please visit their dedicated website at partyreflections.pro to find the resources we now have available in the Party Reflections brand. As our presence is established in the Charlotte region, we plan to expand this division to all of our markets in the future.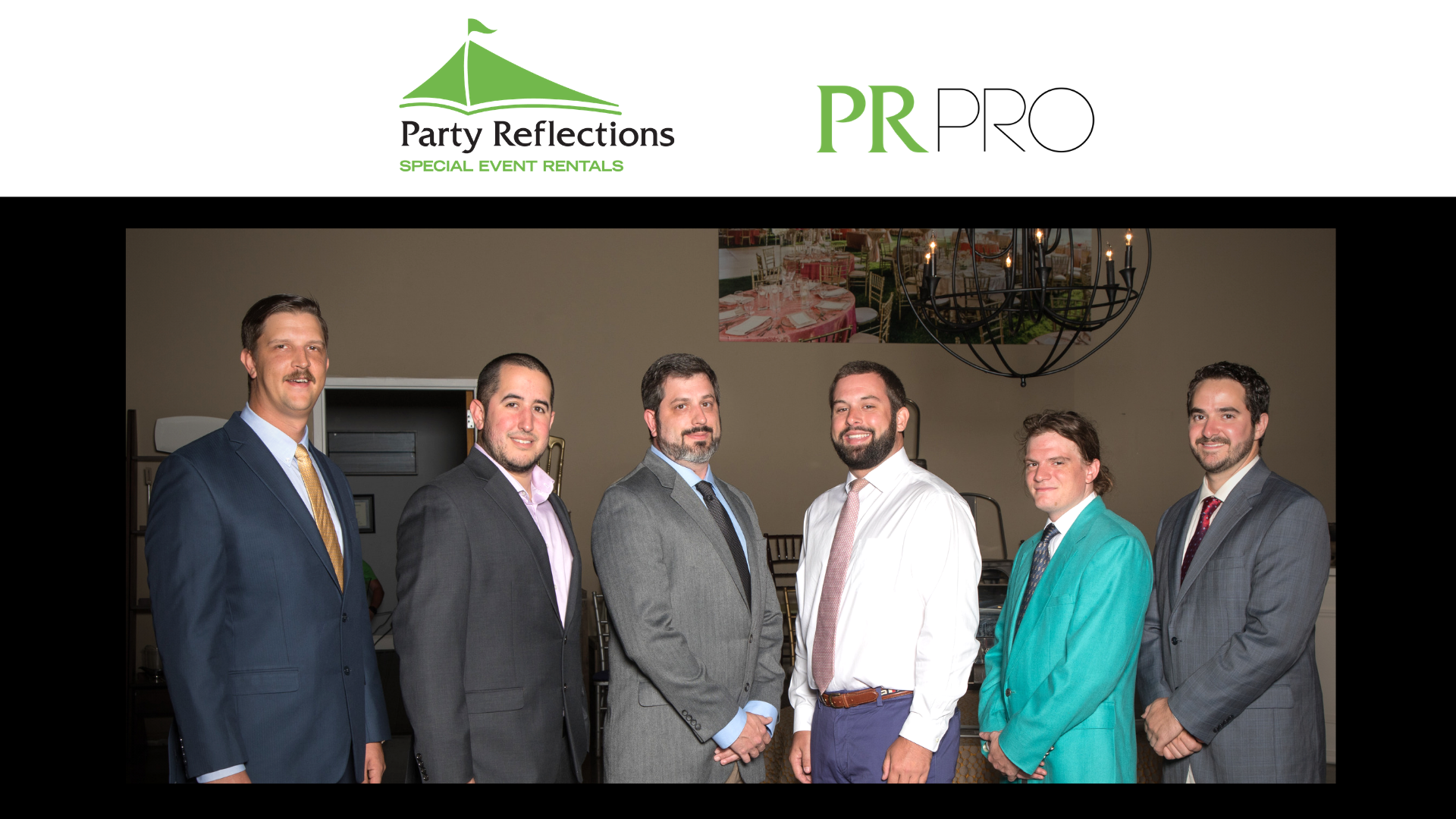 PR PRO is a company built around a team of visual designers. With over 65 years of combined experience this team will go to great lengths to make sure that the vision for your event is achieved! PR PRO takes pride in the ability to work with clients to determine the best plan of action to solve all of audio, video, or lighting needs. From full wedding setups to a snow machine rental… PR PRO is the team for you!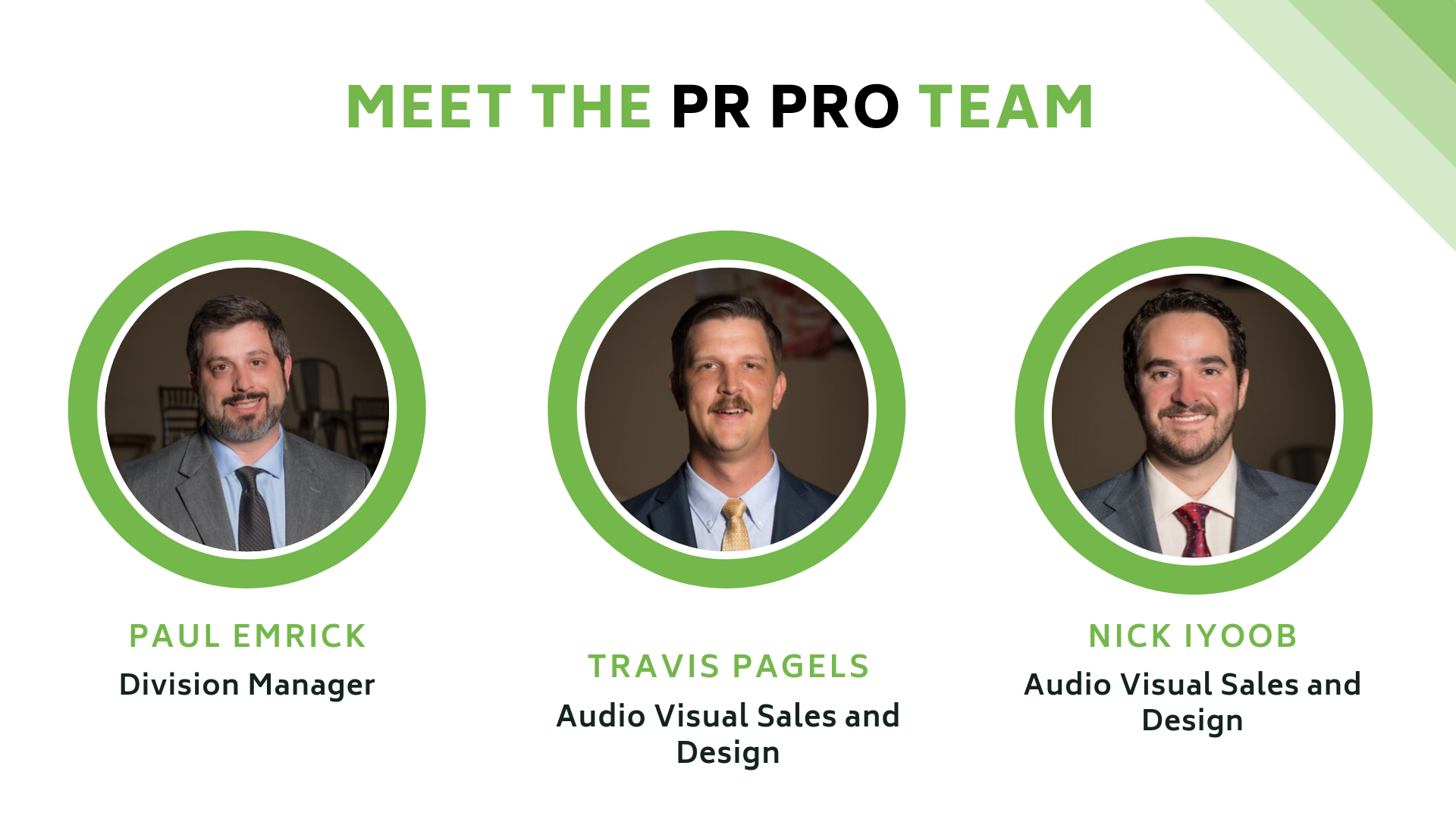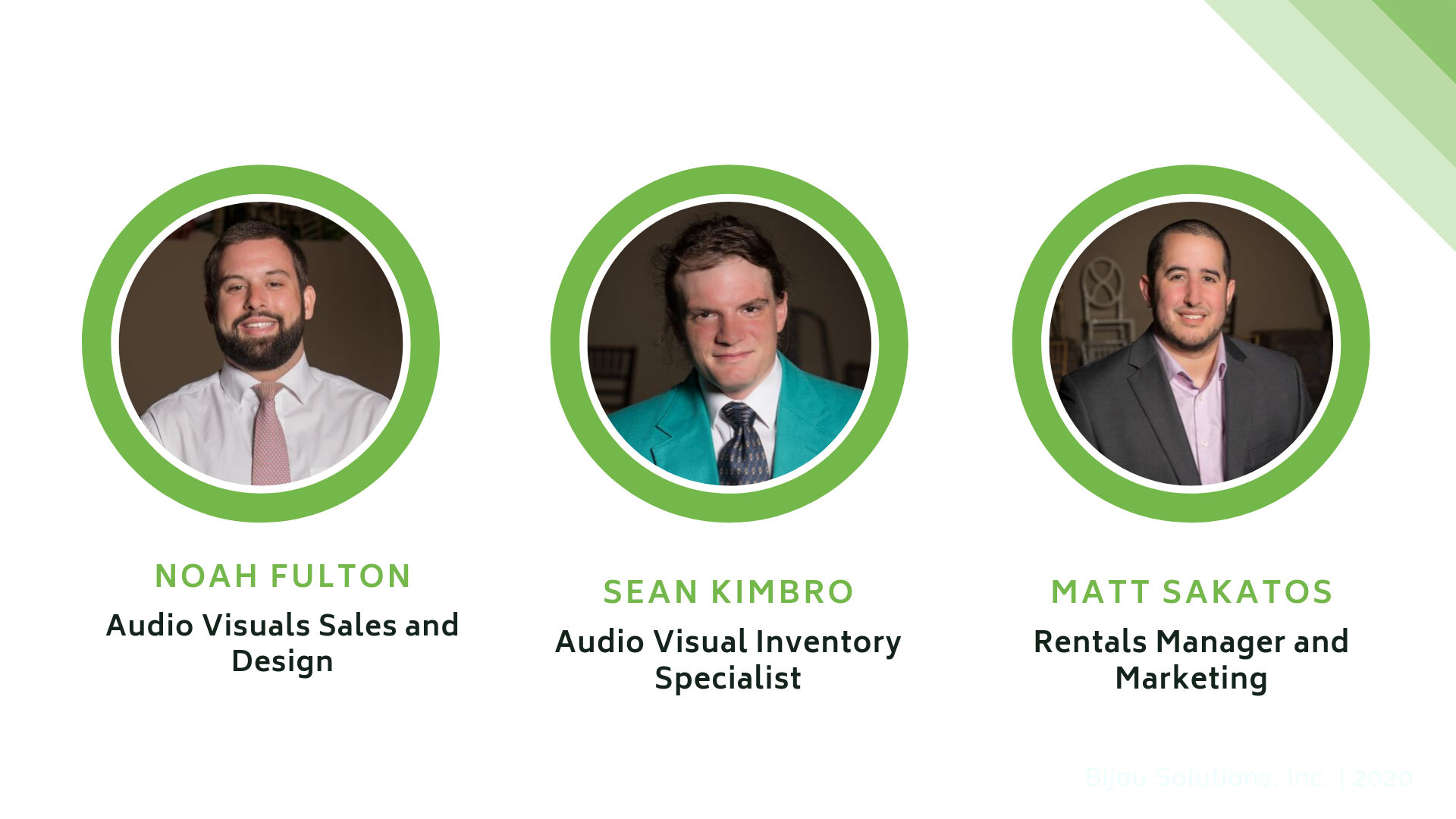 | MEET THE MEMBERS OF THIS TEAM AND REACH THEM DIRECTLY BY PHONE OR EMAIL BELOW |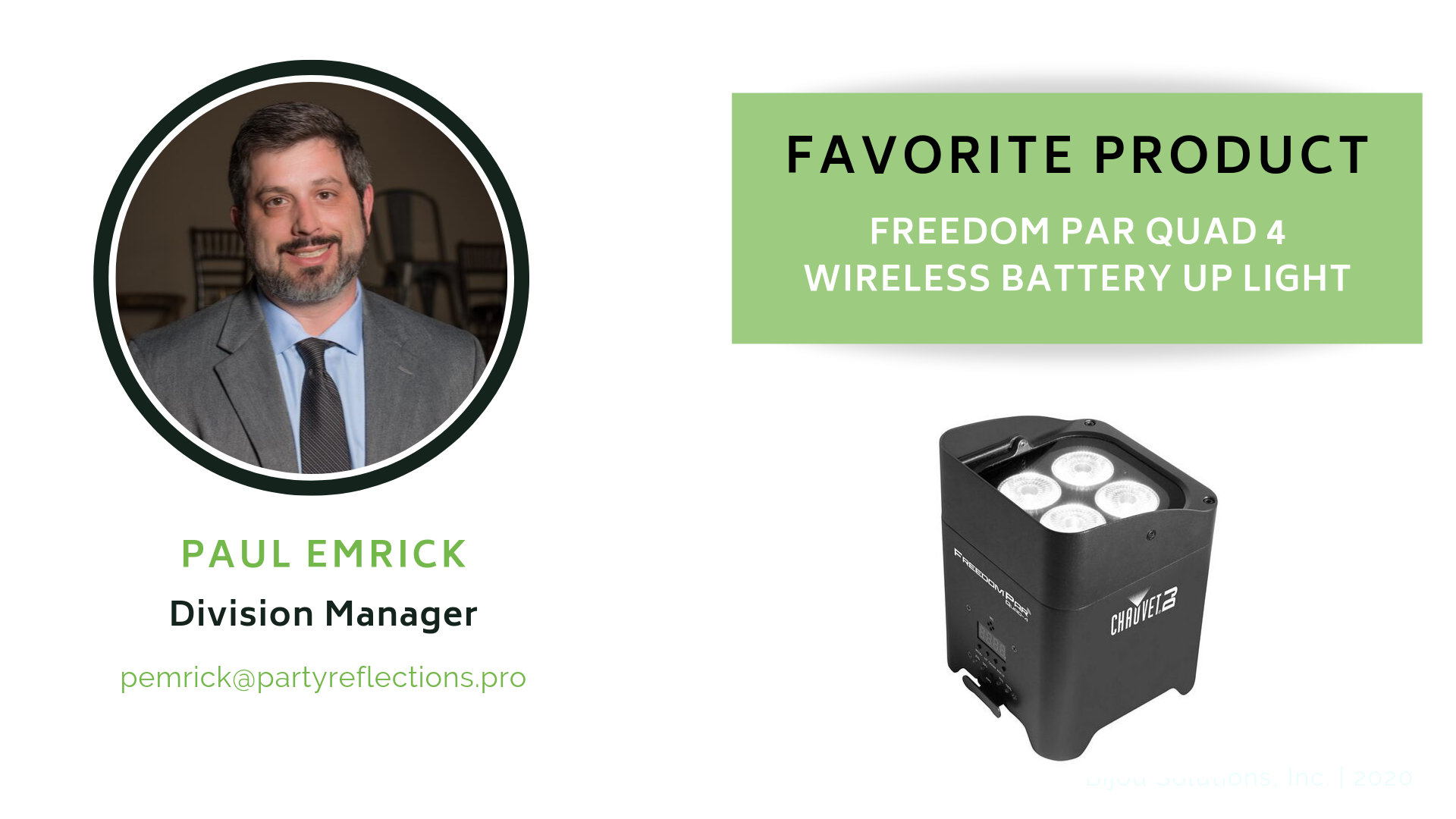 Paul Emrick | Division Manager | 980.643.5578 | pemrick@partyreflections.proFavorite Product– Chauvet freedom quad par 4 Paul was born and raised in Leadville, CO. Paul loved the DJ scene growing up, so he DJ'd all the school dances in Junior and High School. That love carried him into College where, while taking classes on the weekends, he helped produce and DJ countless EDM events in the mid 90's. His degree in film allowed him to get more experience behind the camera which he would soon realize was his future. Paul quickly came up with a way to output what he was getting in his camera to the projection screens in the venues and IMAG was born. He spent the next seven years touring around the world as a VJ or visual artist for various artists. As a VJ he was always in the booth with the lighting guys and started learning that trade to make the live visuals more appealing. Paul has worked with every big name in the EDM tour industry over the last 20 years. Paul then moved to Charlotte and was able to help build one of the most respected AV companies in the city. In 2014 he took a step back from being in the venues every day to a management and mentor role. Paul now spends half his time as the mentor and leader of PR PRO and the other half still being creative, designing shows, and running stadium sized lighting rigs. If you have a vision for an event Paul is one that can bring your vision to life. Paul enjoys his days off at the family farm with his wife Jennifer and dog Winter. He still loves gadgets and new technologies and you will find he is always up to date on the current tech trends. Fun Fact– Farmer on the side with 30+ animals.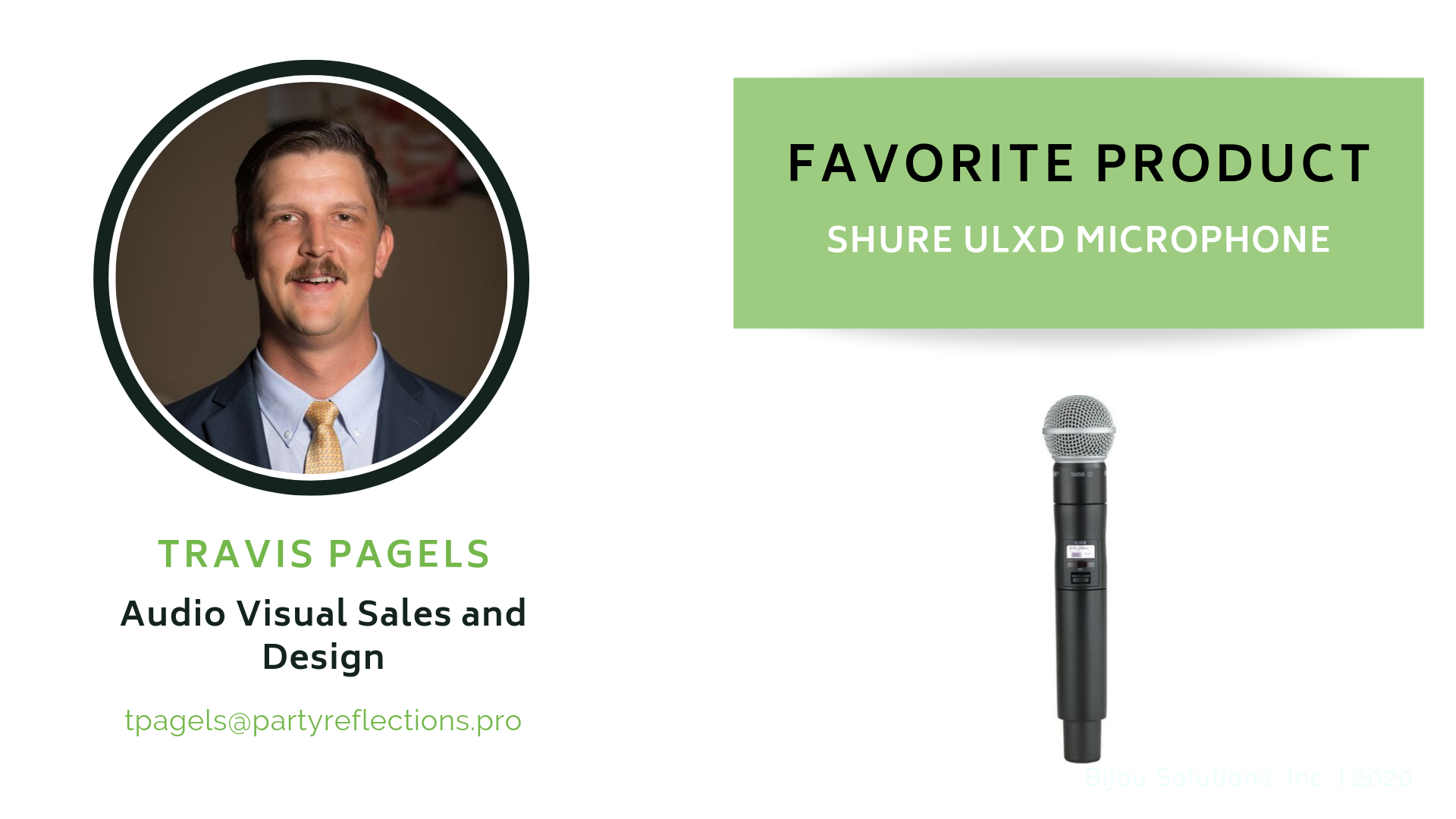 Travis Pagels | Audio Visual Sales and Design| 704.778.0200 | tpagels@partyreflections.proFavorite Product–Shure ULXD microphone Getting his start in the production industry in 2012 with a small concert tour, Travis has always looked for new ways to grow as an AV professional. He started his full-time production career in 2014 running large scale Audio, Lighting, and Video systems for local nightclubs and concert halls. While working long shifts at night, as well as juggling sales accounts during the day, Travis began to expand his portfolio into the Corporate AV and Installation Market. In 2016, he was published in Mondo Magazine for his work at World Nightclub and was the recipient of multiple sales awards in his department. Today, Travis manages all installations and large-scale corporate accounts at PR Pro, always providing the same level of care and attention to detail that has allowed him to thrive in an industry he considers a passion. Fun Fact – Rides a Harley Davidson and fishes in the Florida Keys every year.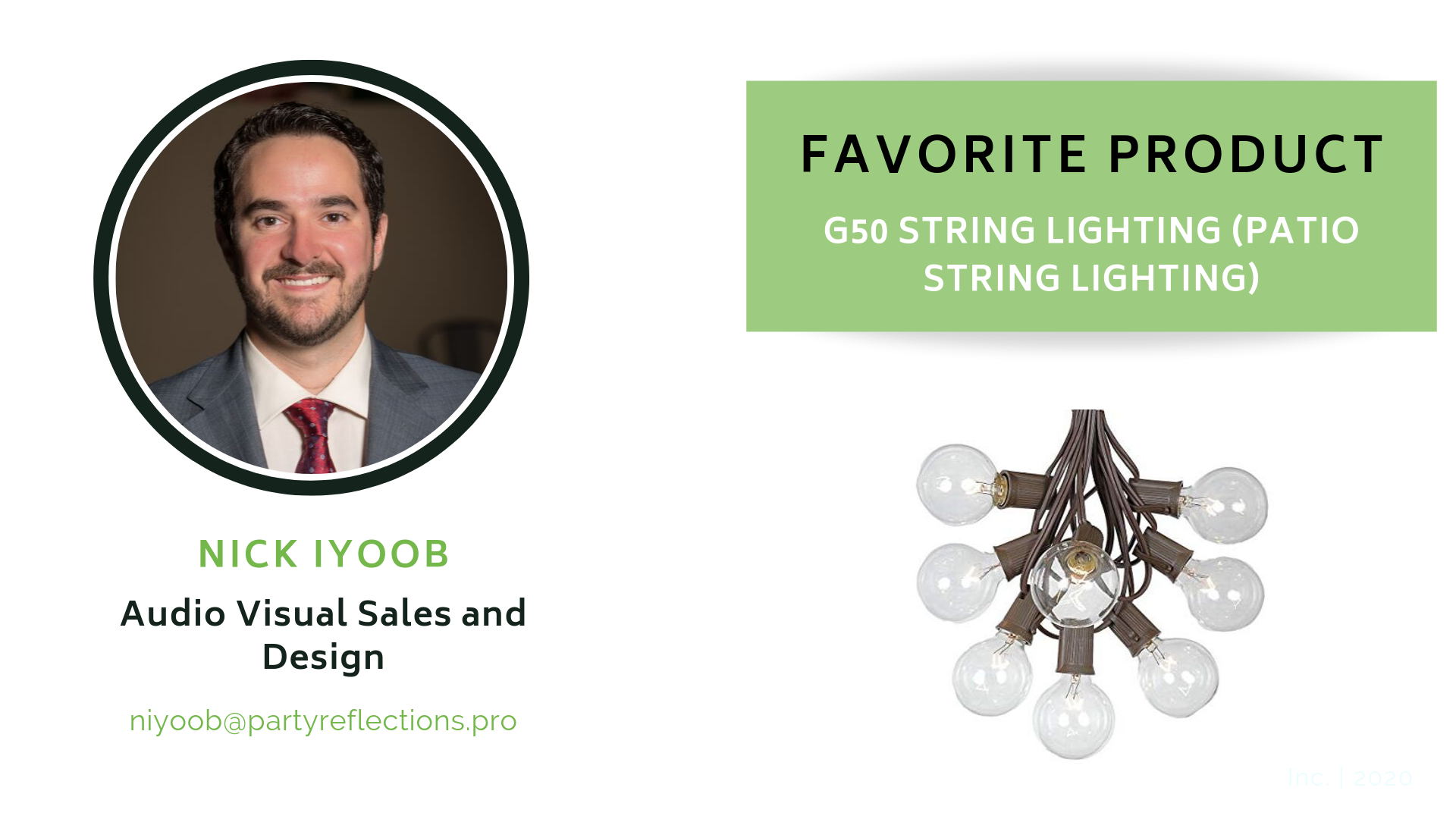 Nick Iyoob | Audio Visual Sales and Design| 704.763.3875 | niyoob@partyreflections.proFavorite Product –g50 string lighting (patio string lighting) Nick was born and raised in Charlotte, NC and has been in the production industry for the past 8 years. After graduating from Charlotte Catholic High School, with a passion for theatre arts and lighting, he went on to get his BFA in Professional Acting from East Carolina University. During his program at ECU, Nick learned about all the facets that go into ensuring a successful production. Immediately after graduating, Nick went full-on into the production world. He specializes in designing and executing high end corporate/private events, weddings, celebrations, and concerts. His work was so well received that he was given 2 awards from the Greater Charlotte Chapter of the International Special Event Society. He works side by side with Charlotte's top wedding/event planners, venues, and all his clients, to ensure your vision becomes a reality. In Nick's free time, he and his wife enjoy traveling, the outdoors, camping, all things Disney, and their two cats Kia and Ellie. Fun Fact – Loves Cats and Everything Disney.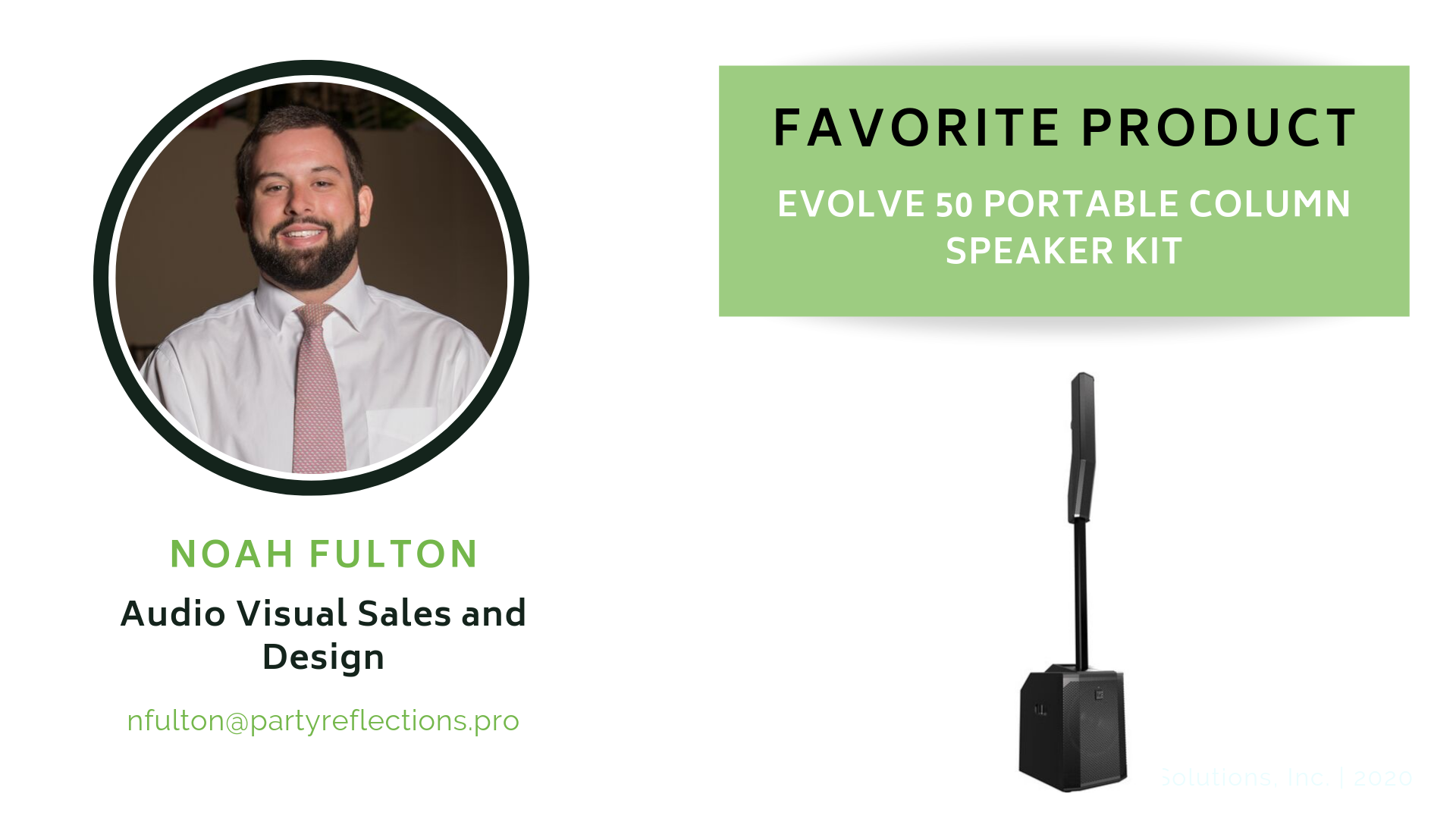 Noah Fulton | Audio Visual Sales and Design | 336.978.5596 | nfulton@partyreflections.proFavorite Product –EVOLVE 50 Portable Column Speaker kit Noah was born and raised in Winston Salem, NC. He moved to Charlotte in 2017 for a job opportunity with Pi Kappa Alpha Fraternity Brother, Travis Pagels. Kickstarting his Career in the production industry. He has been in Sales for 7 years and has spent the past two years in Audio/Visual design and sales. He is excited to be a member of the Party Reflections family in the PR-Pro division. Noah is an avid University of South Carolina fan and has been a member of the Gamecock Club and Football season ticket holder since 2013. Outside of work he enjoys attending a variety of sporting events from the Carolina Panthers to Charlotte Checkers hockey and spending time with his friends and family. Fun Fact – Gamecock Club Member and Season Ticket Holder since 2013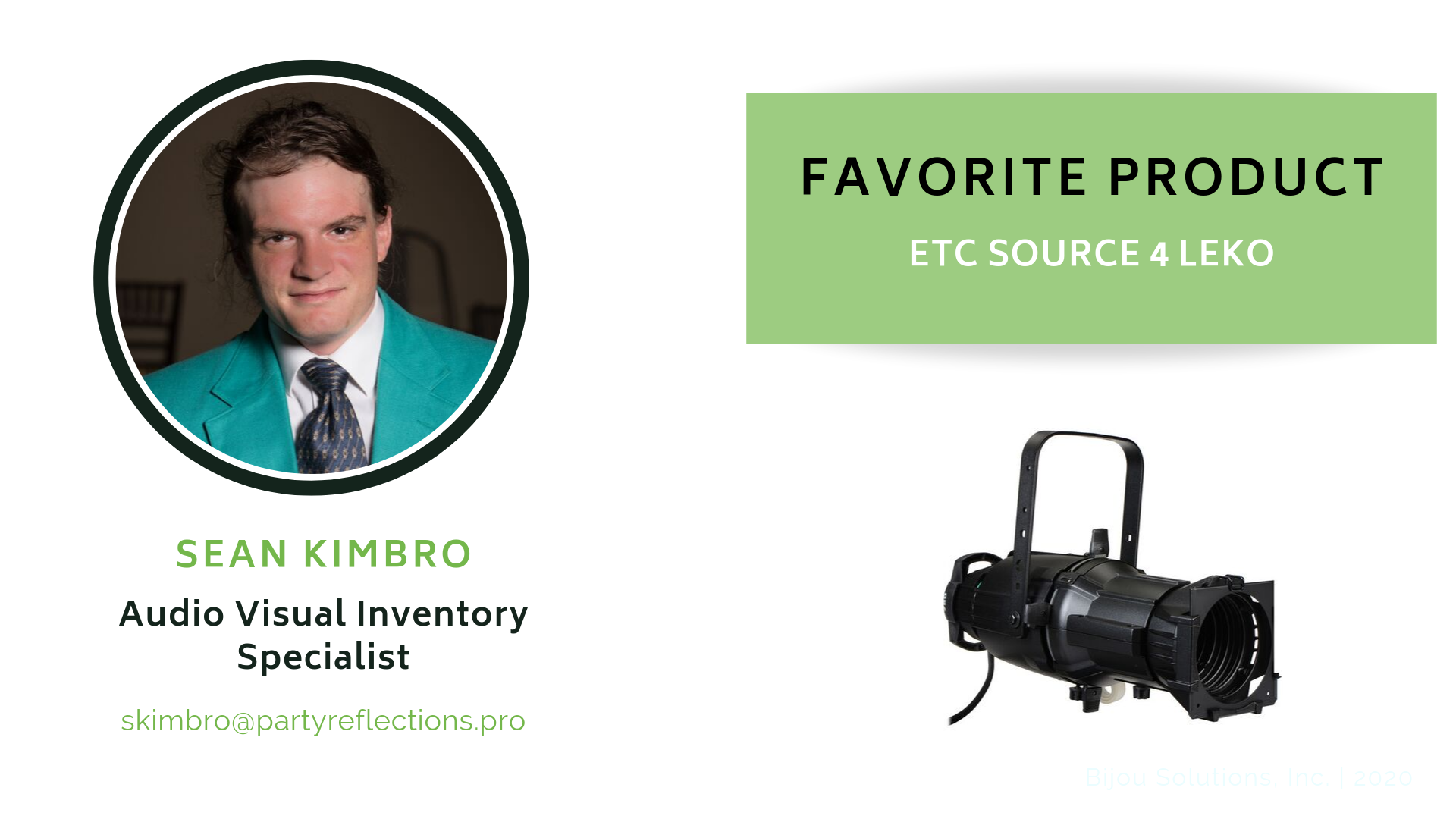 Sean Kimbro | Audio Visual Inventory Specialist | 980.643.5622 | skimbro@partyreflections.proFavorite Product –ETC Source 4 Leko Sean is a graduate of Appalachian State University with a degree in Theatre Arts. As such, his first introduction to the AVL world was working on lighting and sound for plays and musicals, which he continues to do now a decade later, and he considers his specialty. His other great love is concert lighting, which is particularly inspired and influenced by Lighting Designers such as Saxton Waller, Chris Kuroda, and Andrew Lincoln. When he is not working on the next show, Sean enjoys spending his time listening to (and discovering new) music, snowboarding, and taking naps with his cats. He also enjoys traveling and absorbing all he can from cultures from around the world (especially if it involves food!). Fun Fact – Has seen Bassnectar preform over 10 times.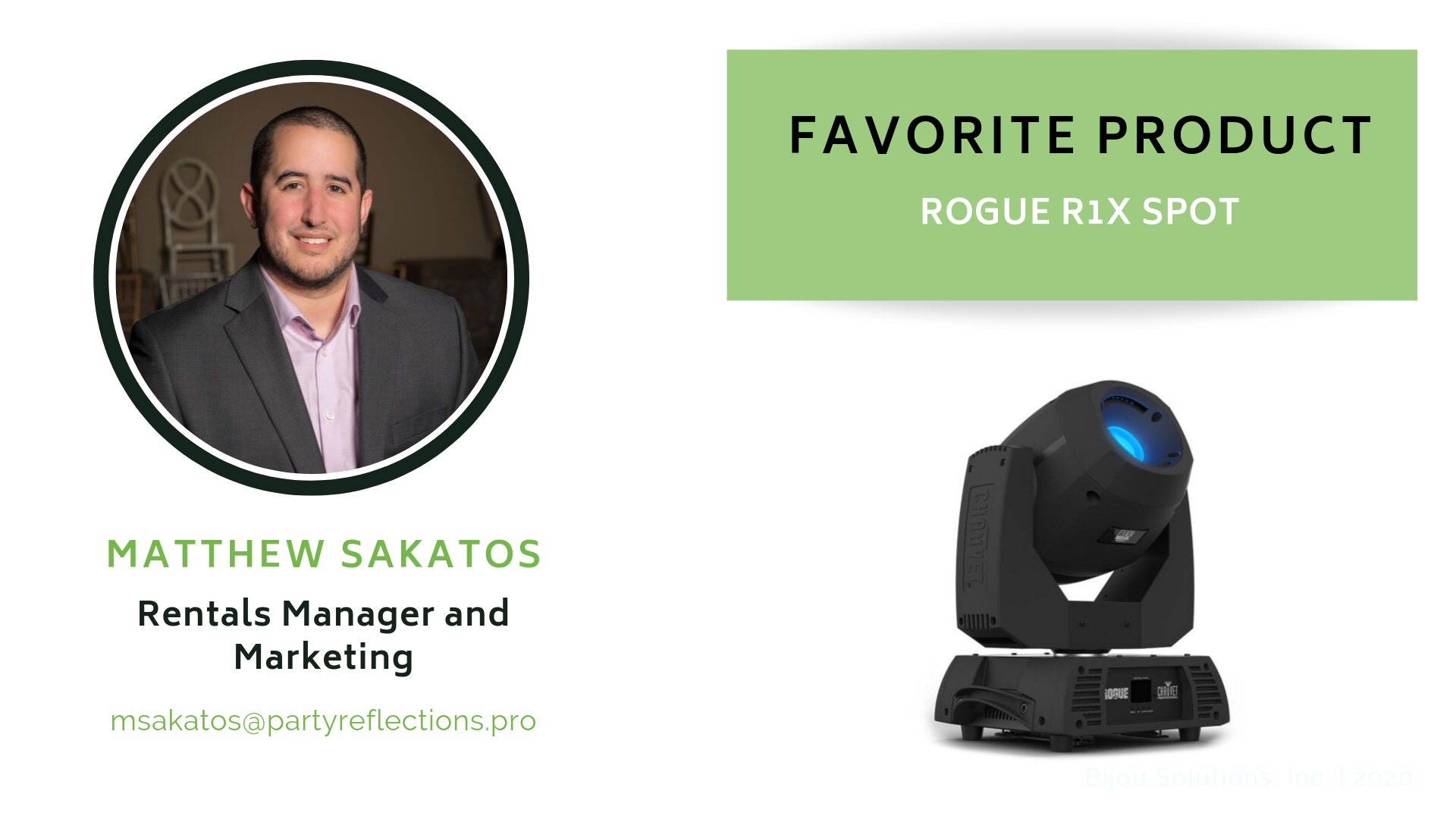 Matt Sakatos | Rentals Manager and Marketing | 828.228.7140 | msakatos@partyreflections.proFavorite Product –Rogue R1x Spot Matt was born in NYC. Shortly after, he moved to the Carolinas where he attended the Art Institute of Charlotte where he finished top of his class with a BA in Film and Production with minors in Photography, Graphic Design, and Web Design. Before graduating, he started full time with Eye Dialogue as a Visual Designer for events, concerts, and AVL installation. After helping design/operate several nightclubs, Matt moved to Columbia SC to help as the full-time production manager of Social Bar and Lounge. A year later, he purchased the club and ran it for four years before selling it and moving back to Charlotte. Now, with 12 years of experience Matt has joined Party Reflections to help launch PR PRO, their new AVL Division, as the Rentals Manager and Marketing lead. Outside of work, Matt considers himself an avid food enthusiast, a world traveler, a gunslinger, and ordained minister. Fun Fact – Ordained Minister who is known in certain parts of Texas by the name…. "Preacher"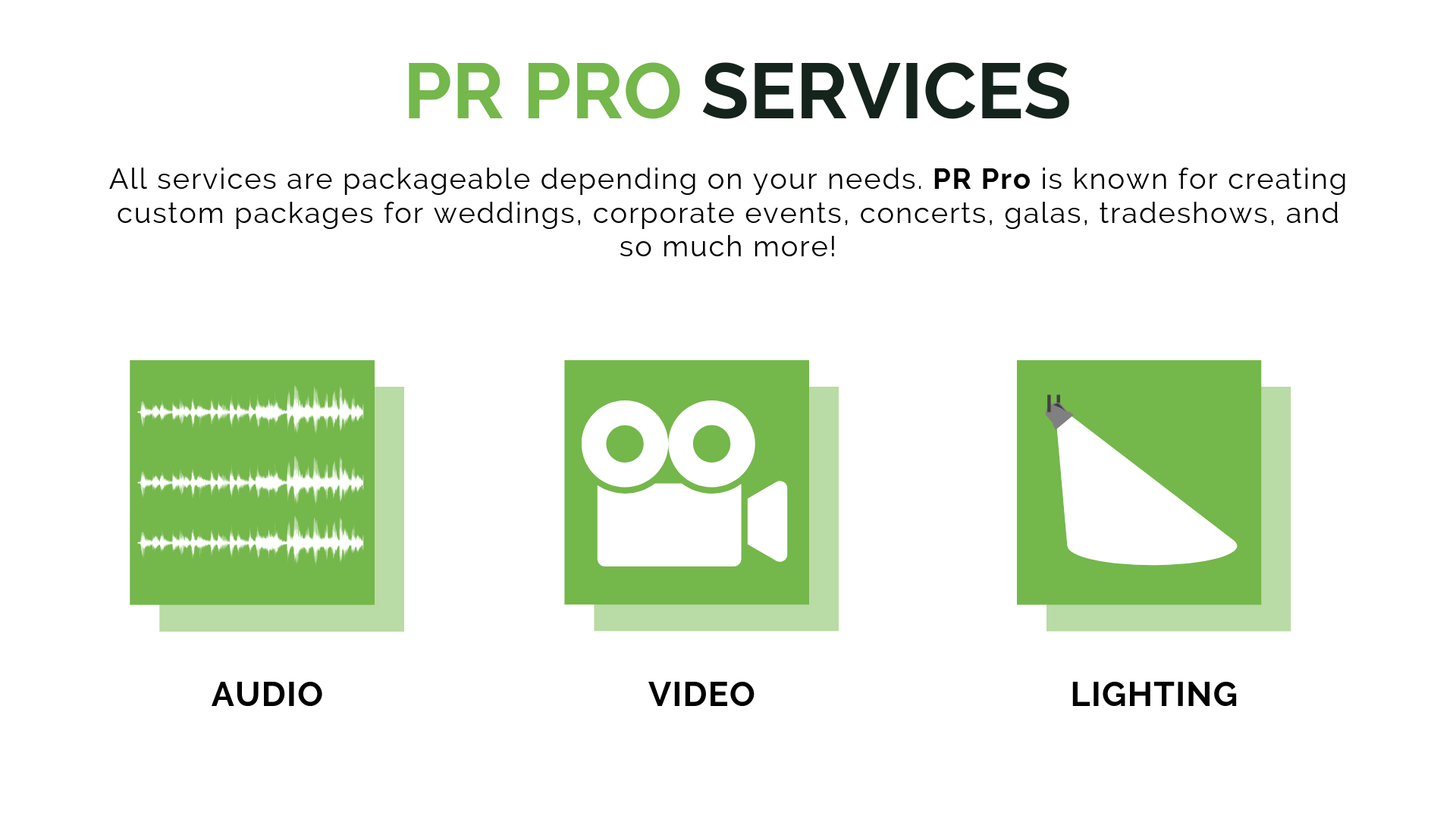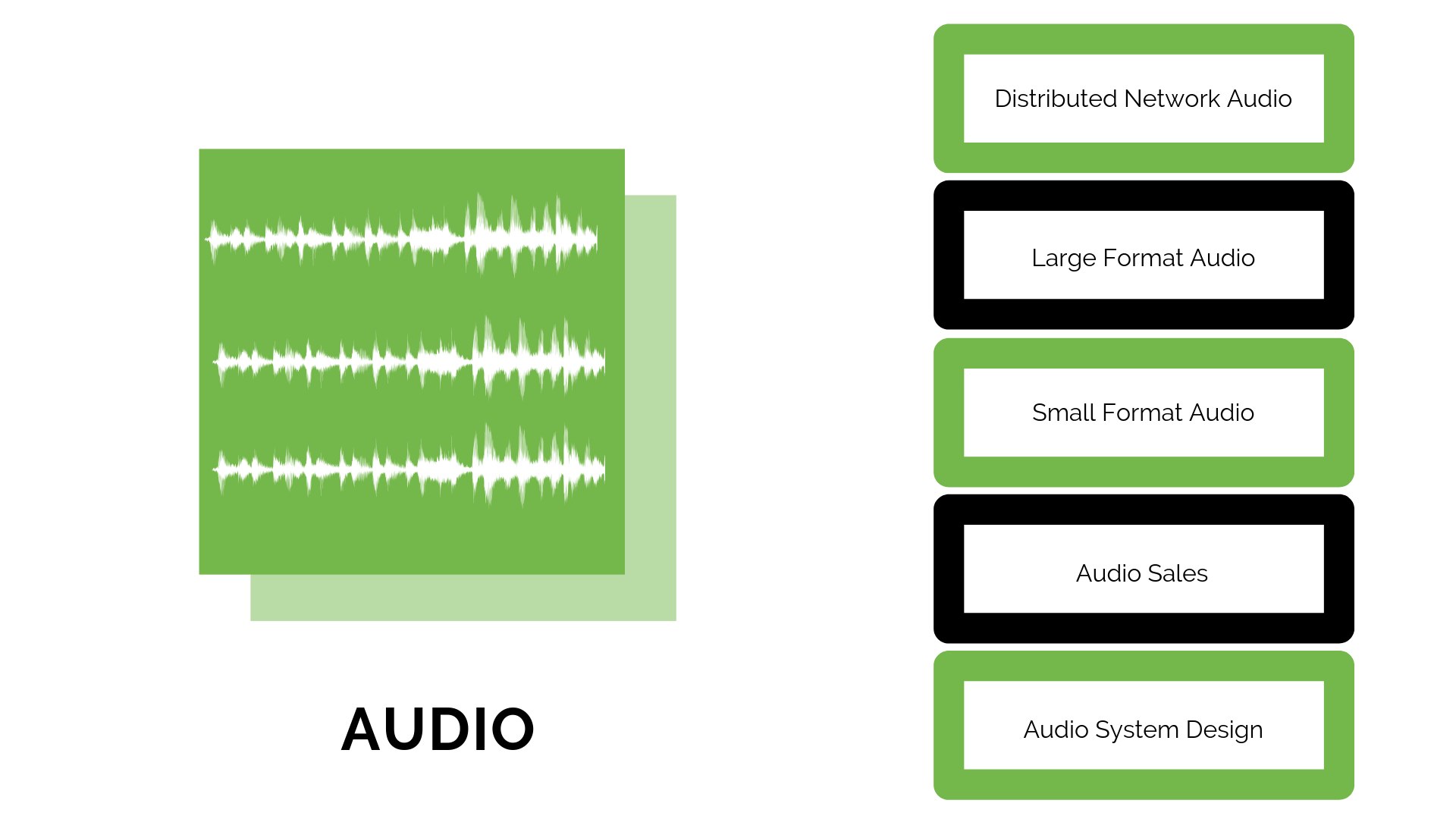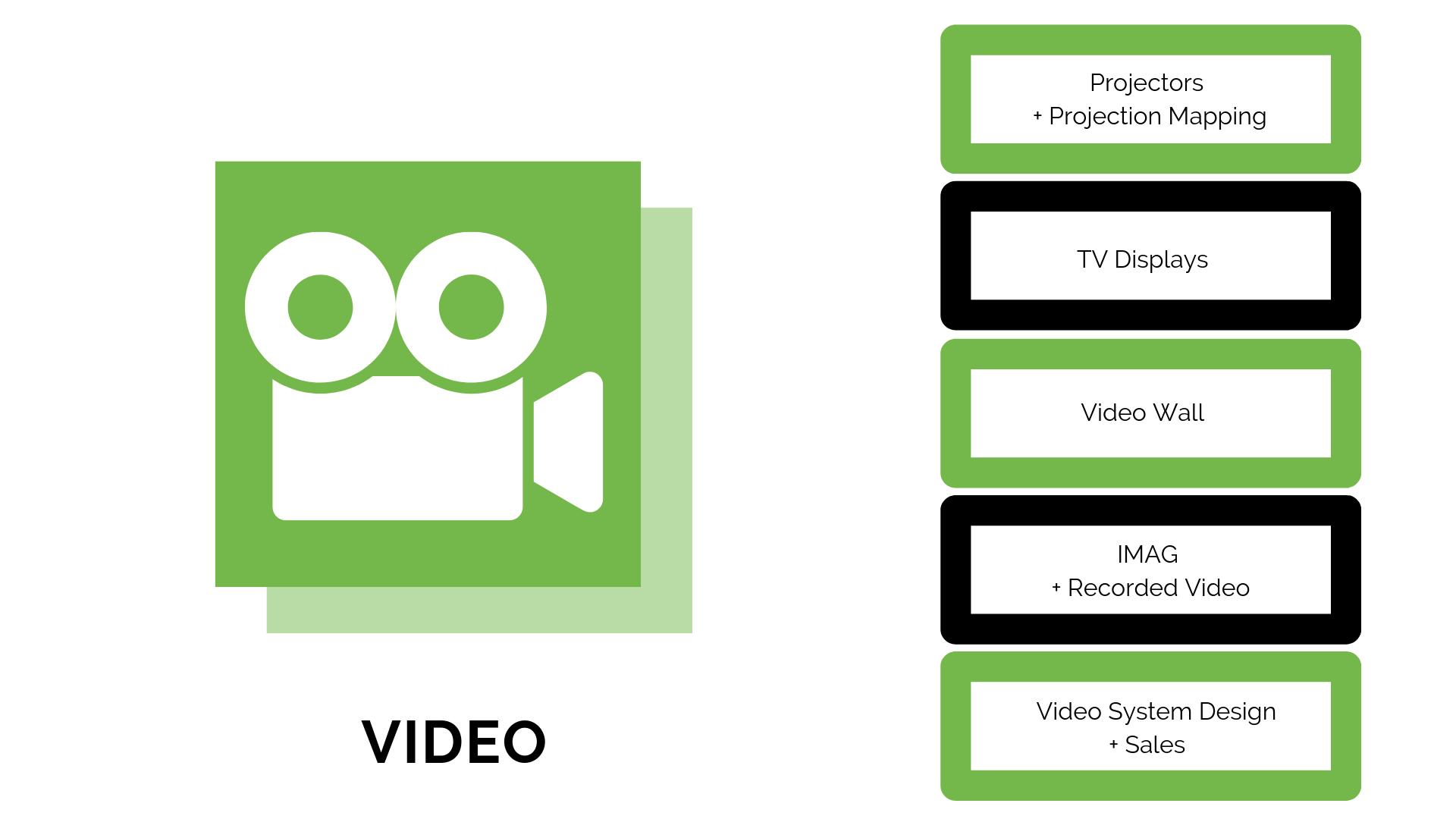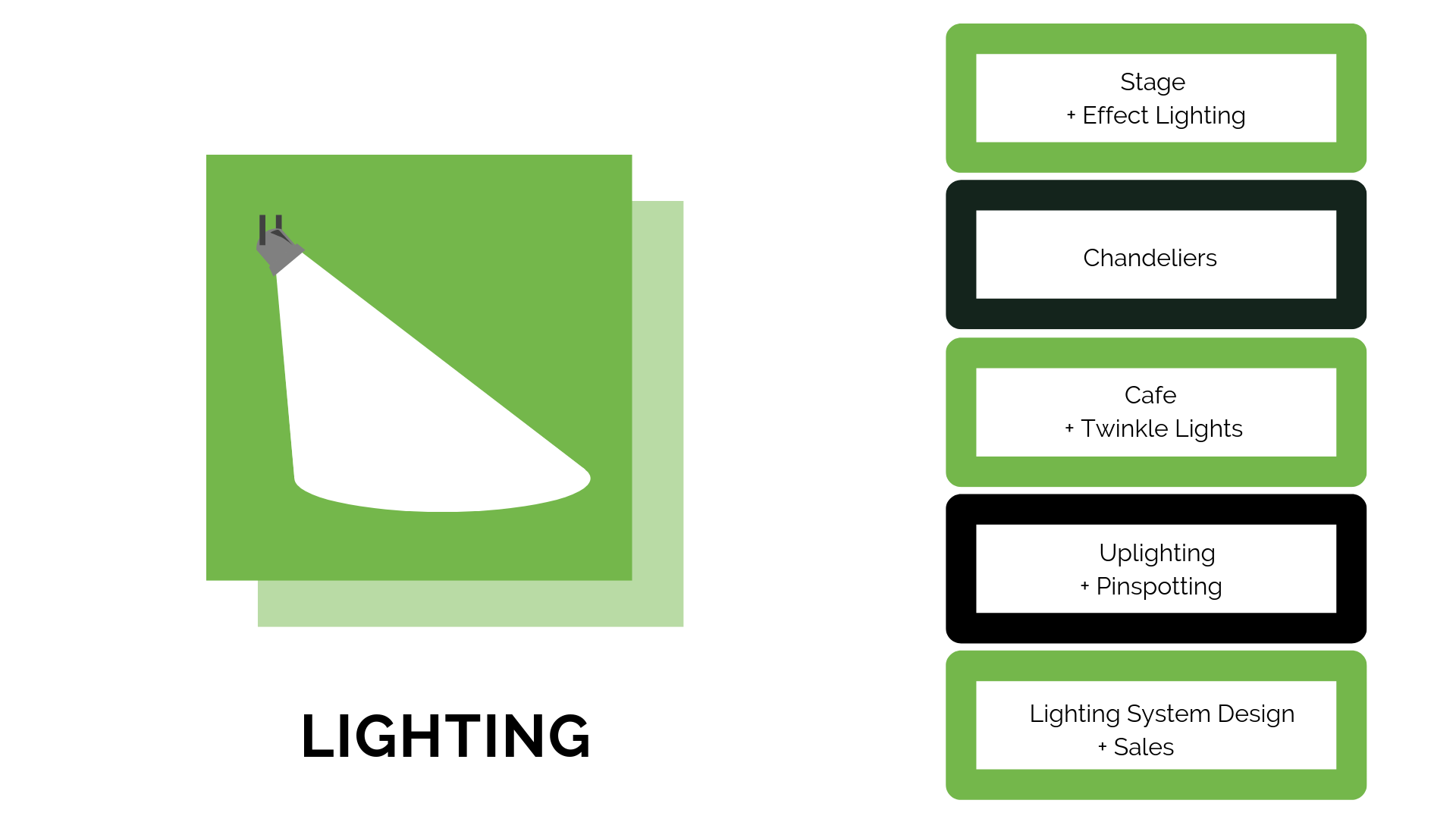 Providing top of the line audio, video, and lighting solutions for any budget.
PR PRO's visual design team is ready to meet with you and explain exactly how to bring your ideas and dreams to life!