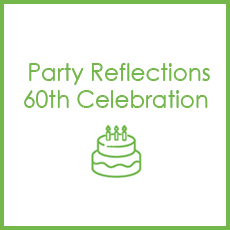 Last month, we celebrated our 60th anniversary. Our roots date all the way back to 1958! As a family-owned rental company that built a successful business based on honest, hard work, and family values – we are extremely proud of this huge accomplishment. Over the years we have provided rental equipment for intimate backyard weddings to world-class golf tournaments. We are thankful to be able to produce these amazing events and create lasting memories within people's lives.
To honor the big day, we had a 60th celebration. Each store had a cake cutting ceremony where all employees were present to enjoy this tasty treat and wonderful moment. At our Charlotte location, we had a very special guest – Sue Hooks, who was one of the original founders of Party Reflections. She was amazed by all that we had accomplished in the last decade. However, in truth, we are amazed by her. If it was not for her leap of faith 60 years ago, none of this would have ever happened!
Our 60th anniversary was a momentous occasion. We would like to thank all our partners, clients, and friends for their well wishes and continued support. We truly appreciate it and would not be where we are today without all of you! Thank you for giving us the opportunity to #makeithappen in the Carolinas all these years. Although it's been a wild ride, we are excited and look forward to the future. Cheers to 60 years!