Wedding Rentals – Insider Tips + Tricks – Charlotte | Raleigh | Greensboro | Columbia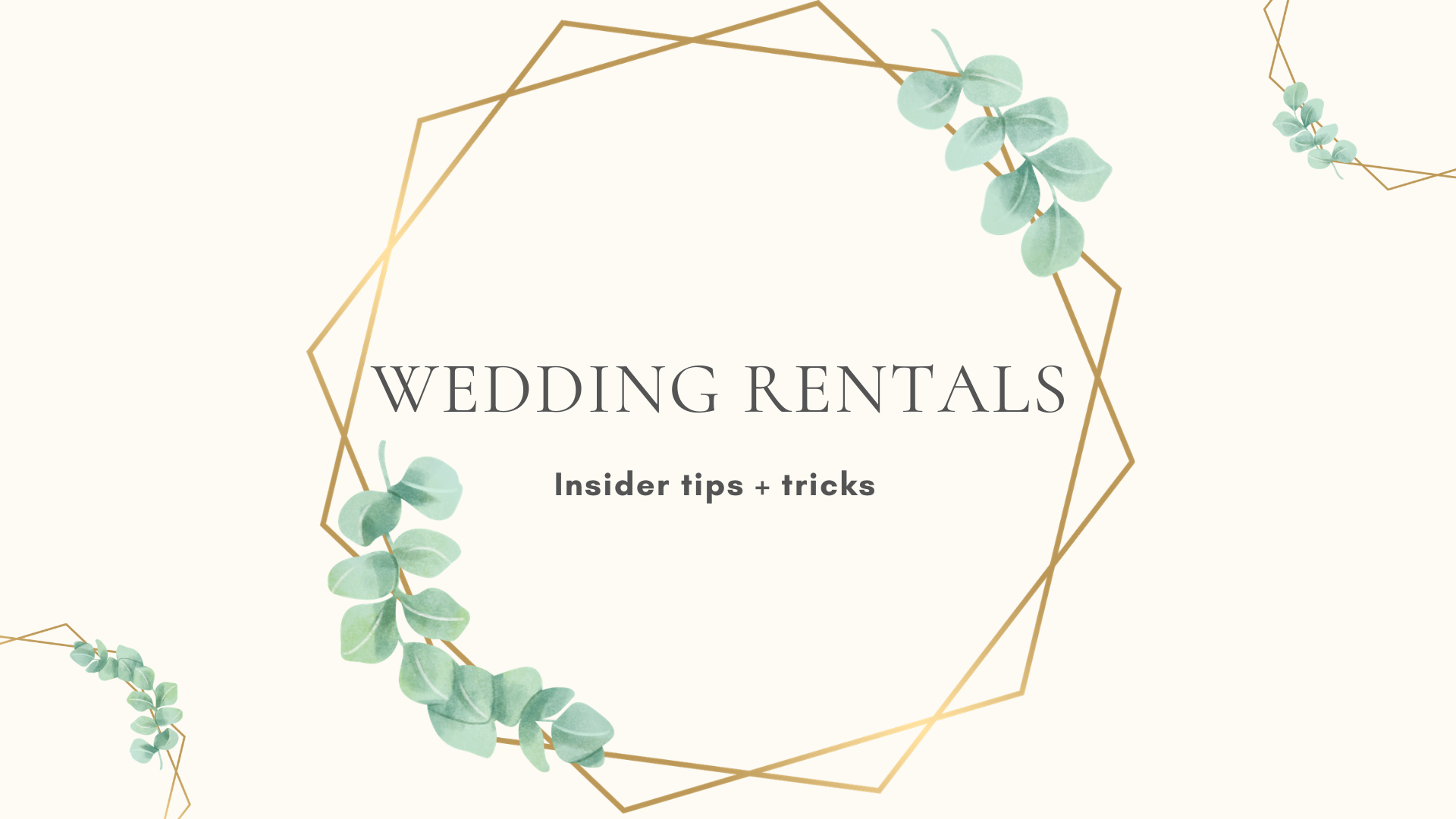 If 2020 has found you newly engaged and in full on planning mode, then use this guide to be inspired by some wedding industry insiders. Here at Party Reflections, we have had several team members marry in the last year as well as get engaged. When you plan a wedding from the perspective of seeing an industry full of options, it is nice to learn what motivated their choices and any advice they can share. Working at Party Reflections, you see the broad range of what is possible. Rentals can make your venue and vision to come to life. You have a vision, but you are not sure how to accomplish it. If you envision adding uniqueness to your big day then renting glassware, flatware, chargers, dinnerware, linens, furniture, or tents will be elements that will elevate your wedding.
Why Rent? Not only is renting a huge cost savings, but it also saves you on time, cleaning and storing products that you may never use again. Linens are expensive to buy and are time consuming with cleaning maintenance. Unless, you constantly throw events, you won't need more than 10 of the same linen, ever. Glassware is always a good idea to rent and not buy if the venue doesn't have it on hand. You can take it up a notch and get creative with colored glassware rentals. You also probably don't want to have 100+ glasses to clean and have laying around that you will never use again. Renting plates and chargers are great if you want to add to your event. Renting is always the way to make your wedding day exactly how you imagined it.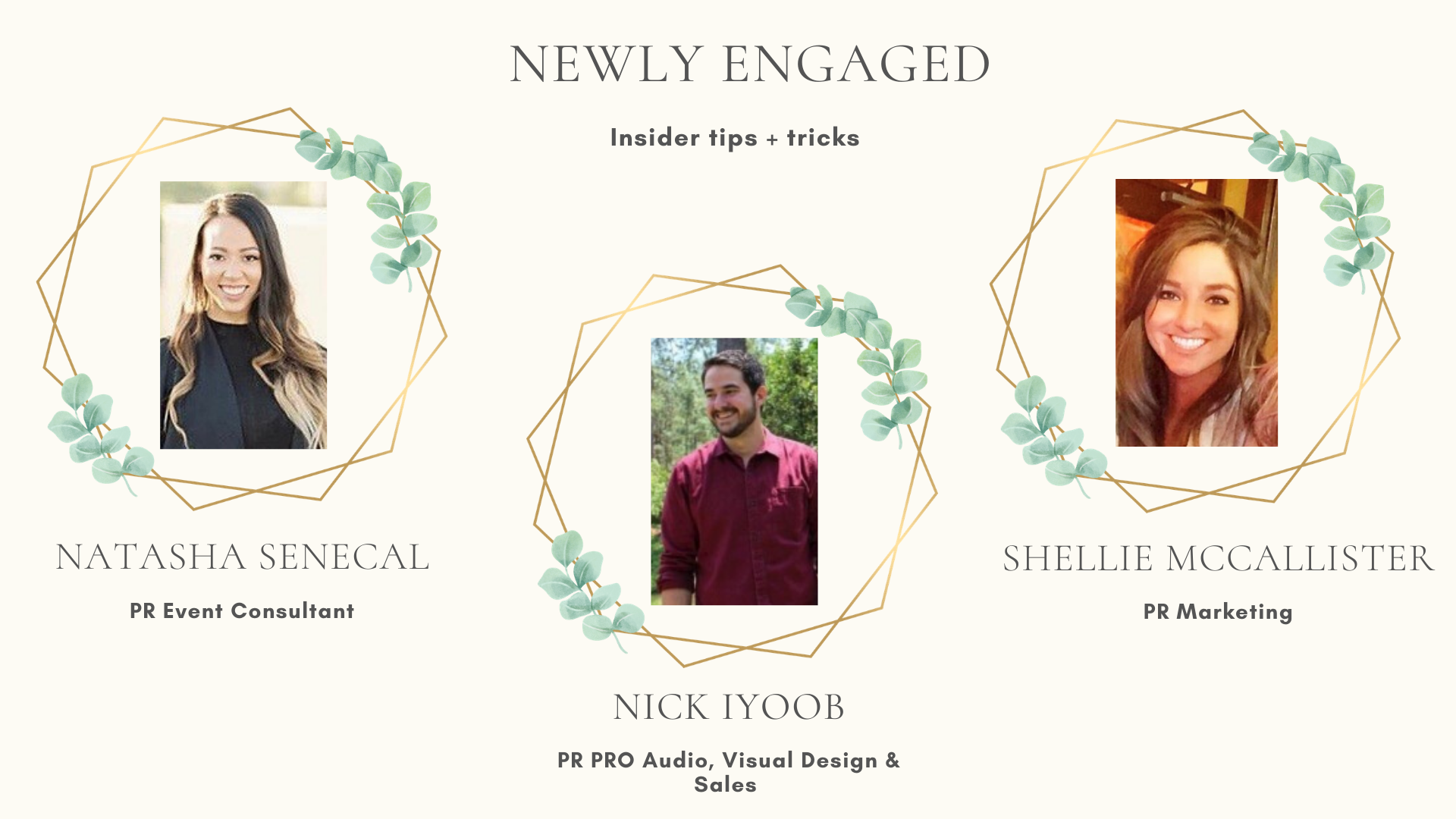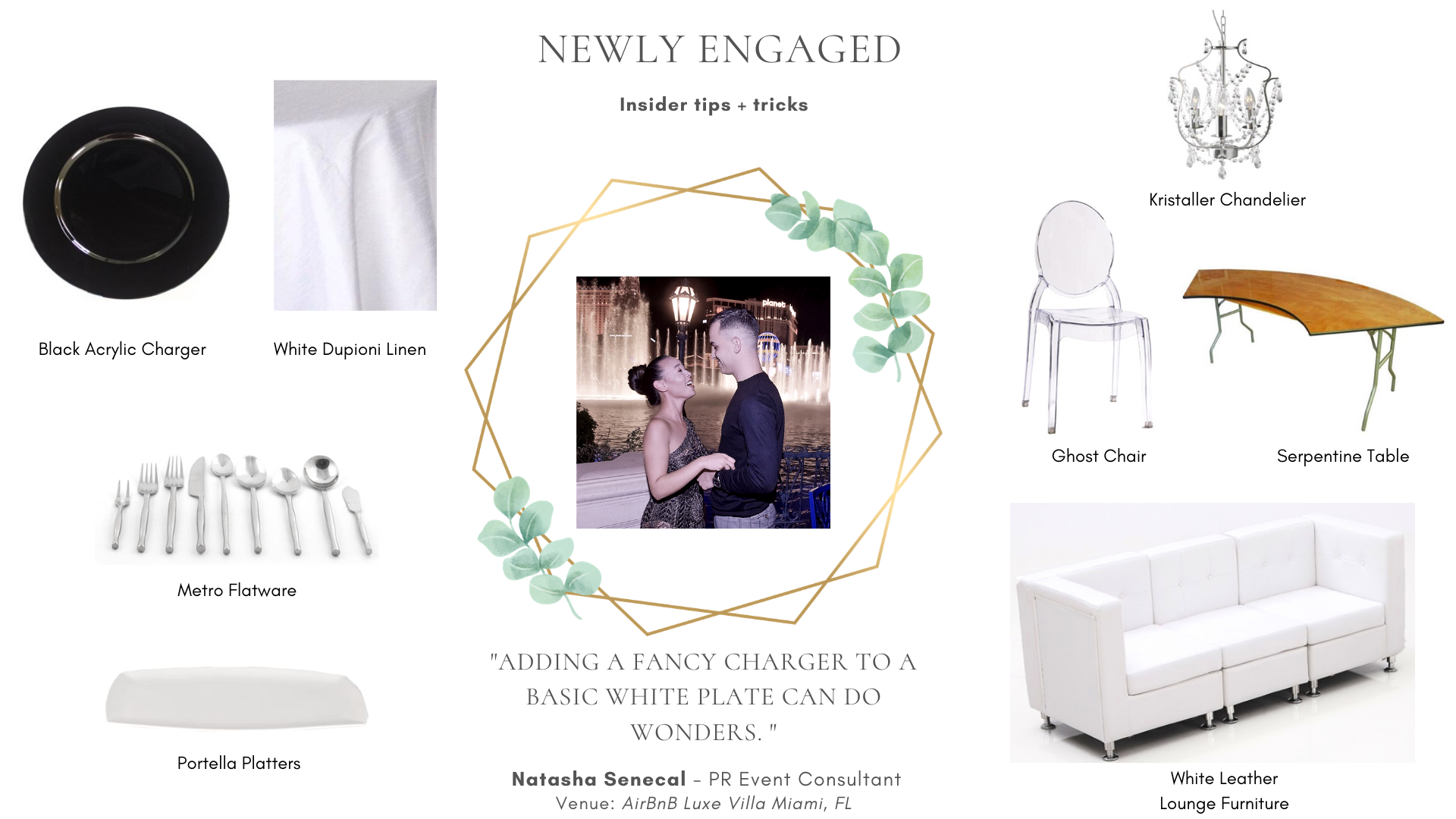 Natasha Senecal is an event consultant at PR Charlotte and is recently engaged. Her plans are to marry in 2021. She is having a destination wedding in Miami and will be taking advantage of all the rental options Party Reflections offers. To ensure she has the best rental vendor, she intends to bring the team from Party Reflections to delivery and set up for the wedding. For the ceremony, they really want their guests to be comfortable, so they chose to use the white leather lounge furniture. To complement the straight arm rests of the lounges, there will be modern planters down the aisle and behind the last row to line the aisle and ceremony with their flowers. Natasha wants her reception to be very personal for the guests. "For our reception we really wanted to accomplish a look that you don't see all the time, so we will be using the serpentine tables with our white dupioni linens. Lining the serpentine tables will be the ghost chairs.
Since Party Reflections also has our expo division PRX, we decided to take full advantage of the vinyl decals that could be made. Instead of doing your typical place cards we will be putting vinyl decals on each of the ghost chairs with our guest's name." When you have these many elements, you need to rent, Natasha recommends coming to the showroom to visit and actually see the products and plan the experience you want your guests to have. The process is as easy as placing an order. One of the Party Reflections event consultants can help by showing what we have to offer as well as come up with suggestions based on what their vision is. It starts with a quote, but simply require a signed contract and 50% deposit to secure your items for the wedding date needed.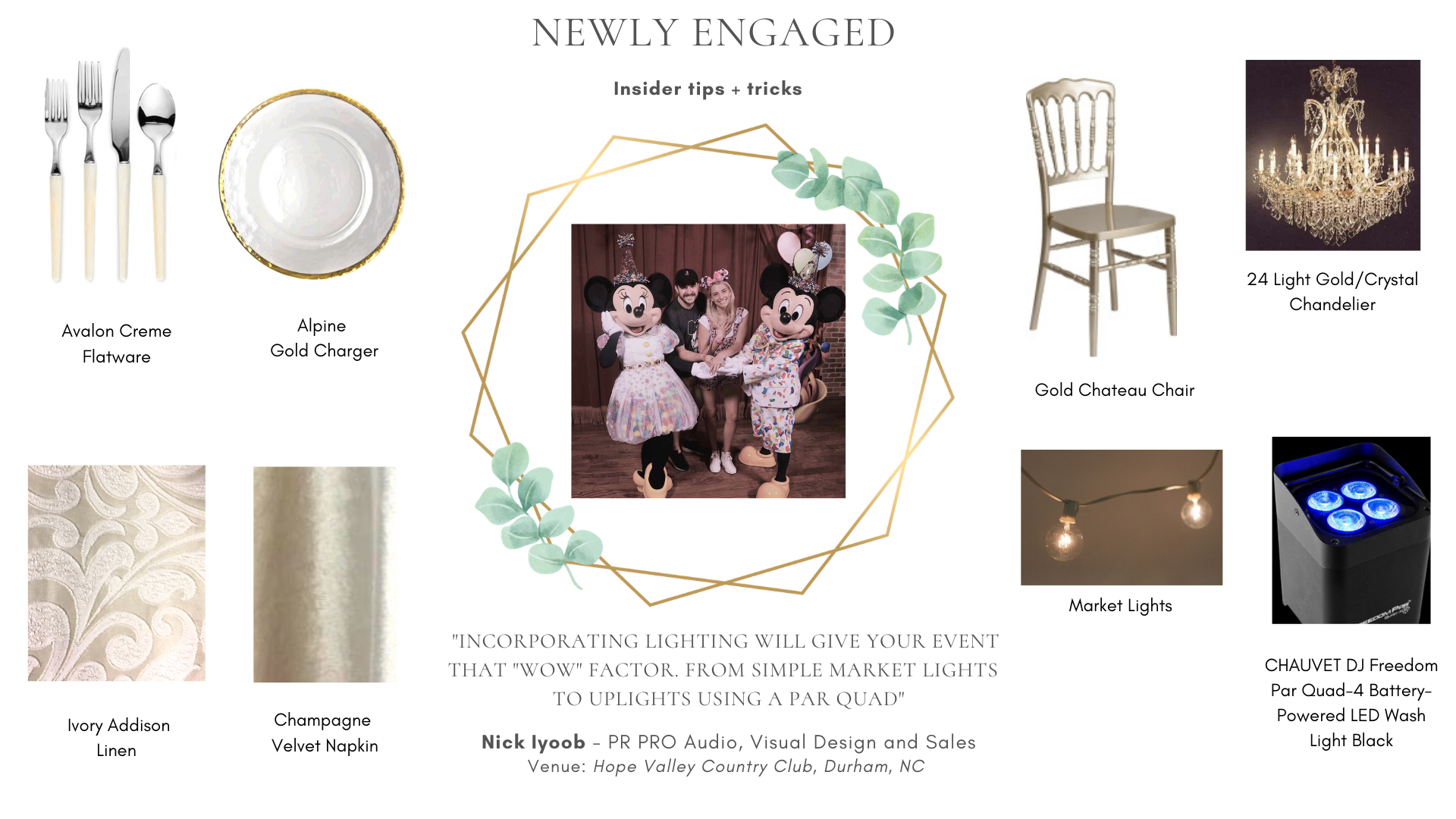 Nick Iyoob is a PR Pro Audio-Visual sales and designer specialist. Nick will marry in 2020 at Hope Valley Country Club. They offer a basic package with everything you would need. This includes tables, chairs, linens, silverware, plates, and glasses. The fact that they offer these items with the venue is amazing, however, you will be getting basic items with little to no flair. This is where the value of wedding rentals from Party Reflections and PR Pro come in. Their kind and knowledgeable staff will work one on one with you through the process to ensure your wedding day is everything you dreamed of. Nick shares, "For my fiancé and I, it was important for us to give the guests attending our wedding, a night they would remember. So, with the help from my friends at Party Reflections and PR Pro, it allowed us to take our reception to the next level." Now, an all-inclusive wedding venue package becomes the one of a kind wedding they envisioned. Nick intends on "incorporating lighting (that will) give his event that WOW factor." He intends on using some unique table top items in exchange for some of the package items that are basic. Rentals will give this couple the ability to put their own personalized style to their wedding day.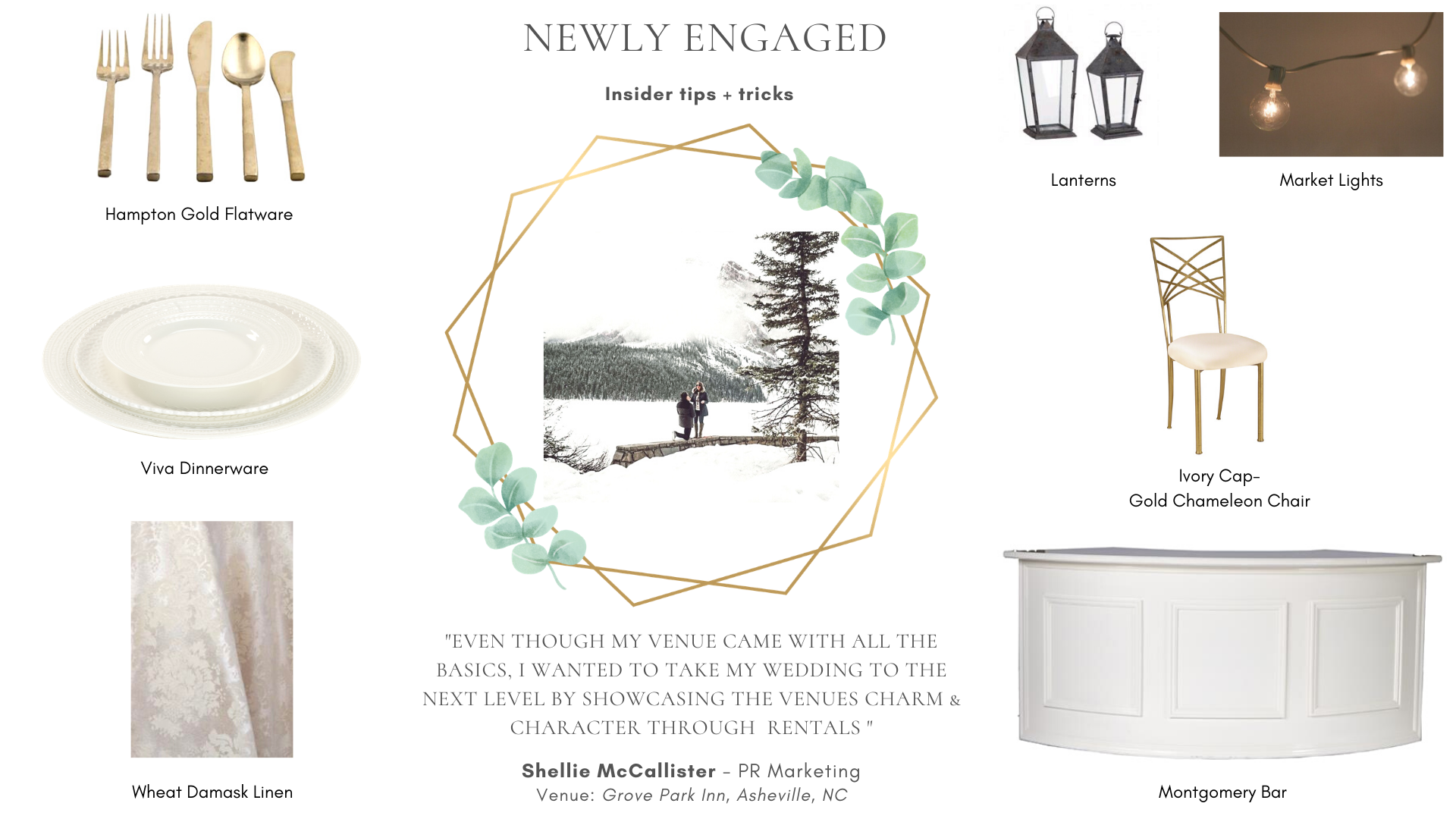 Shellie McCallister is a marketing specialist at PR Headquarters and will be married in the fall of 2020 at the Grove Park Inn. Making the decision to have a destination wedding means you have remote details to manage but you still have options. Planning ahead and trusting those remote vendors are key. Once you arrive for the wedding it should mean the party is ready to start. For Shellie, "utilizing rentals gives me the opportunity to make my wedding venue unique and styled the way I have always imagined it. Rentals make a blank canvas come alive" She intends on incorporating a custom bar and unique table top items to accent the character of the venue. I have guests travelling in for the wedding and I wanted to exceed their expectations by incorporating the venues style and character throughout the event." Working closely with your venue event manager and planner will ensure that the months of planning will give you the day you have envisioned.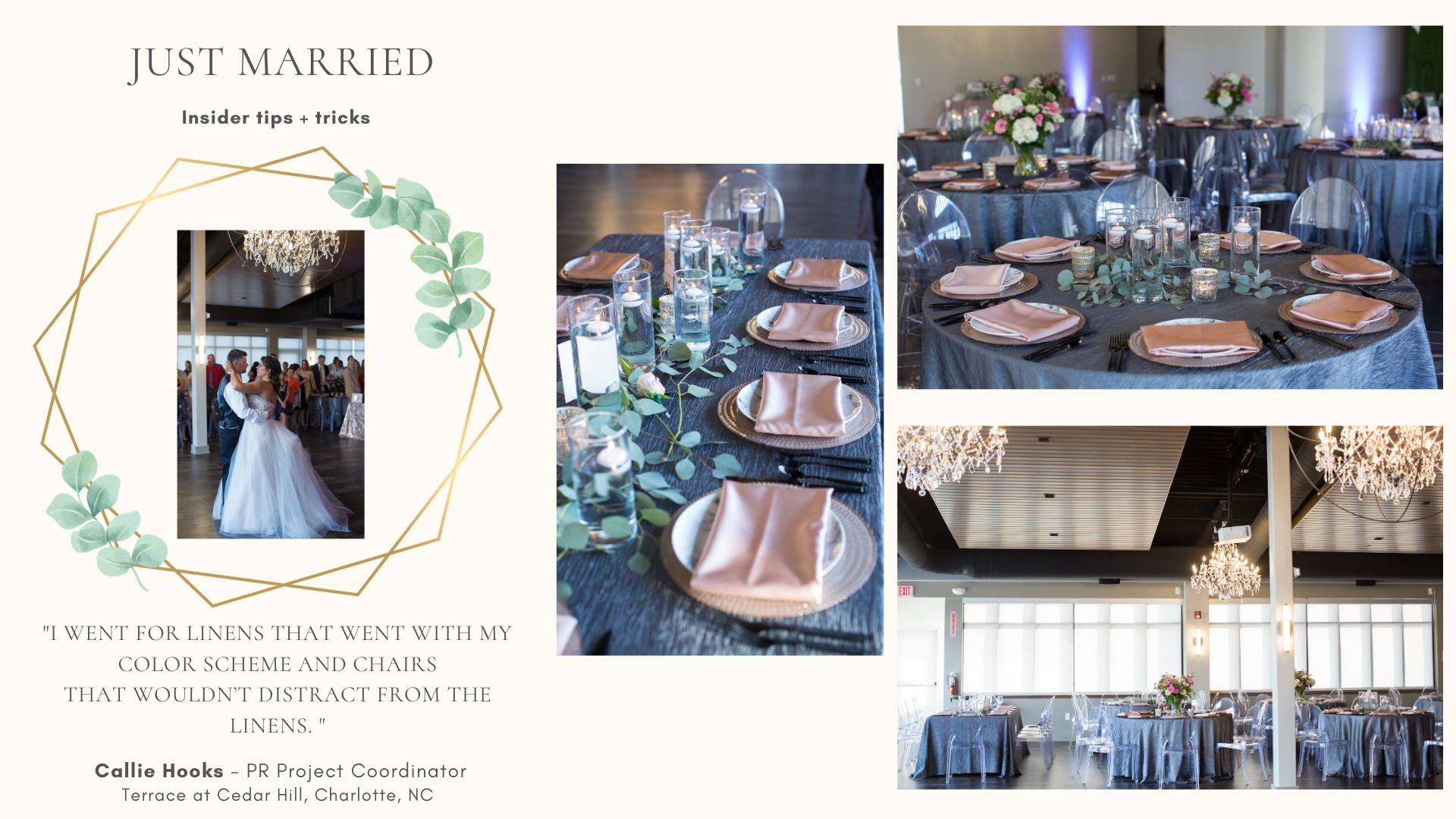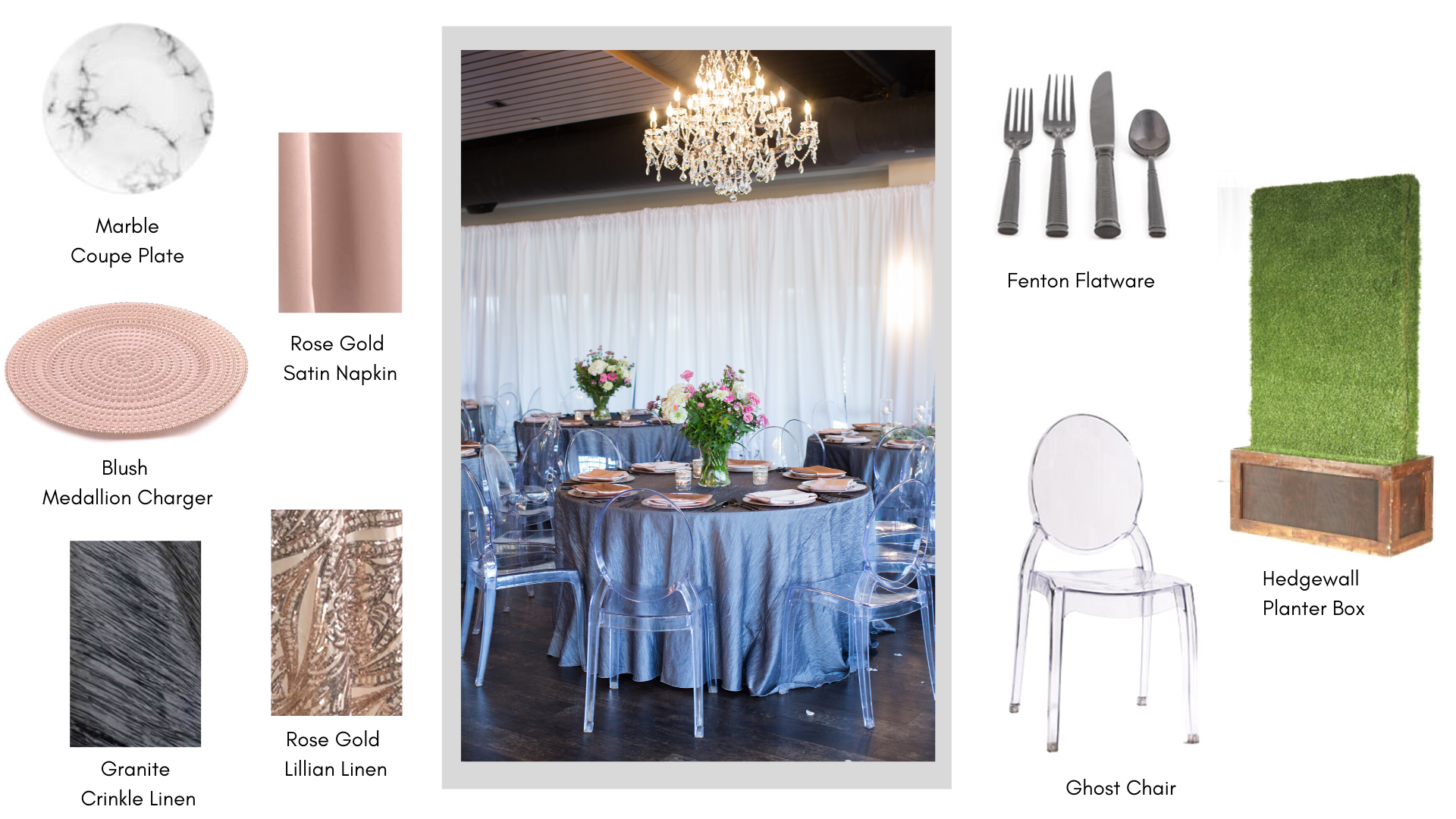 Callie Hooks is a project coordinator serving on our Charlotte operations team. She had a unique perspective as she was marrying the grandson of the company's founder. While it was important for the family business to be well represented, it was vital to be an expression of her style and choices. The venue was Terrace at Cedar Hill, that provides a blank slate with a beautiful view. She chose linens that went with her color scheme of rose gold and granite. The marble plates were new to inventory and arrived just in time to be able to incorporate them in her design. Using the Fenton Charcoal flatware brought in an accent that complimented some of the industrial components found in the venue. One unique twist was they chose was to serve pie at the wedding instead of cake. Callie advises to use your budget wisely. "I did go to the farmers market to get my flowers. Definitely spend the money on photography and videography. Those, along with the honeymoon, were the best things we spent money on."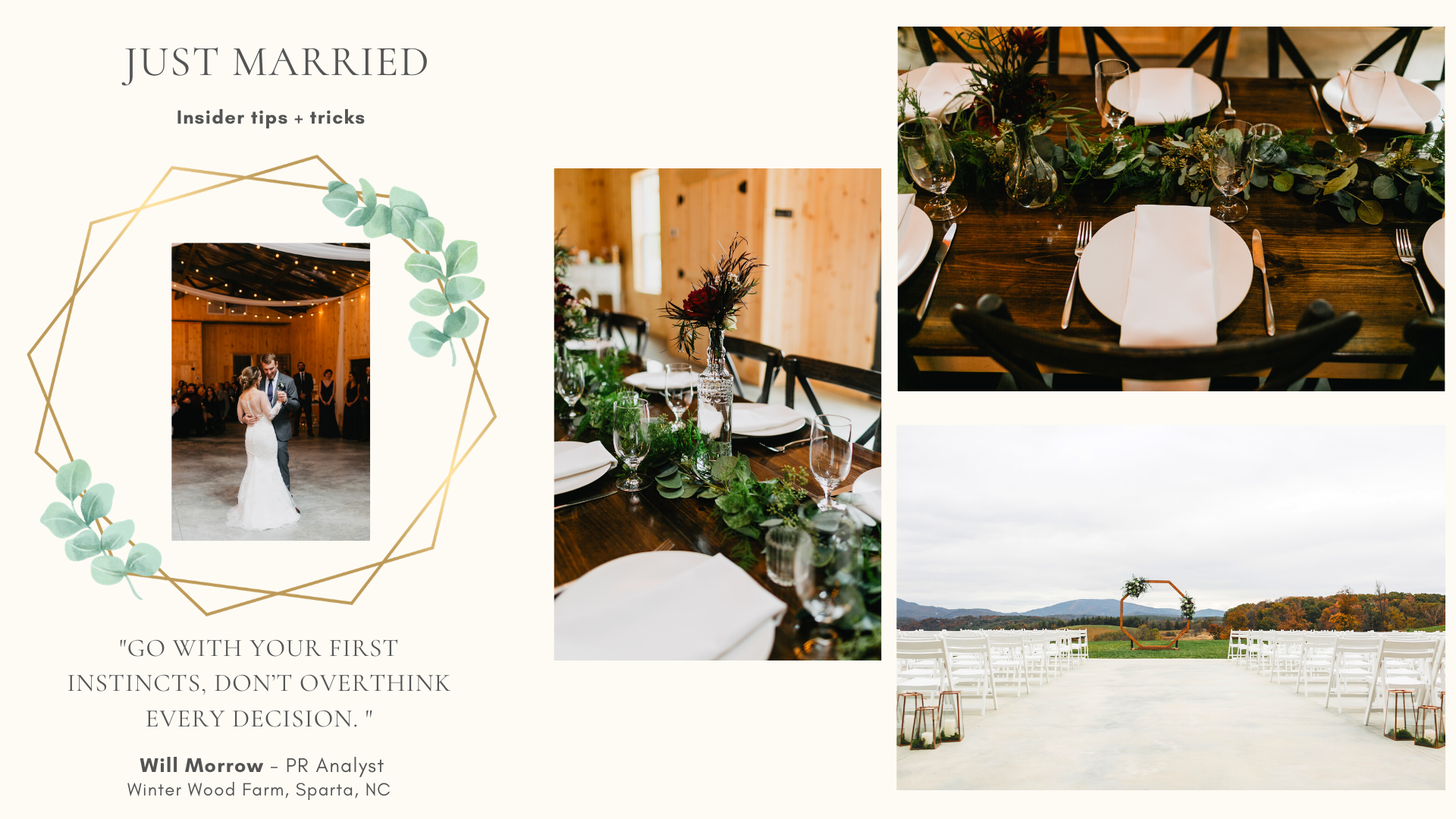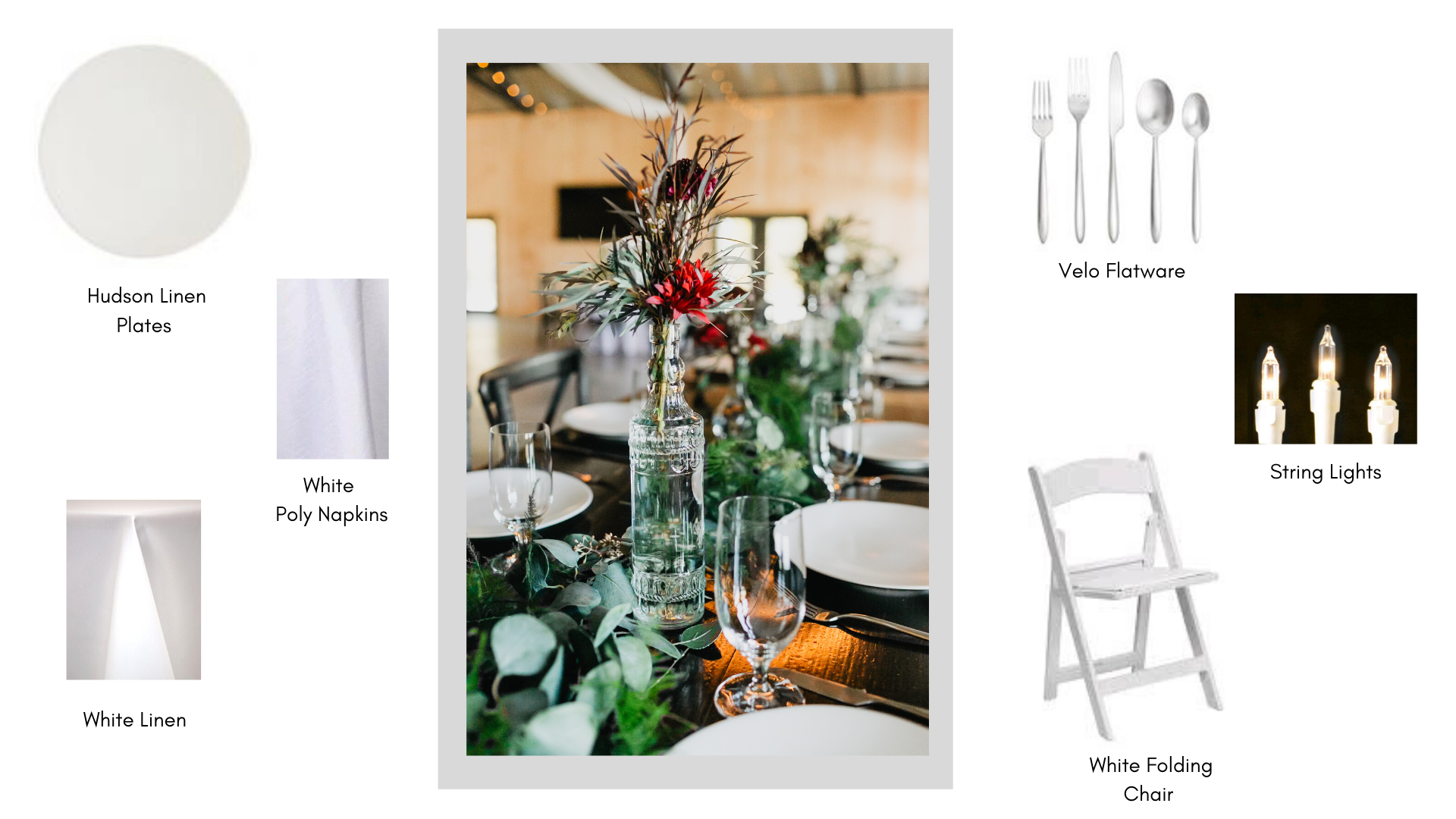 Will Morrow is an analyst at PR Headquarters and spends a great amount of time on inventory control. He sees product coming and going and knows well what people are using. Even though he was the groom, he had a definite insight to what rentals they would need. They chose to stick to basic colors for the linens and napkins and chose to draw in color from other things like the flowers and centerpieces. They found Winter Wood Farm in Sparta, NC for their venue. They allowed them to use it for the rehearsal dinner and the wedding, which they found helpful rather than finding 2 different event spaces. Will suggests, "Go with your first instincts, don't overthink every decision. To save money on a photo booth we rented pipe and drape to create our own picture wall and added some string lights." The use of wedding rentals can be varied and creative. This gives each bride and groom the ability to customize their wedding and transform any space.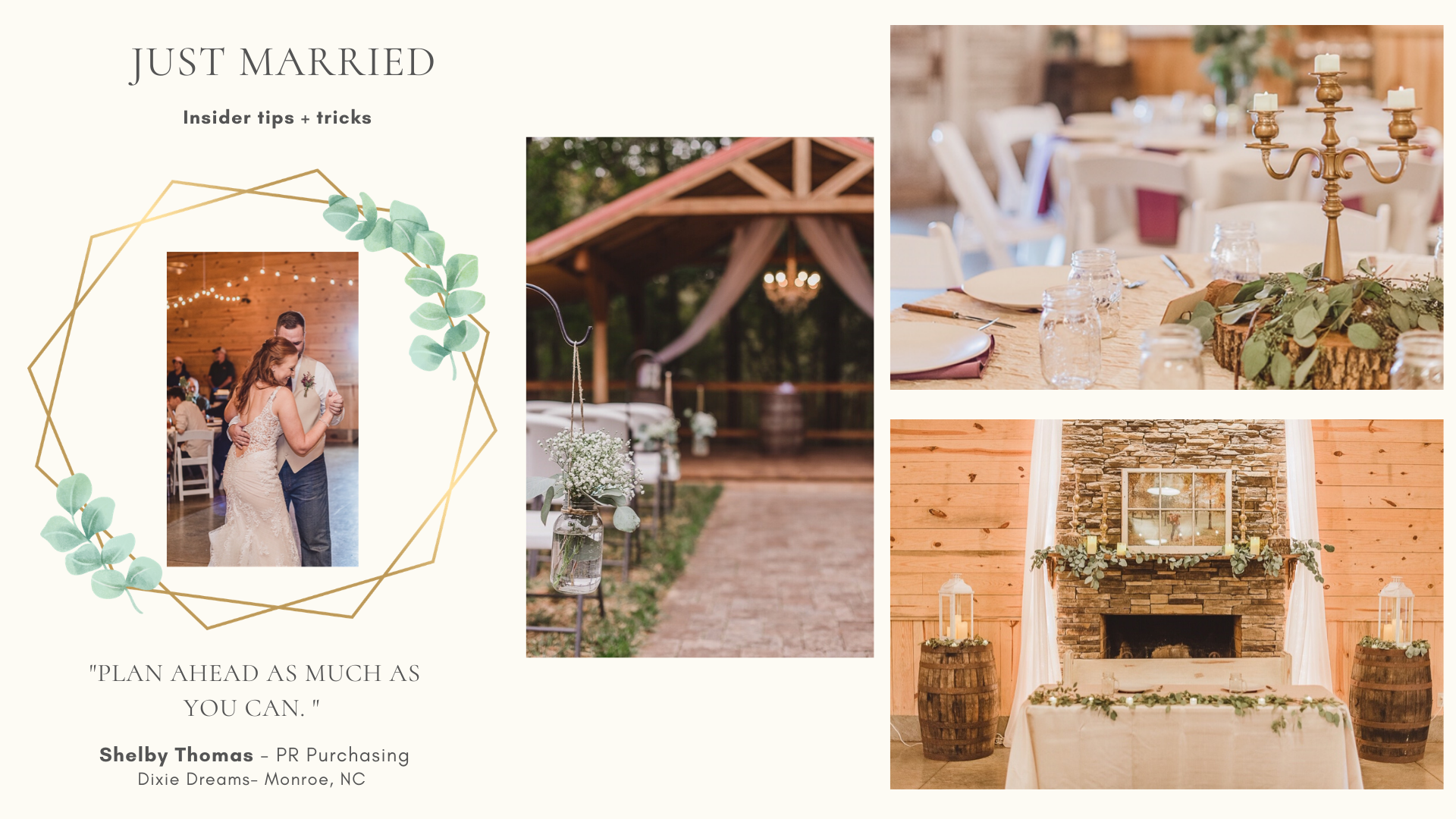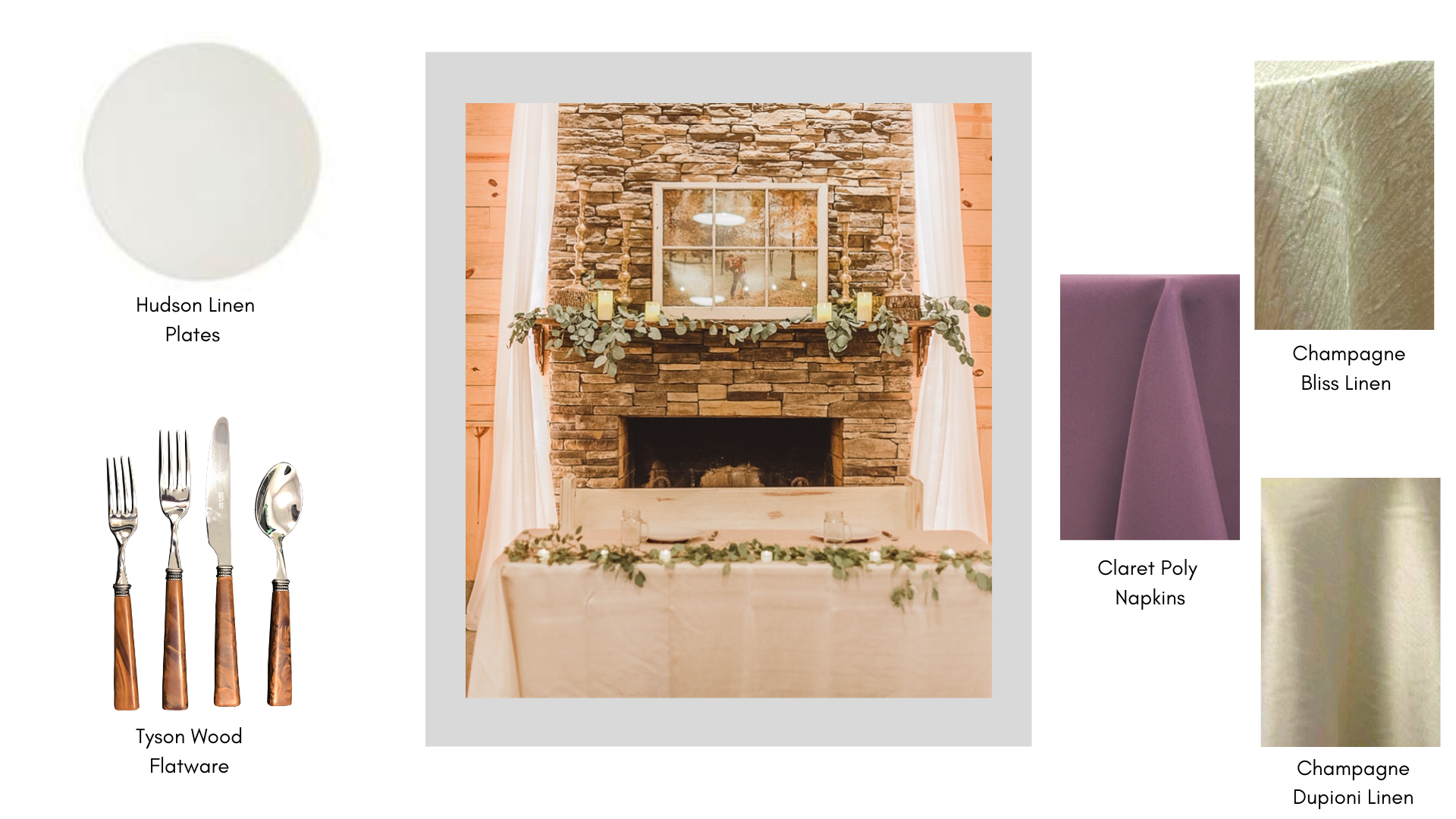 Shelby Thomas is our corporate linen buyer and secures fabrics from all over the country to meet our inventory needs. She clearly was faced with hundreds of fabulous choices she works with every day. The theme for the wedding was elegant rustic. It was held at Dixie Dreams in Monroe and the venue was a perfect setting to add just the right rentals to complete the design. A rustic venue helps, but she was able to add the new Tyson Wood flatware to her table design and it complimented the overall theme. "We wanted to be as simplistic as possible.
With so many gorgeous linens, it was so hard to choose just a couple! We loved the neutrals of the champagne colors mixed with warm fall colors of the claret and used greenery to tie everything together." With these intentional design choices, she was able to keep her rentals within budget and on point with her vision. Shelby suggests to "Plan ahead as much as you can. The more you do now will give you less of a headache when the craziness does begins a month before the wedding." Also, she suggests, "Take full advantage of our showroom! You can bring all of your table scape dreams to life!" Each of our locations have full design centers where you can pick the right colors and patterns that will bring together the dream wedding you are planning.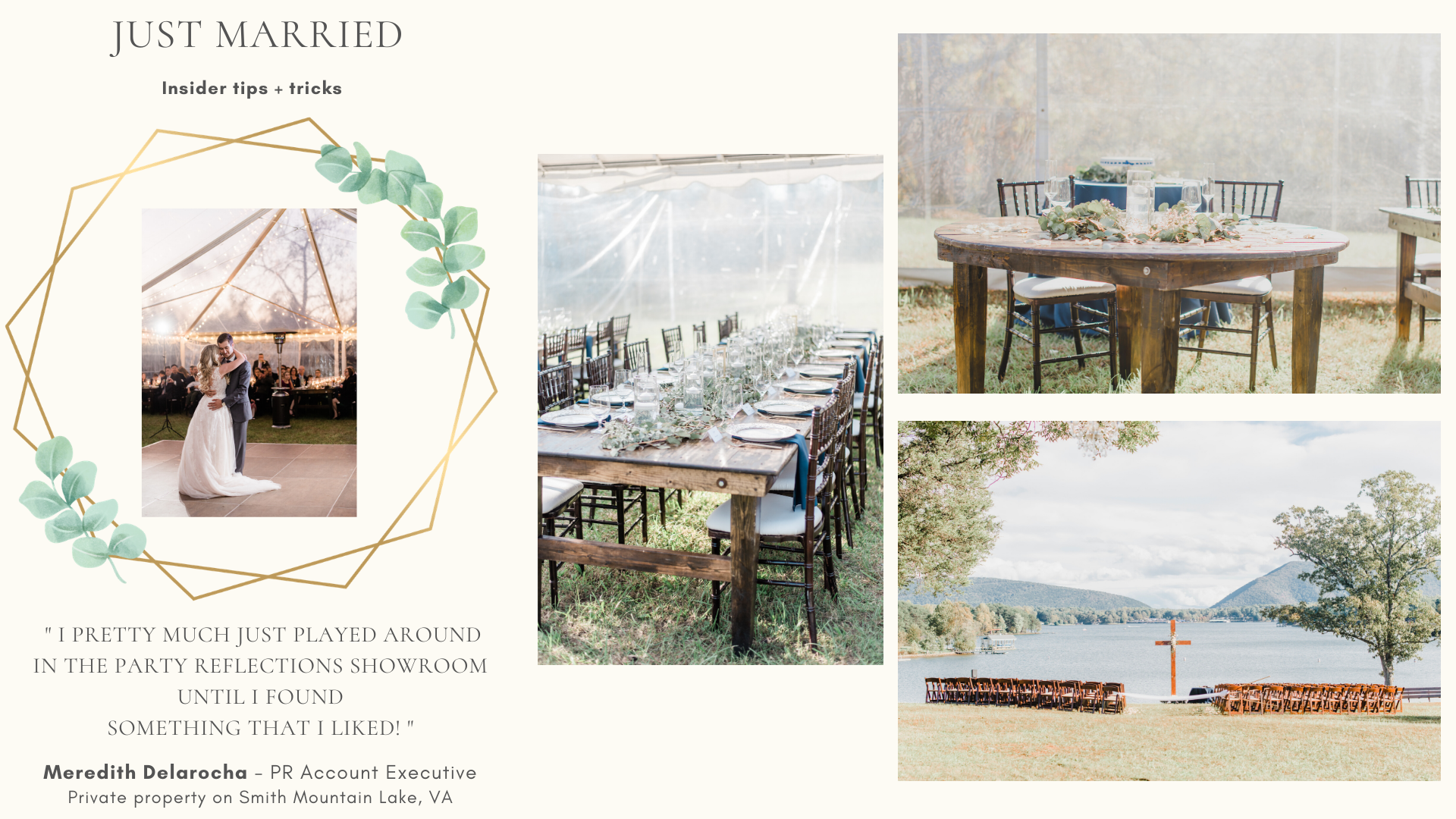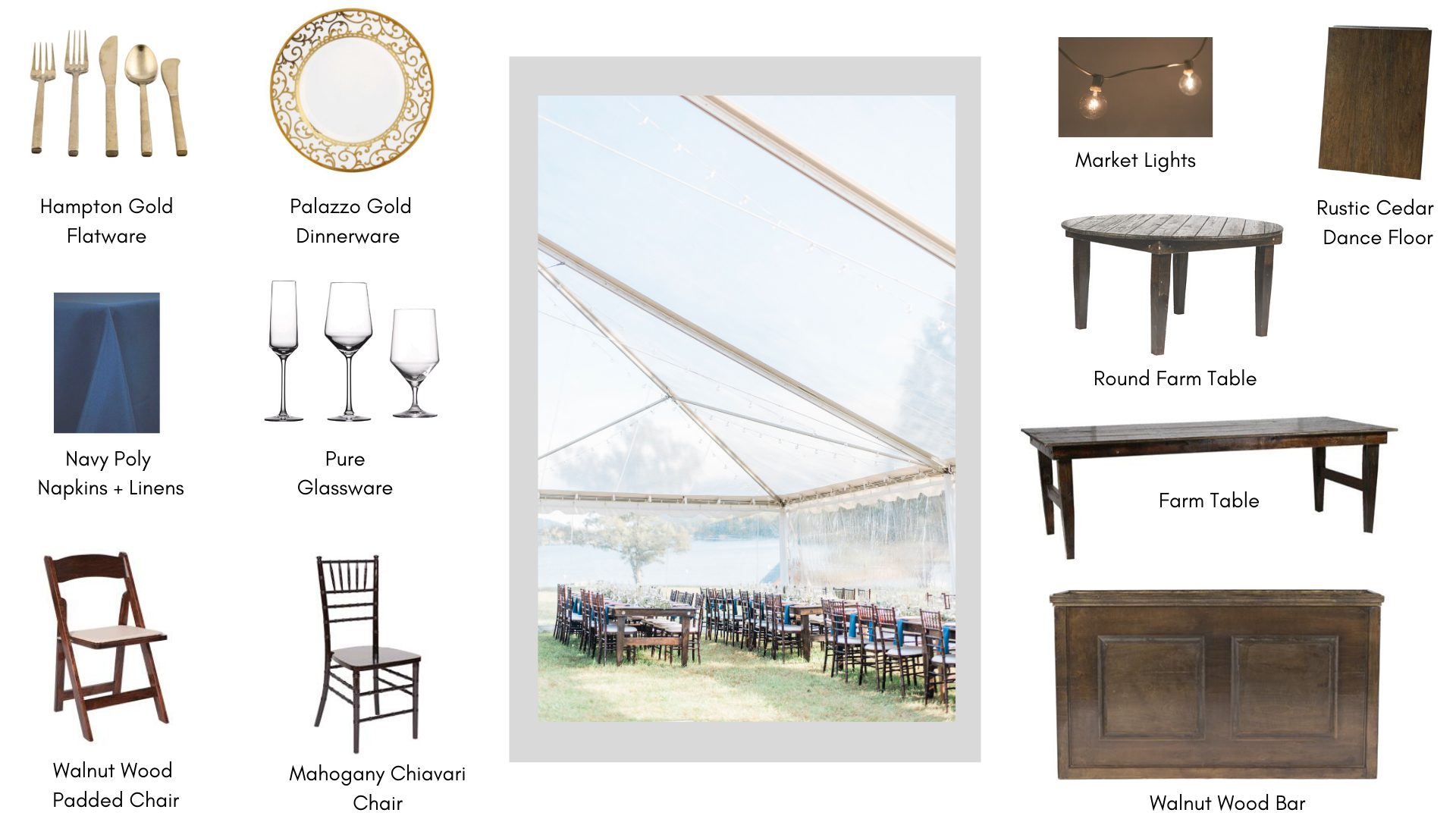 Meredith Delarocha is an account executive in our Raleigh location. She daily spends time with brides and planners to help prepare for their big day. Ironically Meredith actually didn't want a large wedding, but rather to elope somewhere. The idea of being the center of attention for that many people was not ideal, but her fiancé Chris came from a big Italian family so that wasn't an option. Even though she was not planning on a wedding, it was everything that she could have asked for. Their wedding was held on private property with no indoor space for a reception – so a tent was a must. She just loves a clear top tent & since it was in late October and would be cold enough, it was super easy to choose! Using a clear top tent in a hotter summer month means it can turn into a sauna. But in fall or spring it gives you the weather coverage and doesn't compromise the view. Her guests were able to enjoy the space around them and not make the drive/fly all the way to VA to just be enclosed without being able to see the natural beauty there. Meredith says, "I loved the idea of having farm tables since the wedding itself was at a working farm. As far as everything else, I pretty much just played around in the showroom until I found something that I liked! This is why I stress having couples come to the showroom to see everything in person and not just try to pick out the things that they like online. It is so helpful to actually see it yourself in person." Meredith has some great advice to planning the wedding. "The nicer that you are to your vendors, the better everything will go." She knows firsthand the value of a great vendor team and how working together will mean the wedding day can be even better than you imagined or dreamed. Another important thought she had was, "DON'T STRESS THE SMALL STUFF – It's not the wedding that's important, it's the marriage."
What great advice form the Party Reflections team of newly and nearly weds! Thanks to all of them for sharing their insider advice. Regardless of the style or location of your wedding rentals can always transform a space, give life to a vision and ensure your wedding will be memorable for years to come. Additional resources on renting can be found at Brides.com and Wedding wire.com. One thing for sure is you can find a million opinions on how to plan the dream wedding. You can study what others did. You will embark on your path to the most beautiful day ever. But remember, the most important part is to enjoy the journey. You do not arrive on your wedding day you are merely beginning! Celebrate and enjoy the new life you have started together.