How Teamwork Created a Tented Event Venue in Record Time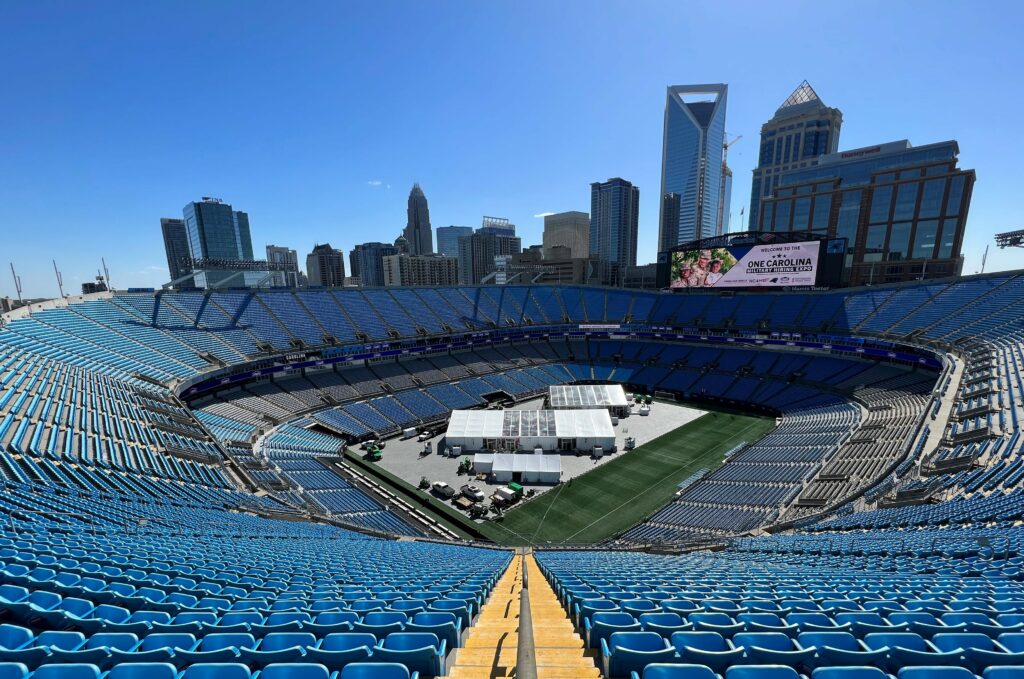 When plans for an indoor fundraiser changed due to bad weather, it was all-hands-on-deck to make sure the new venue, one that needed to be tented, was gala-ready. Our special event rental and production teams here at Party Reflections stepped up. We had handled the annual event several times before, so we were up to the challenge and rose to the occasion. Let's look at how teamwork made this last-minute venue change a huge success.
Plan A
The original event was scheduled to take place inside of the "Practice Bubble" of the Carolina Panthers NFL team. Usually, an indoor event is not affected by weather unless it is a weather event that shuts down the entire community. In this case, a storm rolled through Charlotte, NC, two weeks prior to the event and damaged the intended event venue beyond where it could be ready for the gala. The original intent was to bring in tables and chairs, and pipe and drape, in order to create an elegant venue that featured a catered dinner for 500 people. Now it would need to find another home, ASAP.
The Challenge Ahead
The event planner immediately called us to change plans and scramble to find a suitable location for the event. The Carolina Panthers organization was fully behind the event and offered the field inside Bank of America Stadium if we could mobilize enough tenting on such short notice in our busiest season. Party Reflections was up for the challenge to turn an outdoor football stadium into an elegant venue suitable for a fundraising gala within 2 weeks from concept to event. After reviewing and rearranging the floorplan, the event needed almost 20,000 sq.ft. of tenting to accommodate all aspects of the evening.
Luckily, the Panther organization had just purchased a temporary flooring system that could be installed before we needed to begin our set up. We were able to come up with a configuration of tent structures that would meet the demands of the event. With limited time, a plan had to be developed to build the structure inside of this NFL stadium where no tent has ever gone before. Party Reflections had their work cut out for them.
The Solution
Our team was familiar with this event and the event planner, so we were able to quickly assess what needed to be done and get right down to business. Getting the tent up required both manpower and specialized equipment. The plan was for the stadium to host the cocktail hour inside the bar and lounge area, called "The Vault." The cocktail reception spilled over into a courtyard formed by the two structures on the field. From there, guests were led to their seats for the dinner presentation and auction under a 25M x 45M (82'x147') Loseburger Structure Tent. After dinner guests moved from the dining tent into another structure tent 25Mx25M (82'x82') with a clear top for the entertainment and dancing portion of the night. There was also a 30'x50' frame tent installed for the caterer and an additional 16'x16' tent used as an office for the event planner.
The stadium provided a 40,000 sq.ft. pad of flooring for us to operate on as we were installing. This allowed us to drive our trailers into the center of the stadium for easy access to the site and utilize the proper forklifts and machinery to erect the structure. Obviously, staking the structures was not an option, so we had to transport over 200,000lbs of concrete weights to use as ballasts. The six trailers of concrete had to be coordinated between our project management team in the field and our logistics team at the office to make sure we had the proper weights when we needed them. We did not have enough room to install both structures at the same time and still allow for truck and forklift movement, so we had to work on one at a time to allow other vendors to begin their work. We utilized our Tent Ox and a 42' shooting boom forklift to unload and distribute the weights around the perimeter of the structures.
Since the stadium did not want the flooring covering the lawn for an extended period of time, we had to complete our installation in one day to allow for the carpet, tables and chairs, AV, décor and catering teams to completely set the room the following day. With everyone working together as one cohesive unit and following predetermined protocols for safety and efficiency, the PR tent installers were able to have the tent erected in less than 24 hours!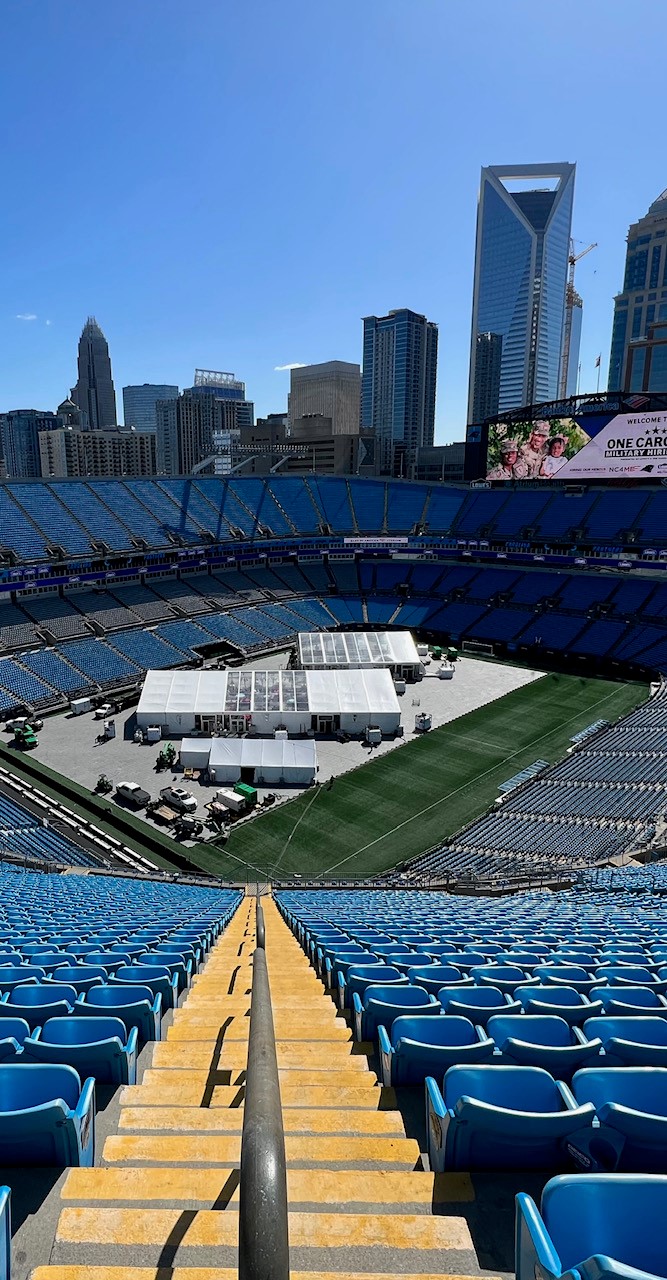 Fortunately, we did not run into too many surprises along the way for this project. The flooring provided by the stadium was not exactly the size we had requested, which pinched our ability to get around the outside of all the structures easily, but we were able to make it work. The stadium informed us in the last couple of days of planning that we could not have generators on the field because they were afraid of fuel or oil leaks. Given the amount of AC, AV, and catering power needed, it would be impossible to run power from the parking lot efficiently enough to run everything. We spoke with our Sunbelt representative and discussed using a fuel containment bladder under each unit that would catch any spills from the equipment. This was satisfactory to the client and the stadium, so we avoided the problem.
We Make It Happen
From start to finish, we had 12 days to create a completely new site footprint, prepare the available inventory, install the tents and remove the project. The installation took roughly two days to complete, and we had everything torn down in about 8 hours.
We believe any time you can put your customer at ease and let them know you are there to solve their problems is a win. We kept a can-do attitude from the beginning when we learned of the change in venue and assured the planner that we could handle the challenge. It was an opportunity for us to show our customer and the stadium that we can respond to the most challenging situation. Pulling this off in the busiest part of our season with a shortage of labor in our industry, was truly a miracle. No one had ever done tents like this on the stadium grounds before, so we proved to the stadium that events like this could be held without damage to their property which opens more possible business for us both in the future.
When it comes down to it, successful events are built on teamwork—no matter how much planning goes into them or how many last minute changes need making. At Party Reflections we understand that better than anyone else —which is why we refuse to not only rise above any challenge but excel at it as well! So when you are looking for reliable event rentals and production services that you can depend on to provide innovative solutions and a beautiful event, contact Party Reflections! We are always looking to deliver the #PRexperience Visit the tent resource page on our website to begin planning your next tented event.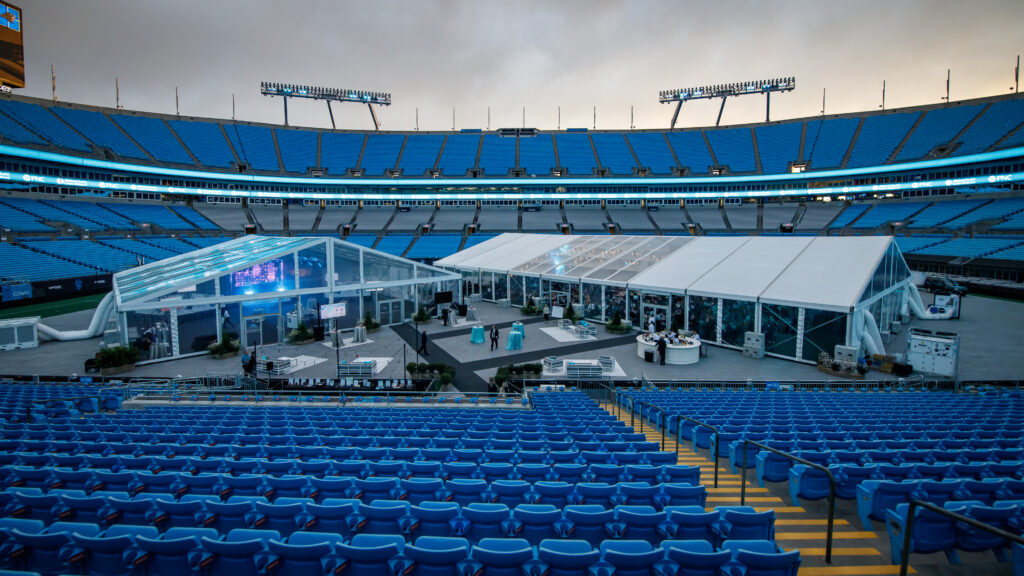 In a Nutshell
500 guests
20,000 square feet of tenting, supplied by Party Reflections
40,000-square-foot pad of flooring, supplied by the Carolina Panthers Bank of America stadium
250 tons of air conditioning, supplied by Sunbelt Rentals
More than 200,000 pounds of concrete weights for ballast, Party Reflections
Teamwork
The planning firm that was managing all the details was TCG Events. Cassie Brown, Owner and Chief Experience Officer is a seasoned veteren of the event industry and when ask what she was most proud of about this installation she thoughtfully responded with, "The risk potential was high with a venue change 13 days from load-in. None of us had put a structured tent on an NFL field before. Even the Stadium hadn't done anything similar before. Working with a large team of event professionals/vendors/stadium staff willing to do whatever it took to make it feel like the new venue was the original plan."
Because we are all students of this industry and every event teaches you more and gives valuable experience, we asked what she learned. Beacuse it shows reality, her personality and is actually funny, we share her exact bullet point response:
With an insane amount of weight, no stakes are needed on a structured tent.
How to build a truck roadway on a football field
The outside temperature and the field temperature are not the same.
Semi-trucks on a football field look small
It is possible to wow jaded event professionals
Great appreciation for the fact people still return my phone calls
Sleep isn't that important
TCG Events is an event planning firm based in Charlotte, NC that has the simple mission to transform the ordinary to extraordinary. To provide a stress-free and fun event-planning experience while producing an event that meets the clients' goals, exceeds their expectations, and makes those who didn't attend wish they had. Their mantra is "To Event Differently." Cassie you clearly delivered on this job and created not only an event but an extraordinary display of talent availble in the Charlotte event industry. Cheers to the hard work and determination to see this through!
The Senior Account Manger at Party Reflections that managed this job was Kathryn Meyer. She has worked with Cassie for over 20 years and that relationship proved to be key in getting such an undertaking completed in less than 2 weeks. Kathryn has worked on many large scale, high profile events through the years providing event rentals around the Carolinas and beyond. She can be found working on details for a PGA golf tournament, a large scale tented wedding and a private backyard event all in one day. Working on this event for Kathryn was special. She has always said she would be the first person to tent on the Carolina Panthers Field when it was allowed, and she did it. After years of being a part of some of the largest events in Charlotte, she said "this event wowed me. It pushed me beyond what I knew would be possible in a time frame we have not worked in before. Seeing an install in such an iconic stadium was a moment I was proud to be a part of."
Party Reflections is a special event rentals company headquartered in Charlotte, NC with offices in Charlotte, Raleigh, Greensboro and Winston Salem, North Carolina, and Columbia, South Carolina. We offer event rentals for any size event. We specialize in tent rentals as well as a large variety of tables, chairs, linens, china and glassware for your party.
#NCeventplanner #SCeventplanner#TentedEvent #TentRentals #EventRentals #EventProduction #SpecialEventRentals #NCEventPlanner #SCEventPlanner #TeamWorkMakesTheDreamWork #PartyReflections #EventPlanningSuccessStory #LastMinuteTentedFundraiserAchievementUnlocked #EventProfessionals #CharlotteNCEvents #EventPlannersrock! #NFL