Party Reflections Linen Week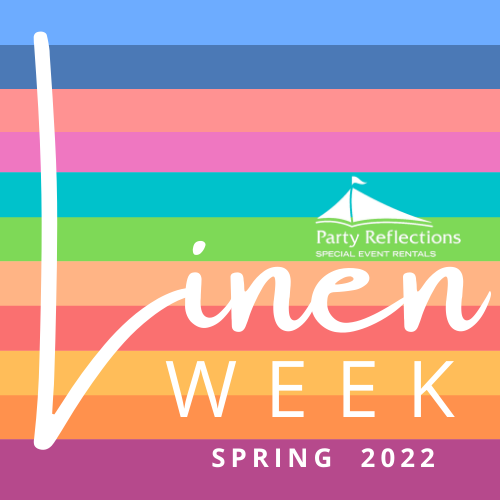 Day 1: Rustico
Introducing Rustico, a new line of table runners and napkins available in 4 colors. The table runners measure 50″ wide and are long enough to cover an 8′ table and puddle on the floor. Runners come in Sage, Cream, Rose and Sky. Napkins are available in Sage, Cream, Rose and Smoke. The soft organic feel of this fabric will remind you of a muslin baby swaddle.
Day 2: Spring Blossom and People's Choice
Introducing Spring Blossom now available in 2 colors, Indigo and Frost. This pattern has a great organic quality and could be used any season. Frost has beautiful neutral tones and Indigo has variable shades in blue that will create a beautiful tablescape. Also shared today are the two People's Choice winners that were voted on and chosen by industry groups we were hosting in our stores. The first is Starry Night chosen by NACE Charlotte and named by our Instagram followers. It has beautiful tonal qualities in blues and greens and silvers and tones of movement in the pattern. The second pattern was chosen by the Columbia Bridal Association and it is called Teal Firefly. Fun fact: the Fireflies are the semi pro baseball team in Columbia and sounded like a perfect fit for the linen that their market chose.
Day 3: Haven and Jute
Day 4: Etched Velvet
Etched Velvet is now available in 4 colors. Cream, Blush Silver and Mauve. The finish and coloring of these cloths have so many options to pair with our table top items. The etching component to the cloth is metallic and can pick up the color in light in a unique way with each design. While pretty in a picture, they are a must see in person. The soft feel and detail etching make for a designers dream.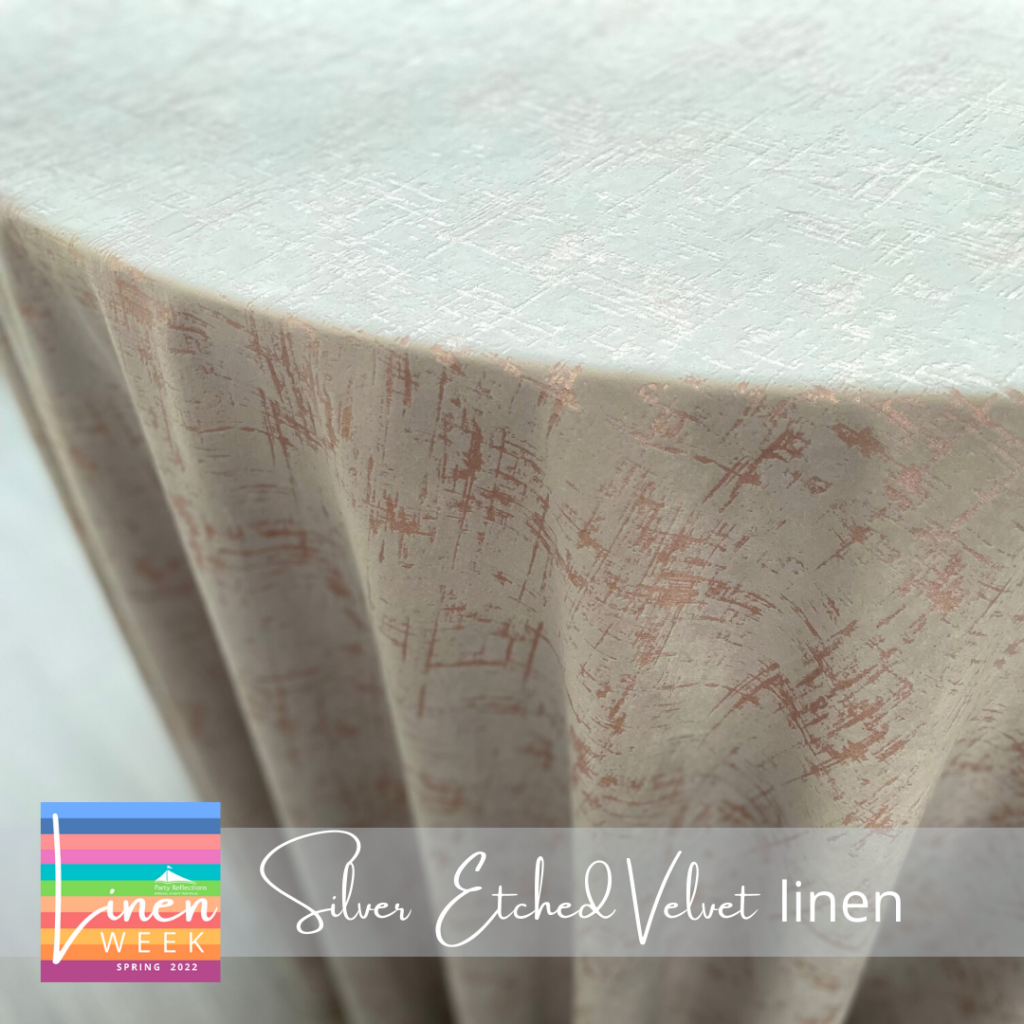 Day 5: Sage Madison
Sage Madison is a beautiful fabric that is a textured white background with a green botanical print. It is classic simple refined and will work from spring to fall. It will pair with so many of our solid color fabrics and create an organic presence in any event.