Setting The Bar – How to Incorporate Bar Rentals At Your Next Event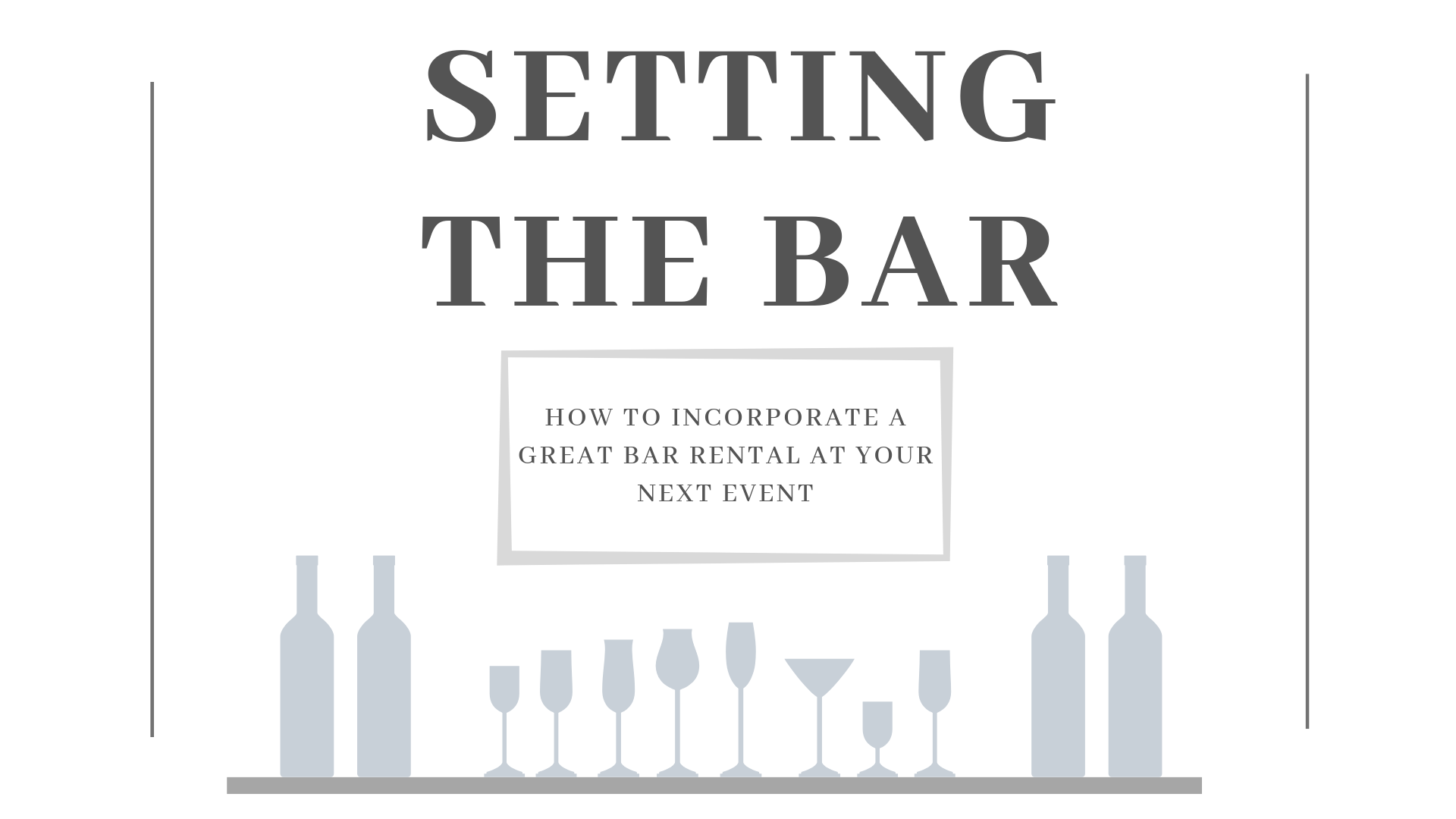 Set the bar at your next event!
Blending the right rental bar into any given events' design will elevate the décor and ambiance along with the appropriate social flow. An open bar is one of the most frequented areas during an event and is usually the first stop for event attendees. It is necessary to recognize the importance of the bar size, bar placement and how many guests will be attending the event.
Size and space can sometimes be limited at an event location. One aspect is to determine the bar set-up. Smaller bar tops are more ideal with space for beer and wine. A full bar can require more elements that need to be factored in like glassware, liquor bottles, juices, sodas and fruit. This will need somewhat of a larger bar top and space to accommodate. Not to be forgotten are napkins, straws and décor for any bar you have. Once the size of the bar rental is determined, the placement of the bar needs to be put into consideration. Considering the guest count will complement the placement and flow of the event. If a bar is placed near an entrance it will limit the events flow and congest the area of the entrance. You will need to strategically place the bar into the event space that will draw guests to that area for the proper guest flow. Aiming to have effortless guest movement, opt to incorporate more than one bar into your event design. This will allow for less congestion in one space. The goal is to have a welcoming atmosphere and all food and beverage stations easily accessible throughout the event.
Party Reflections, Inc.has over 9 in house specialized bars to elevate your next event. From our rustic wine barrels to our elegant Montgomery bar, there is a bar to suit any size or type of occasion.
Whether, you incorporate a wine barrel with your cake table or have wine barrels for a bar rental, our double wine barrel and triple wine barrel bars will give your event the rustic elegance it needs.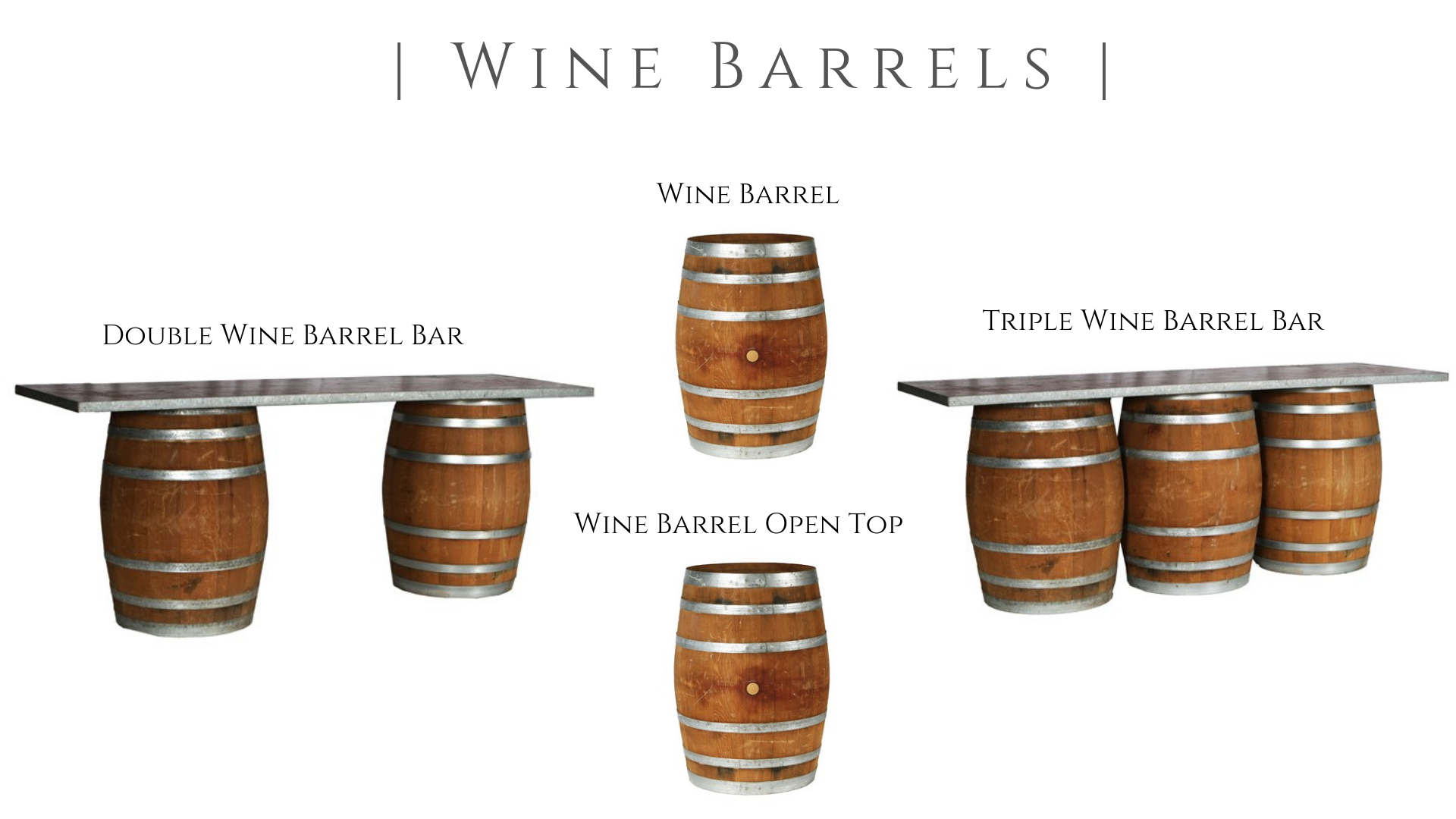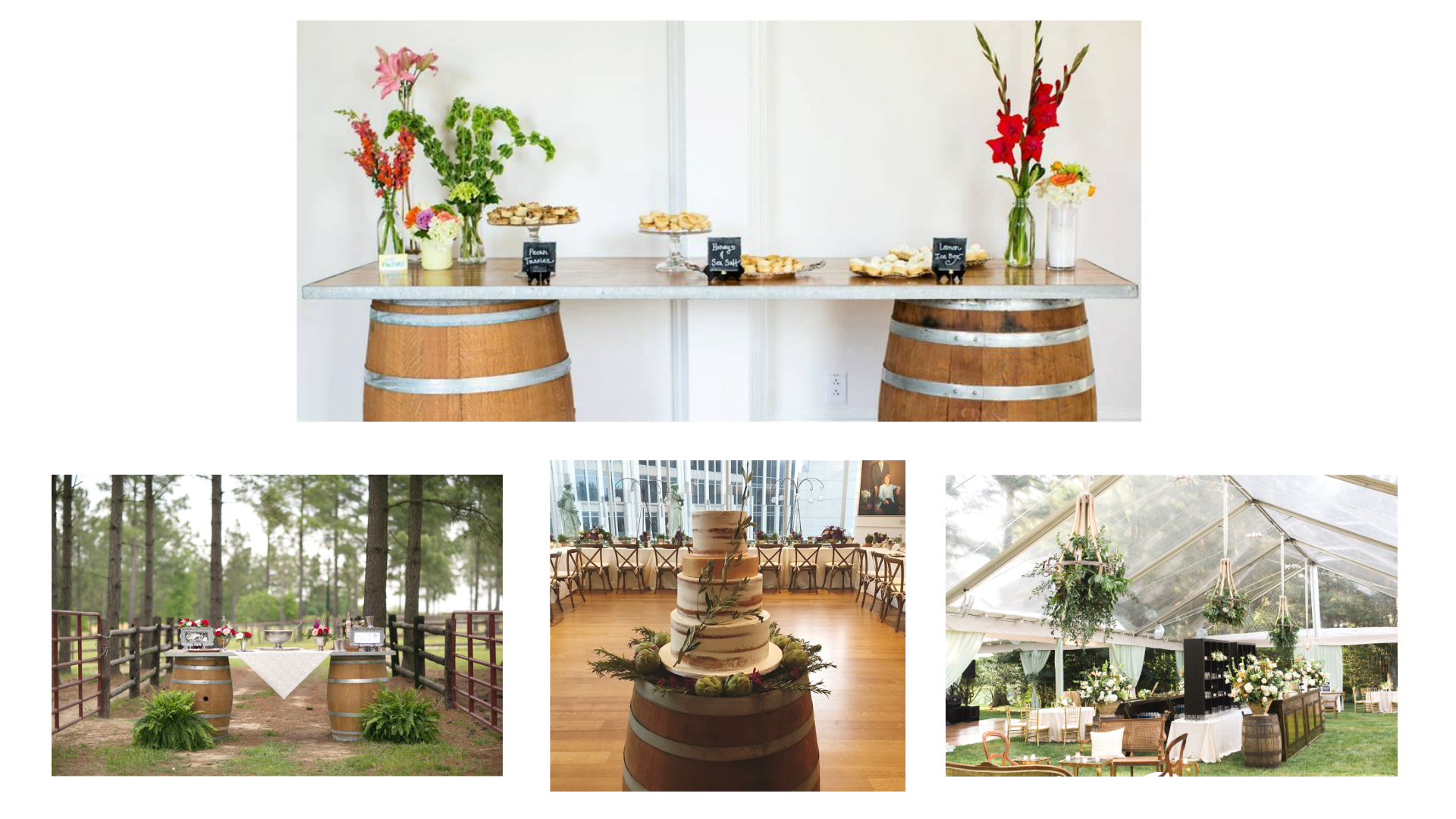 The Walnut Wood Bar will enhance the style and theme that fits your event. Get creative with a southern feel to a farm house bar theme.
This bar will illuminate your event. Literally! The Acrylic bar does not hide in the corner, it's there to stand out! This bar has opportunity to use whatever light color that will fit your event's needs.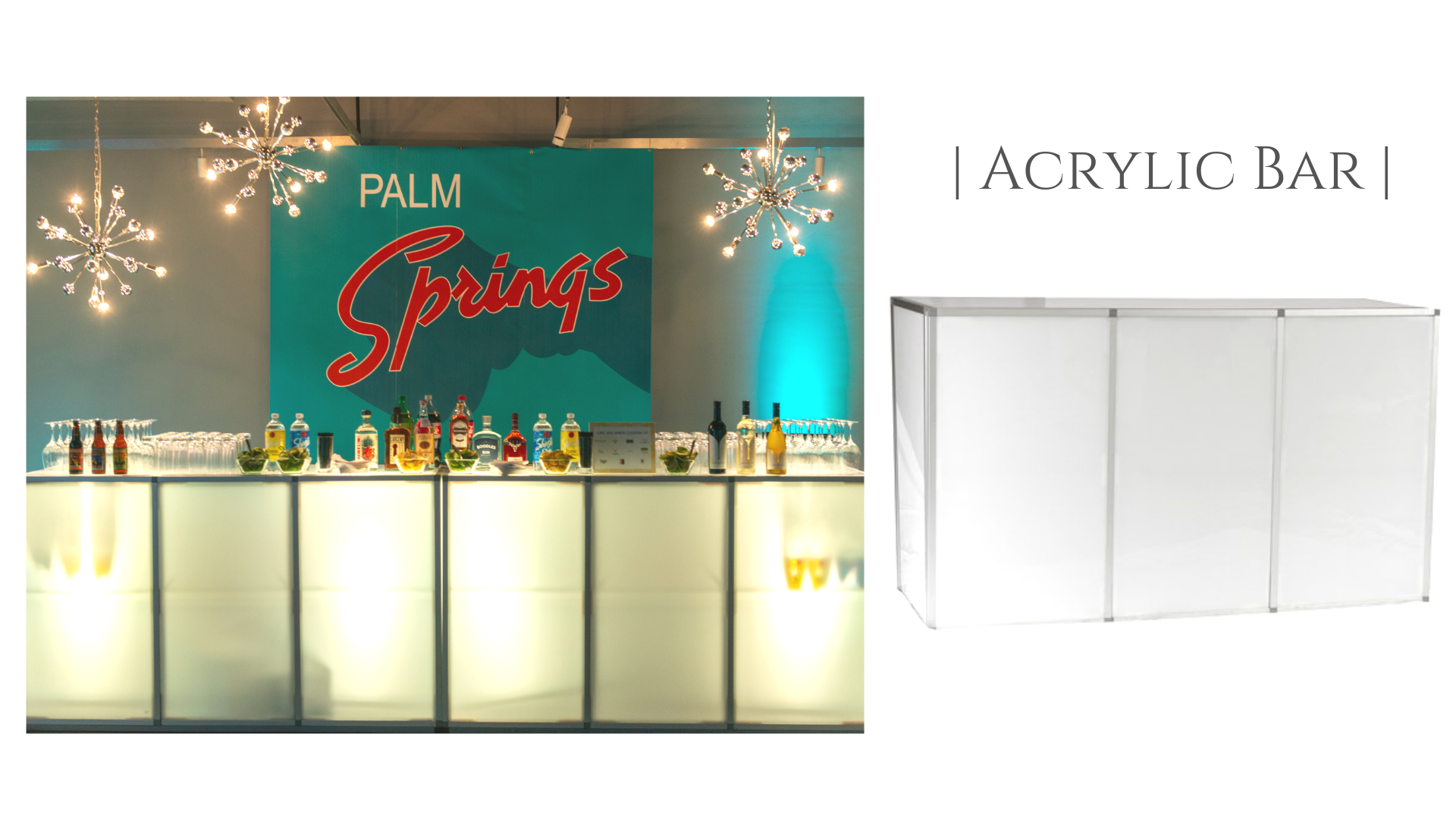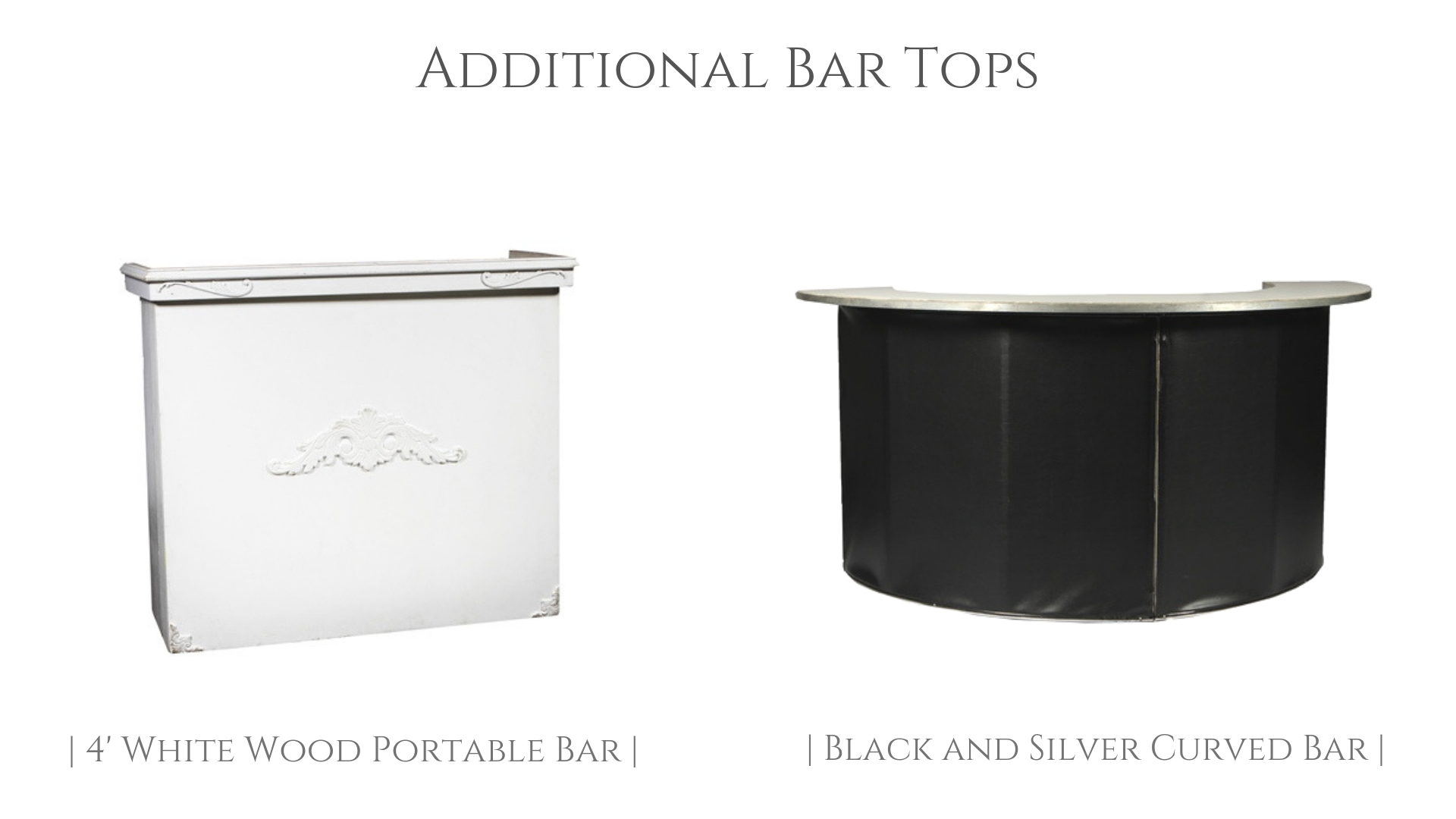 This bar is not only portable but, can blend in or stand out with any theme at an event.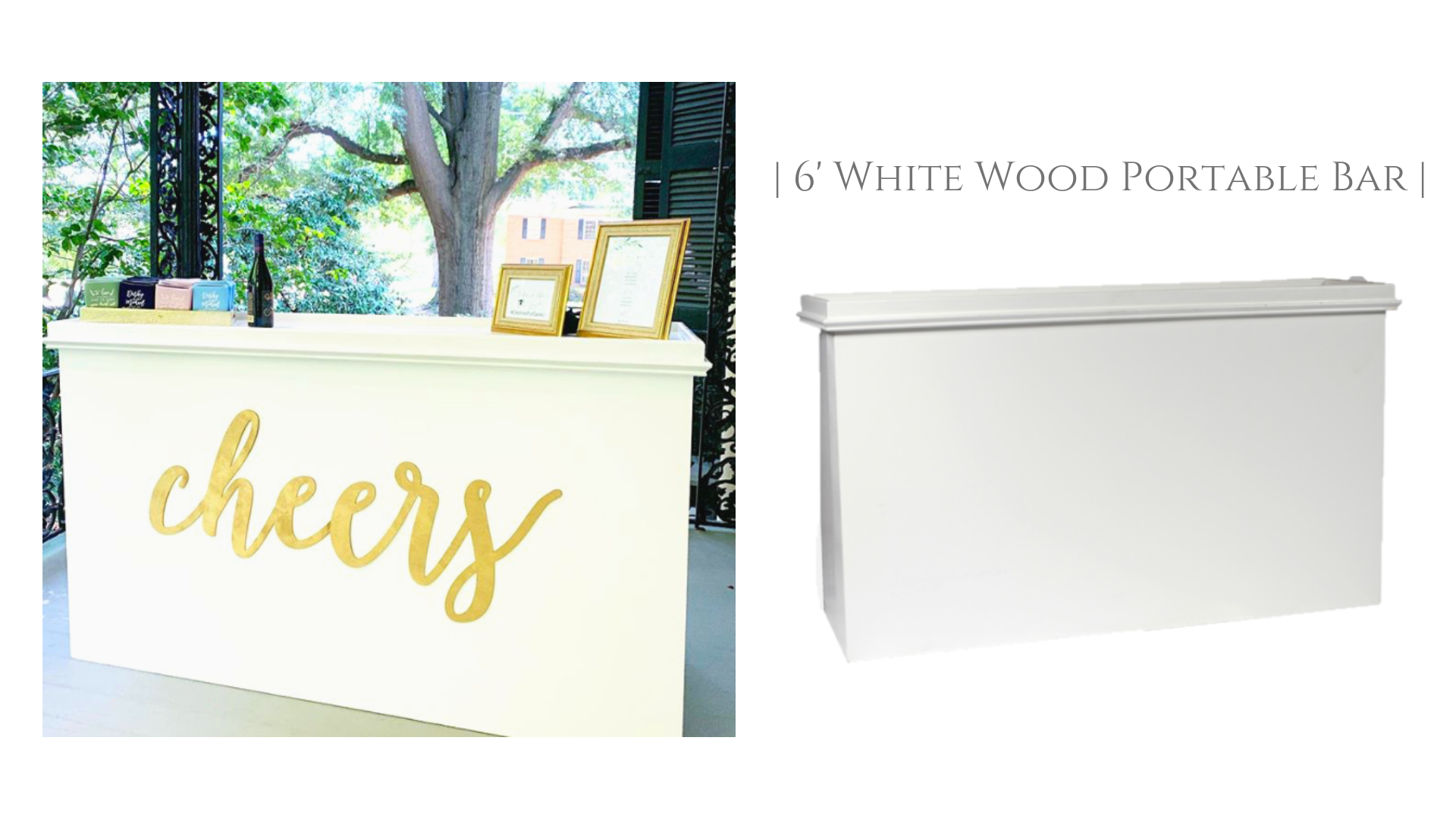 The Hemsworth Bar is 6 ft in size and comes with 3 mirrors attached to reflect the ambiance an event. Custom fabric inserts can cover the mirrors and add a custom element to your event.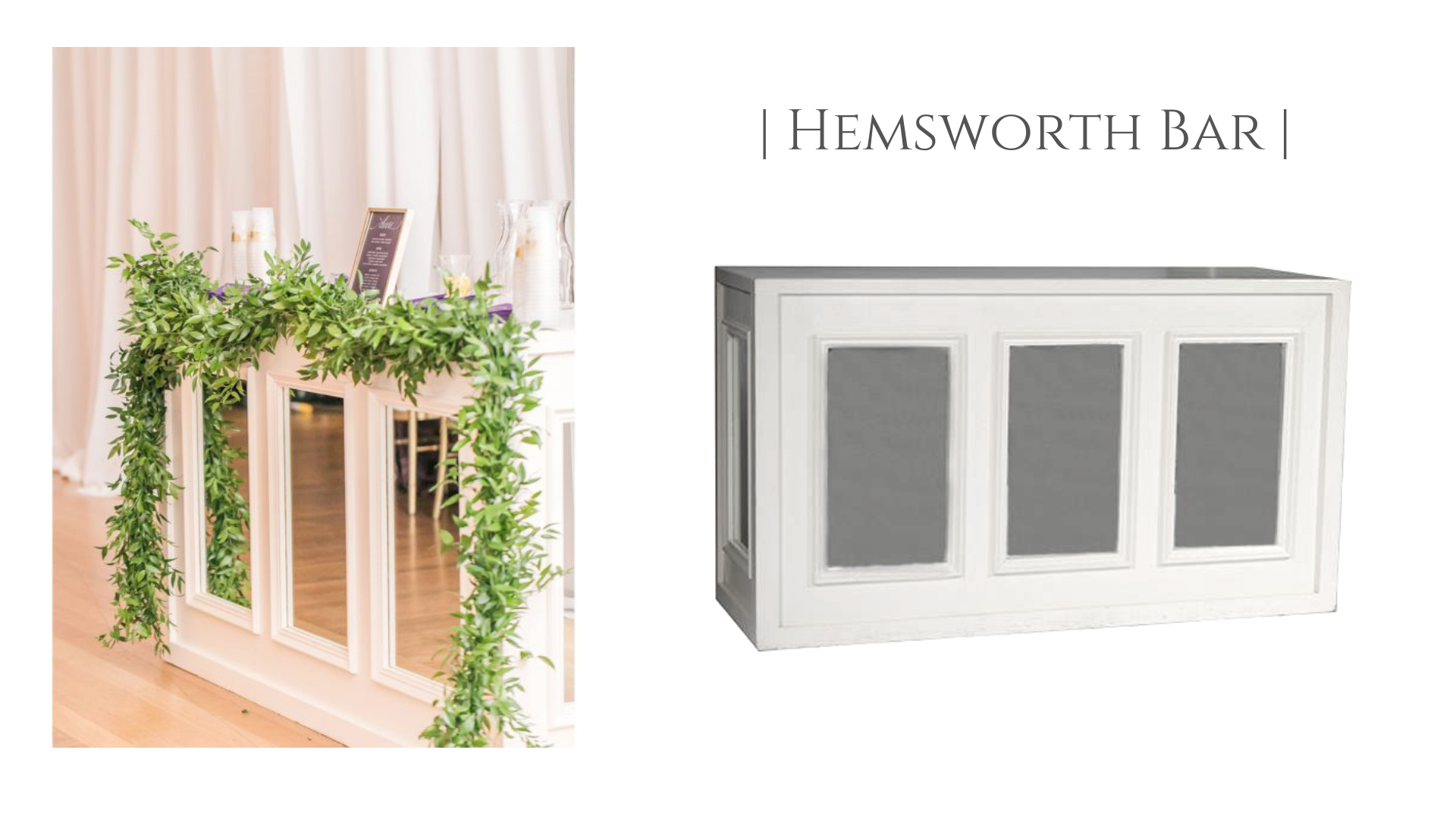 The Montgomery Bar is an event showstopper. It's great for outdoor, indoor and tented event locations. Try adding two Montgomery bars to connect making it a half circle bar or use four bars to make a complete circle. This timeless, elegant bar will bring style and grace with its curved feature and will transform your event.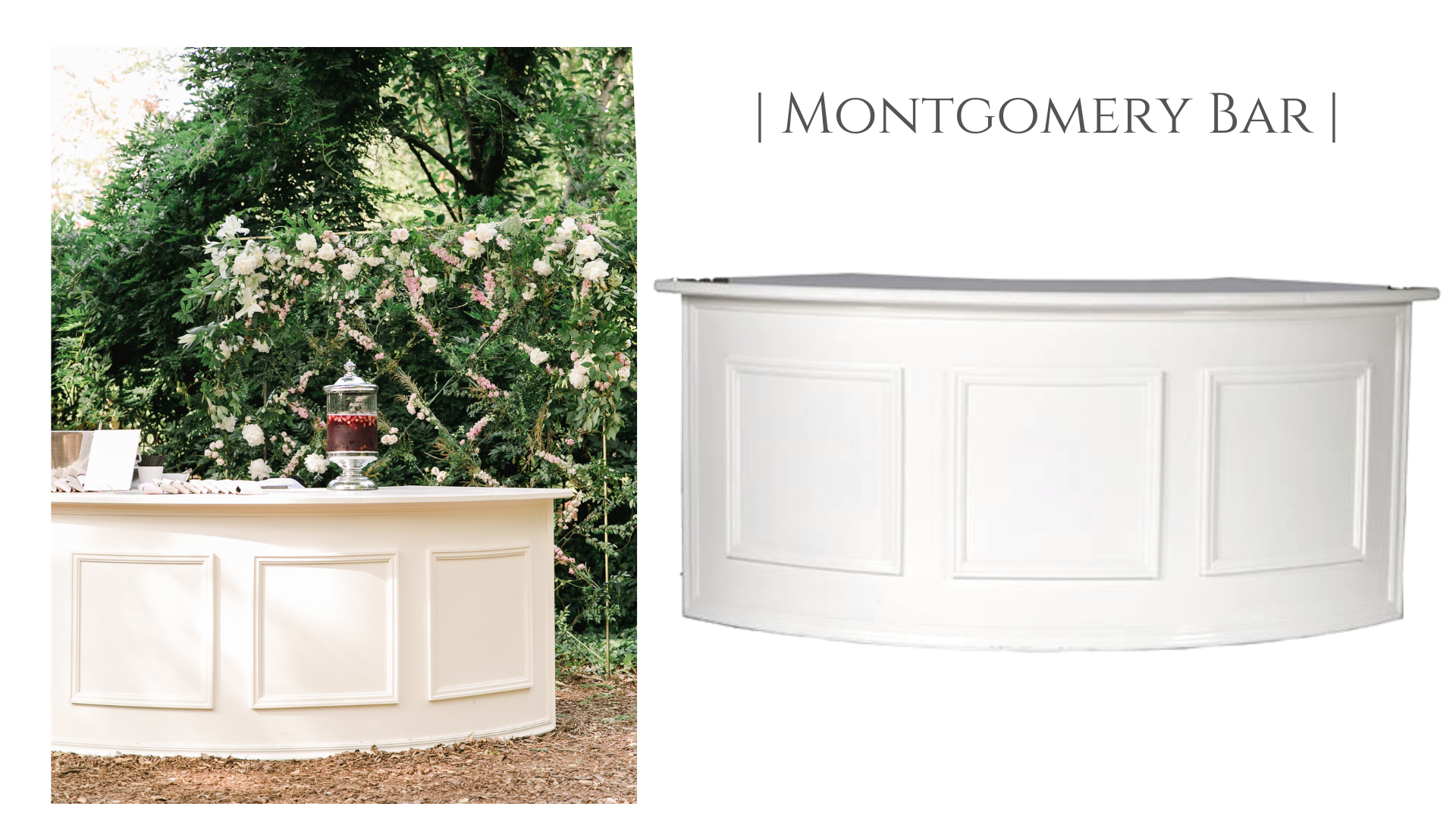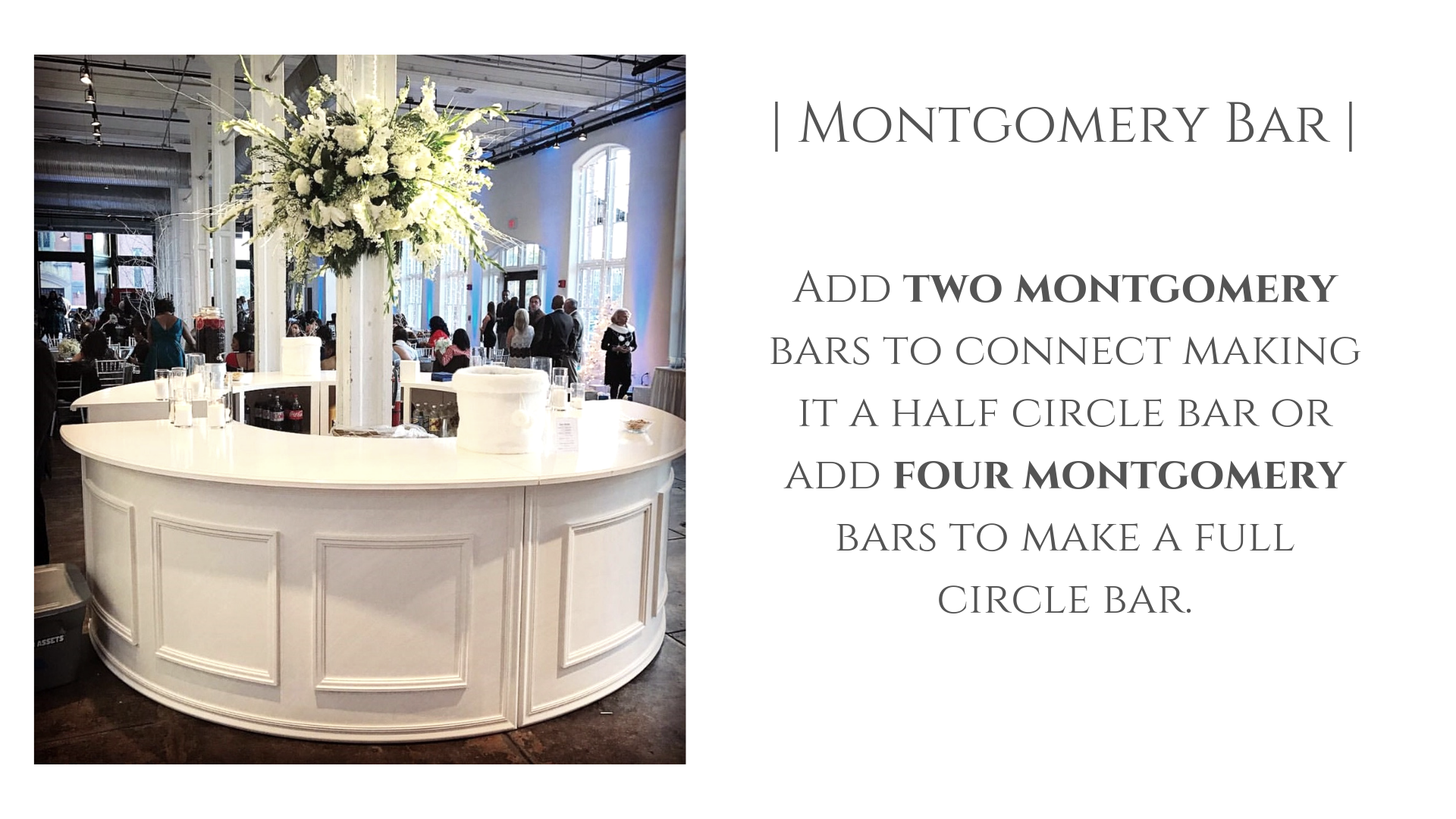 Our variety of 9 different bar rentals are the perfect add on to any event. Explore creativity with a full circle Montgomery Bar or add colorful lighting to the Acrylic Bar. Choosing the right bar is essential and adding the right barware is the next step. Obviously, the type of beverages will determine the type of glasses needed. However, many of the glasses come in different sizes and shapes. A 12oz wine glass is a standard size, but for a crowd that likes a larger pour you can opt for the 15 oz wine glass or 18 oz for the Cabernet and 27 oz Milano glass for Burgundy offerings.
To enjoy that Perfect Martini or Cosmo, our Martini Glasses range in size from a 6 oz glass to our Old Fashion Cosmo glass at 14 ounces. If your crowd prefers simple cocktails, opt for our different size highball glassware that's available. Our highball glassware ranges from 10 ounces to 15 ounces. To ensure you have the right amount of glassware, consult with your bartender or caterer. Party Reflections, Inc. rents allotments of 25-36 depending on the glass size.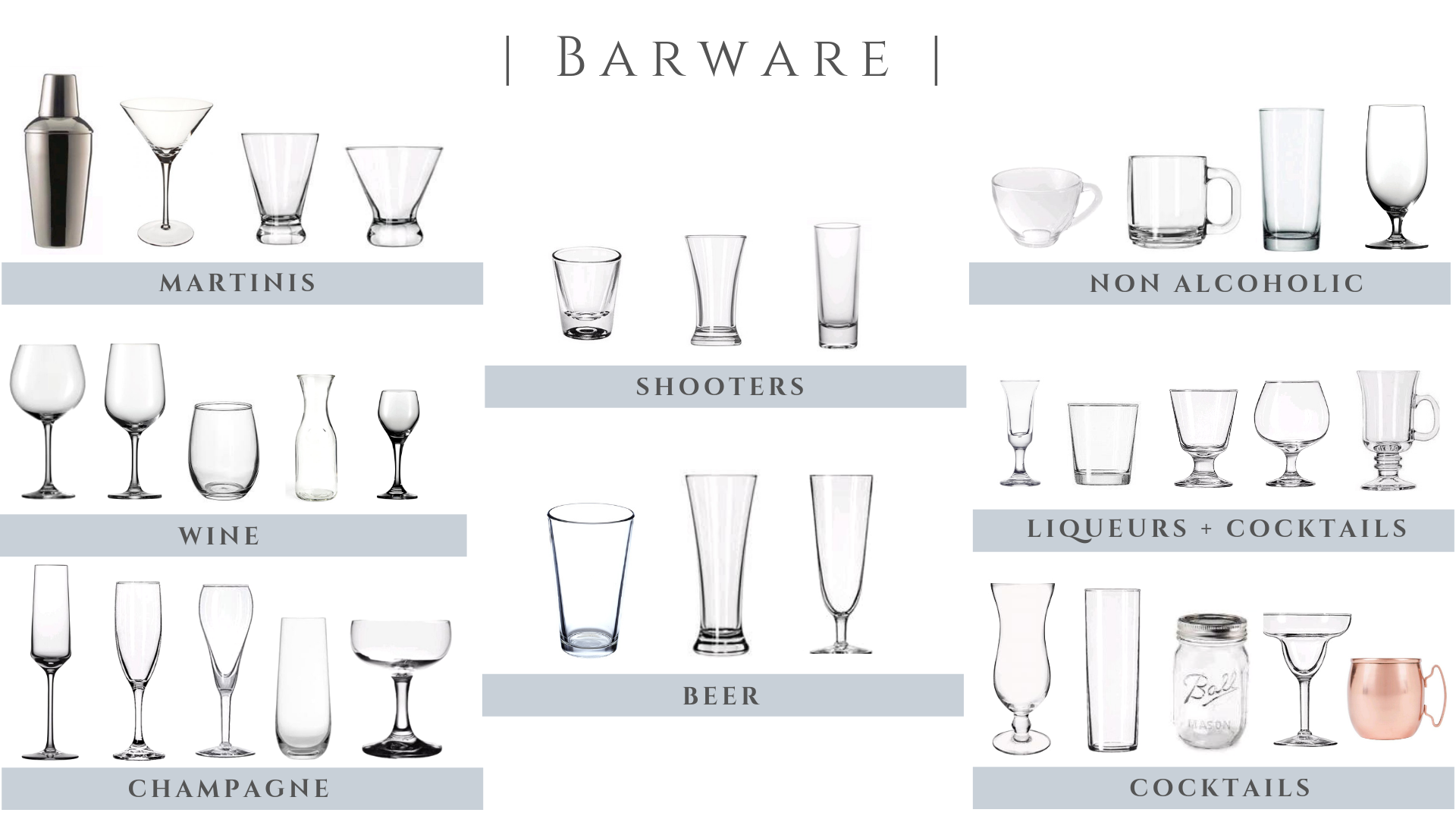 New to our unique glassware inventory, is the Stemless Champagne Flute. This flute has a contemporary touch, easy to hold grasp and it still adds that opulence to your setting. Our unique glassware inventory also comes in different colors and sizes. The 16 oz Ariana Amber, Aqua and Garnet goblets, Stainless-Steel Martini Glass, Moscow Mule Copper Mug, 13 oz Fern Jupiter Water glass and Olive water glass will be sure to add that pop of color and texture in glassware at your event. So many fantastic choices, but you need more of a universal glass? Our Stemless Wine Glass is the perfect universal glass to fit any type of event.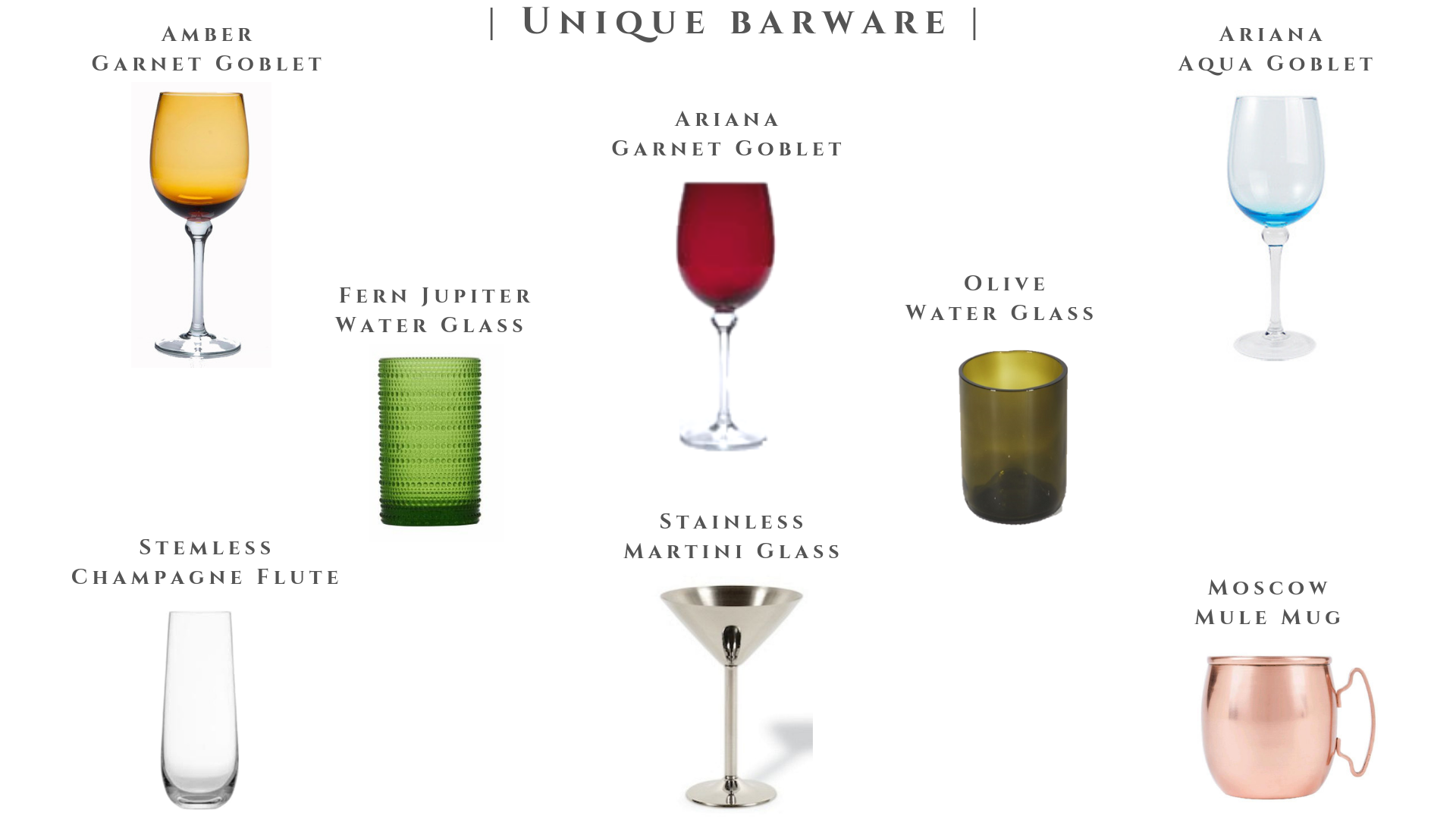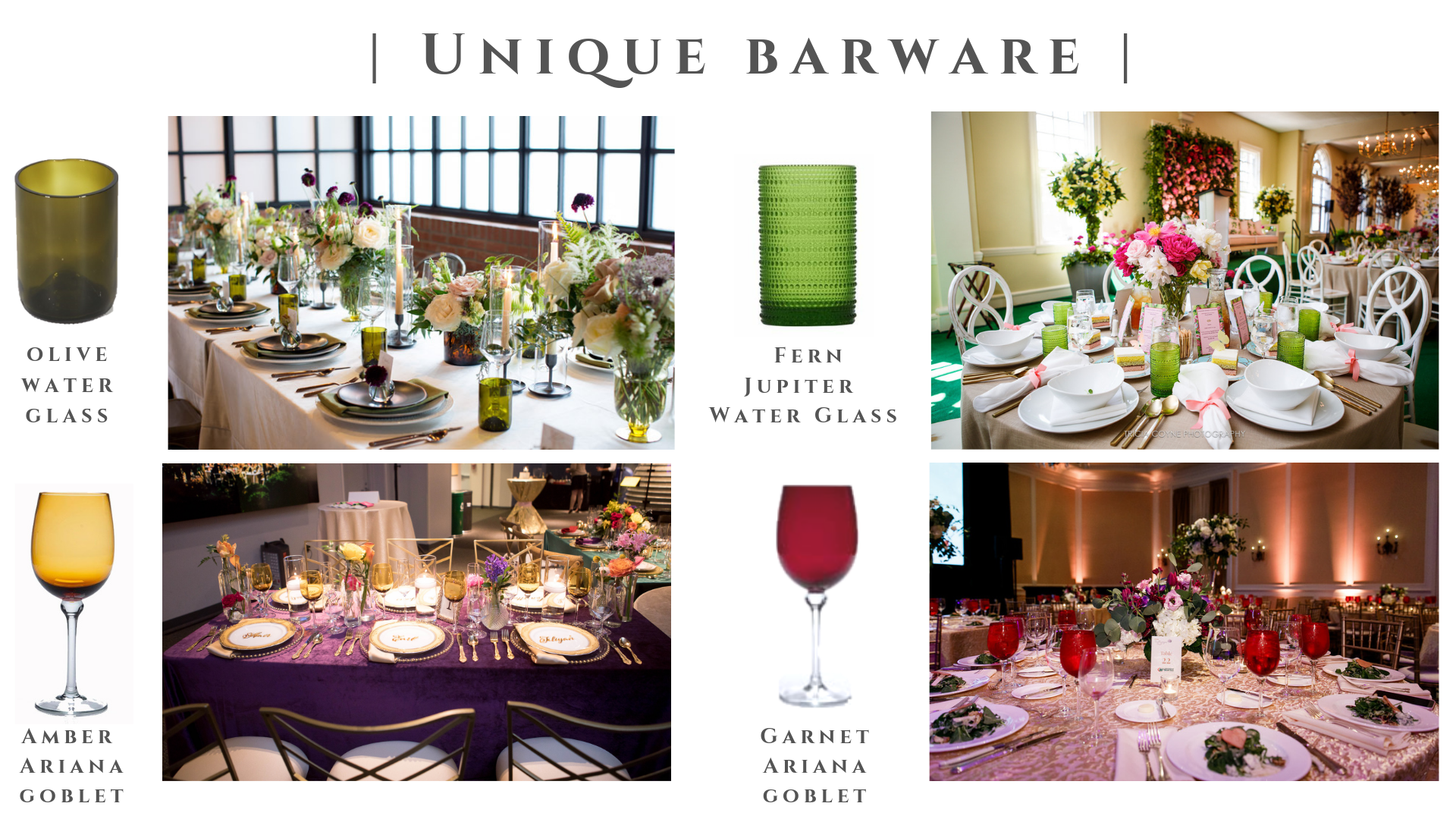 Bar rentals will not only elevate an event but understanding the bar rental element considerations are what will help make an event flow seamlessly. Whether, you need a small or large bar, rustic or classic bar, Party Reflections, Inc. takes it to the next level with our 9 different varieties of bar rentals. Choosing the perfect glass can help the event theme or impression. Unique glassware choices make any beverage more fun to pop, fizz, and clink!
Go ahead, set the bar!