The Next Plate Series: Camp Northend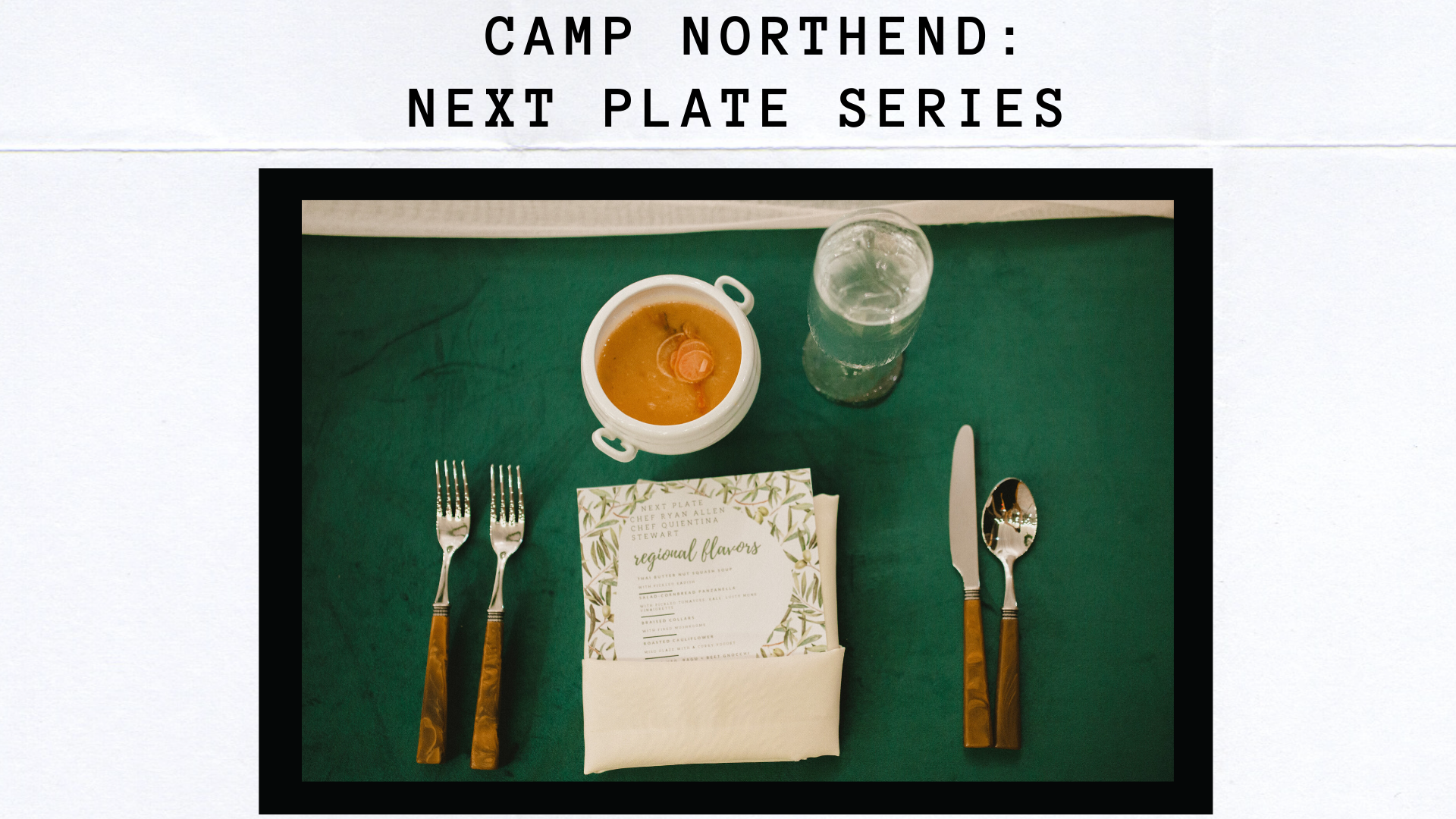 Party Reflections, Inc. has had the opportunity to be a part of a unique dining experience called, Next Plate located in Camp Northend. This series brings together local chefs and arts to create a dining experience that is unlike any other. Focusing on 4 unique dinners throughout a short period of time. From multi coursed meals to artistic performances, each plated series stands out from the next. We sat down with our very own, Lisa Hiner, Account Executive to give us what is was like to assist with the rental inspiration with J.Leigh Events for this series to take place.Night 1 This dinner allowed us to design using vibrant colors that symbolized the 4 elements of nature (earth, fire, water, air). The ceiling draping was intricate and exciting, beckoning guests to look up. PR Pro brought in a textured watery light effect to wash the walls blue and projected a fire effect on the main screen. Our Edison tables and Ghost chairs were a modern, neutral backdrop for our amber, aqua and garnet Ariana glassware, Fern Jupiter glasses, Hudson Linen plates and slate blue dupioni napkins. The scrumptious food and hand-crafted cocktails were inventive and perfectly themed to the event, using rich hues of green, yellow and red. Wildflowers, greenery and candles made the tables pop. Discovery Place's science presentation was interactive and visually stunning.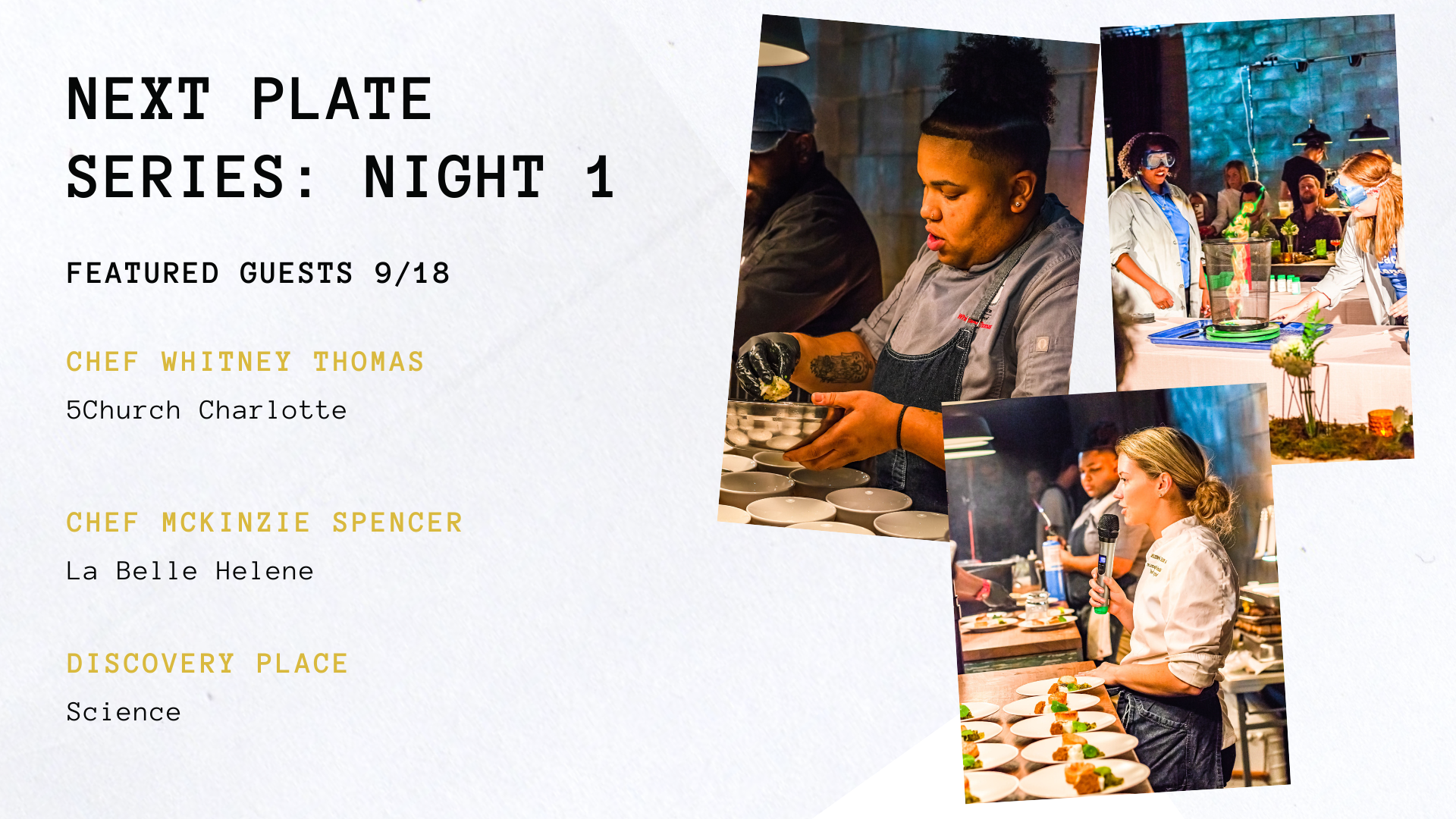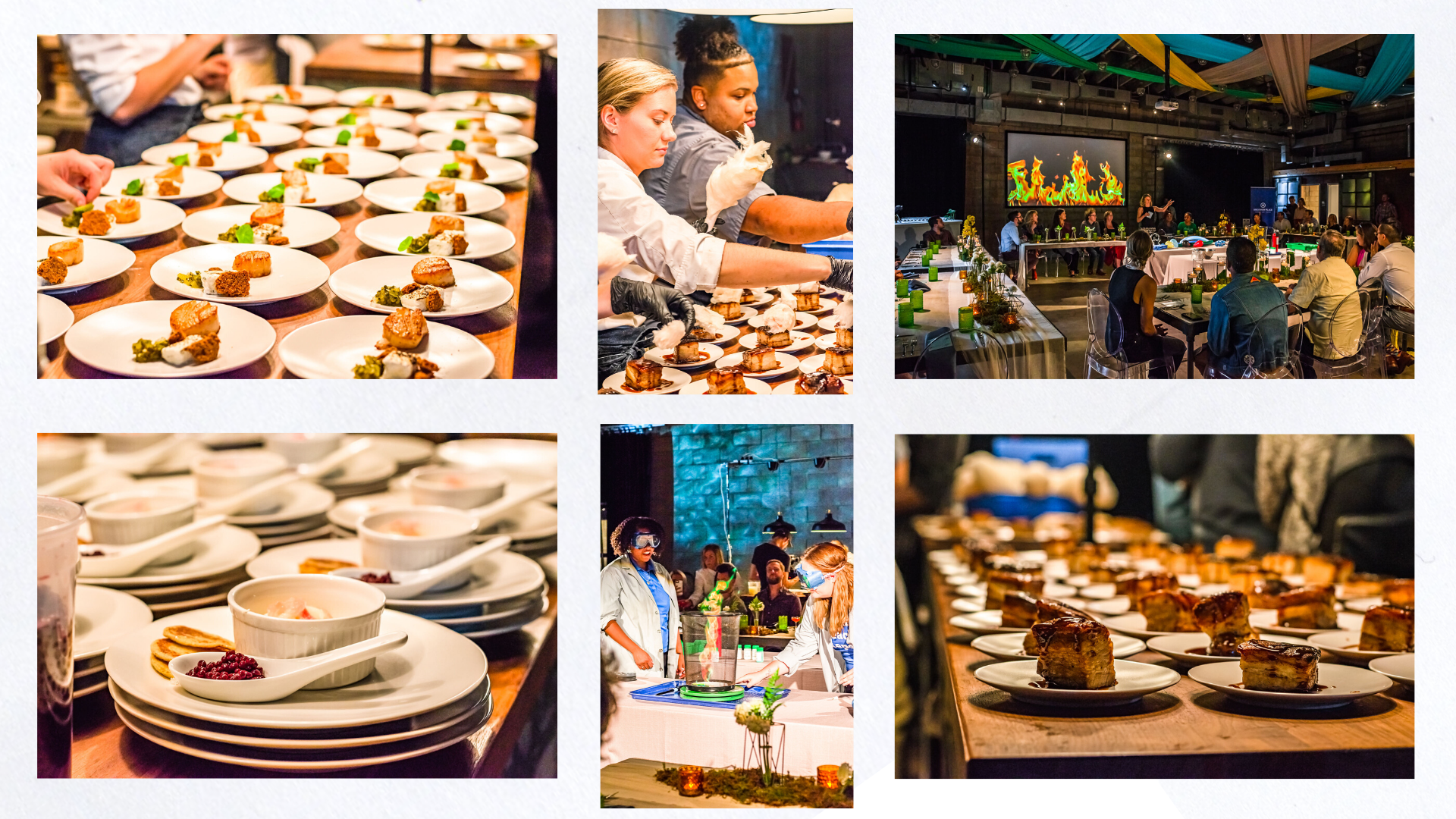 Next Plate Series: Night 1 Video Recap – The Littlefield Co.
Featured Guests
Discovery Place (Science)
Andre Lomeli (Mal Pan)
Night 2Earthy, natural and botanical describe the feel of this event. Think wood tones, greens, textured fabrics, foliage. The light in the room was diffused through a soft, ivory Batiste full ceiling covering. Driftwood chandeliers and market lights provided lighting to create the feel of a whimsical garden party. Drinks were served from our double wine barrel bar. Guests sat in our Antique Tuscan chairs and tables were adorned with Forest Velvet linens, Grey Meadow linens, Hudson Linen plates, Tyson Wood flatware, fresh flowers and candles. Dinner was healthy, with lots of vegetable options that were artfully displayed. Artist, Christa Cammaroto created a large, earthy visual art piece on the floor of the venue as dinner progressed. Guests were entertained and inspired.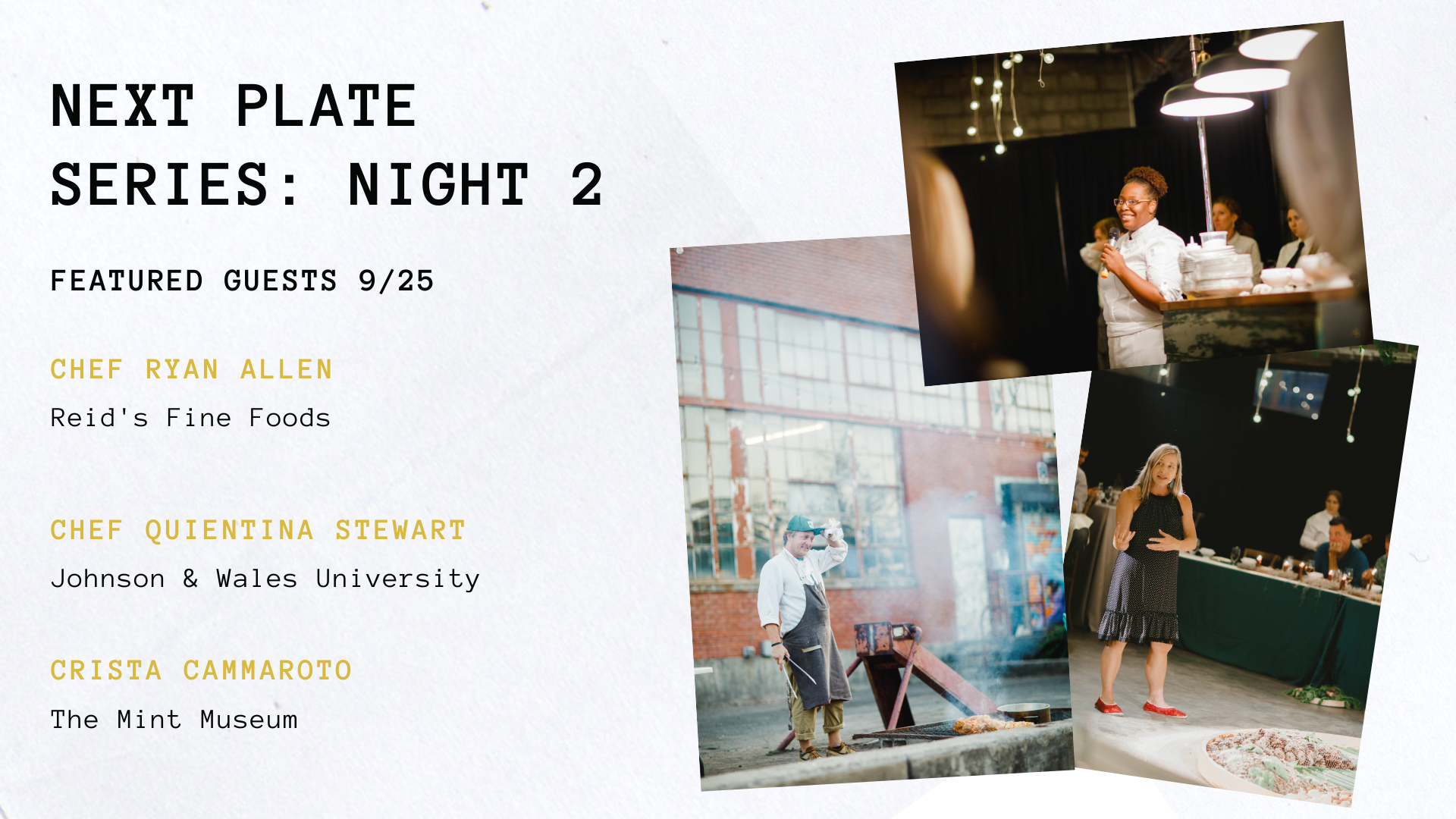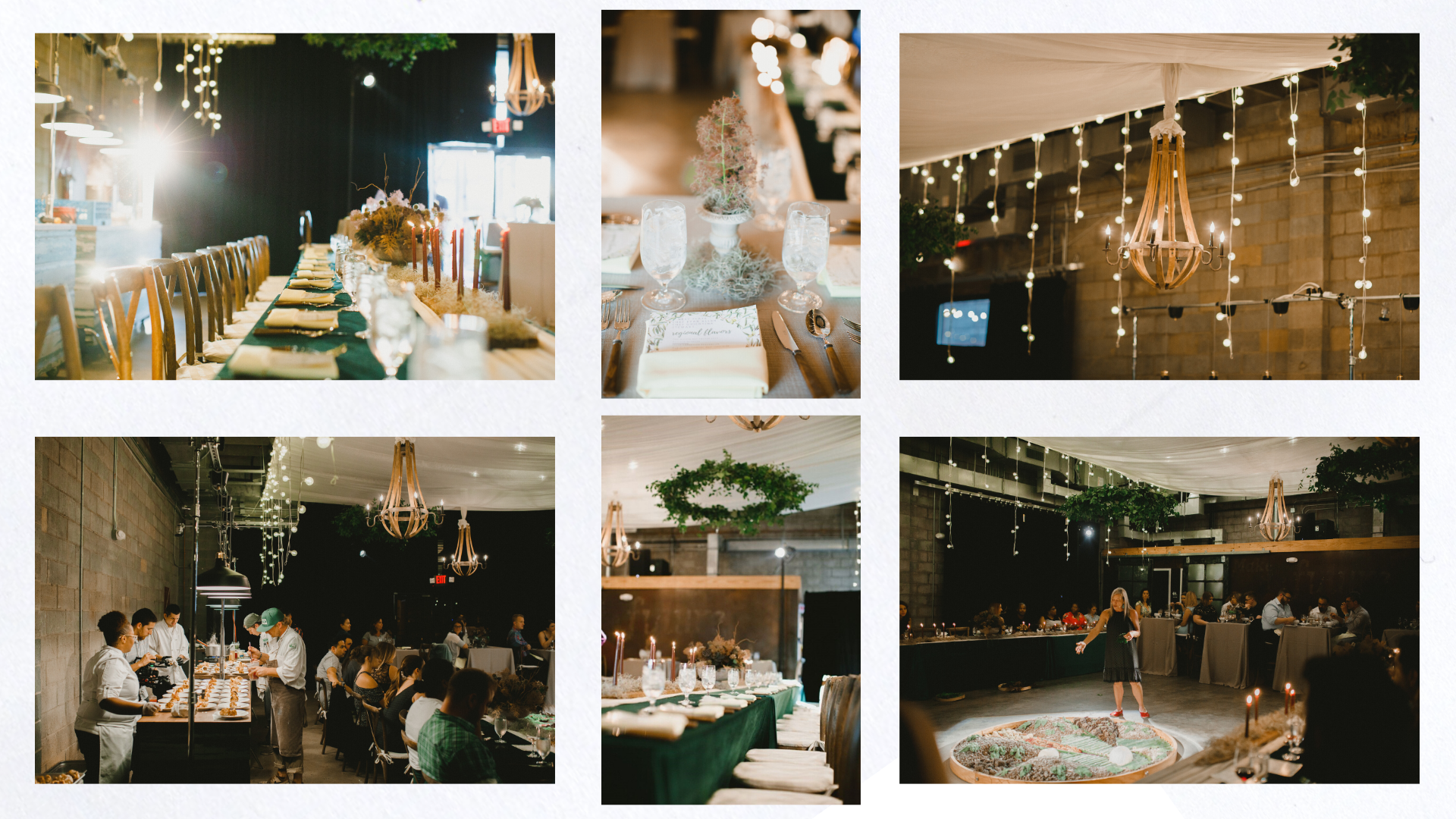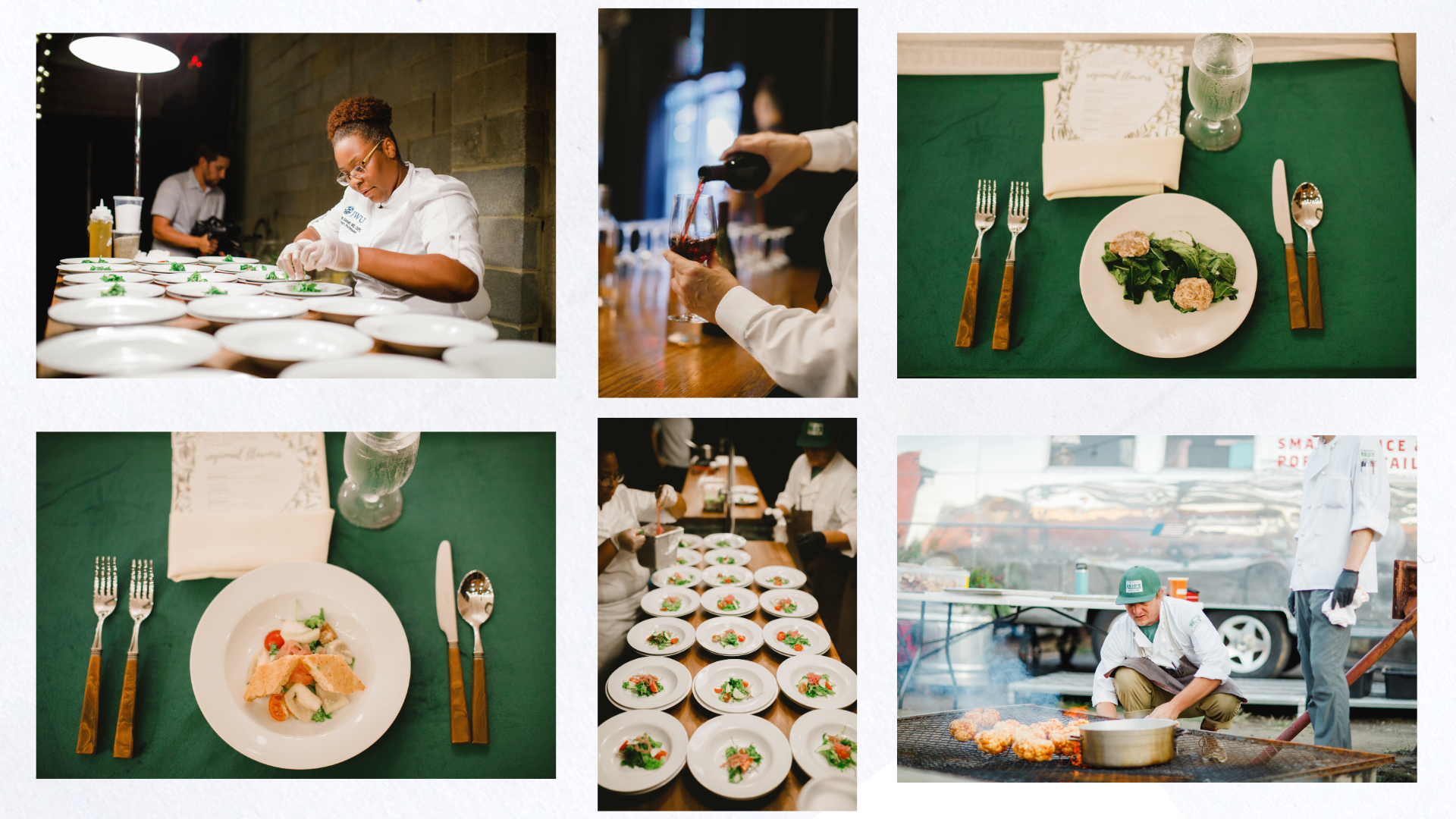 Next Plate Series: Night 2 Video Recap – The Littlefield Co.
Featured Guests
Night 3
Dinner with dancing – this dinner was lush, dark and magical! The ceiling was expertly draped in billowy, charcoal fabric and 3 large Majestic Silver crystal chandeliers on dimmers provided soft, romantic lighting. This event had a sexy vibe using Black Chiavari chairs, Black Dazzle linens, Blush Velvet napkins, Pure glassware, old-school champagne saucers, Abbey Gold flatware with seasonal flowers in deep red and berry tones and warm candlelight. There was amazing food from The Stanley and specialty cocktails from Bardo Mixology. PR Pro installed lights to create a shimmery effect on the main wall behind the chefs and mixologists. Live entertainment was provided by 2 beautiful female dancers from Payne Dance, in vibrant, red bodysuits. They performed modern dance pieces under a spotlight. It's rare to get to see dancers perform in such an intimate setting – a gorgeous end to an unforgettable evening.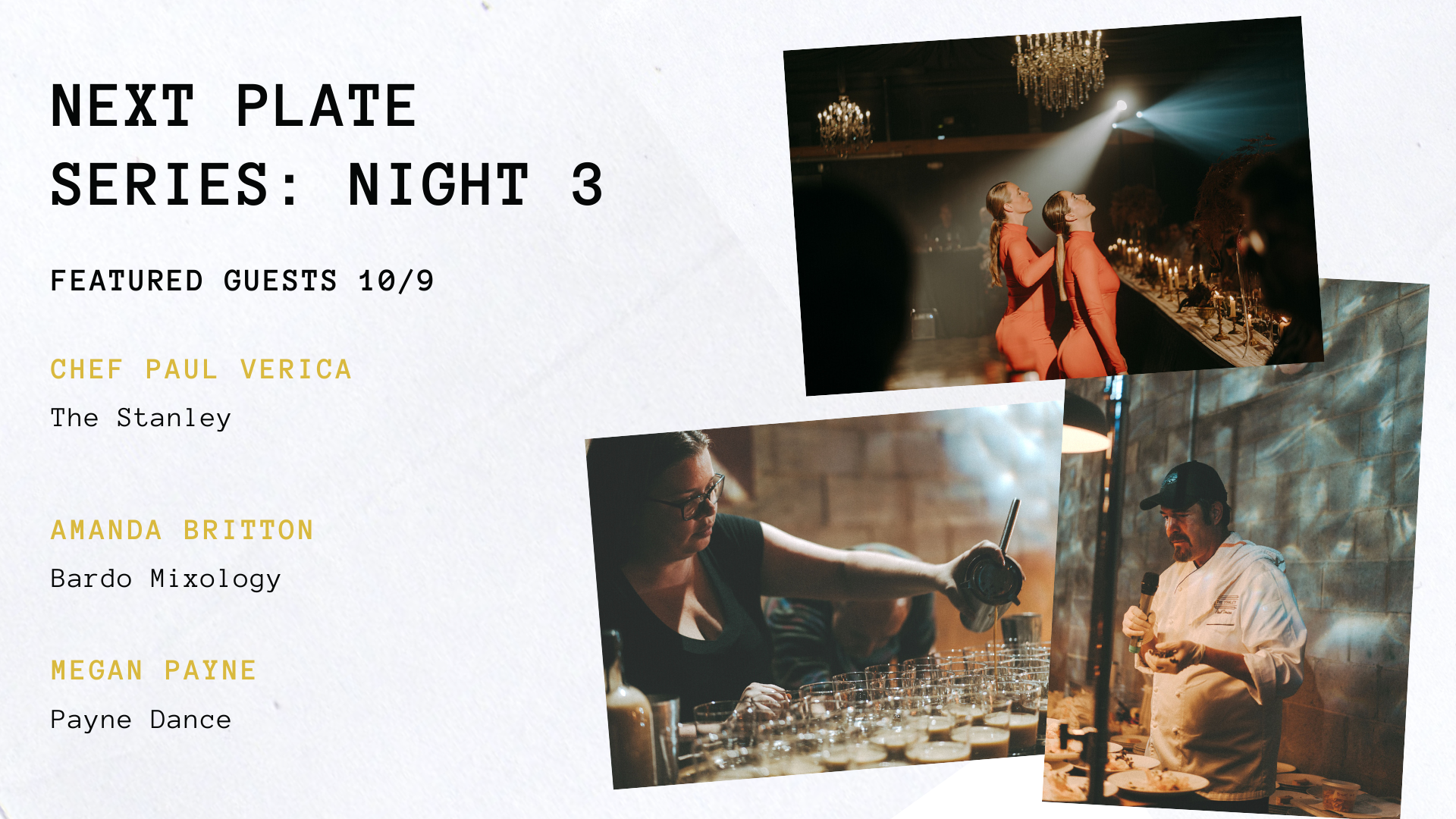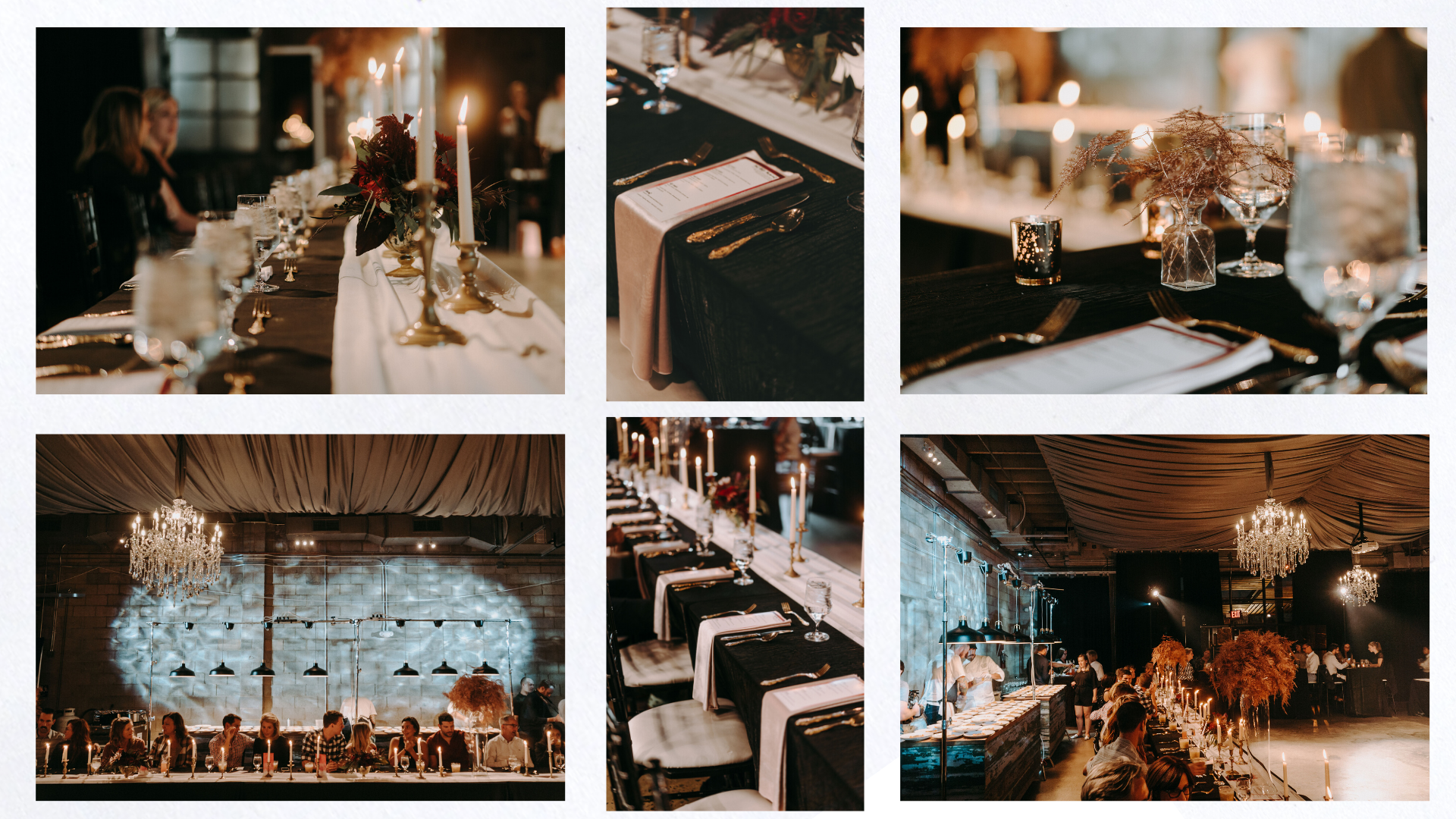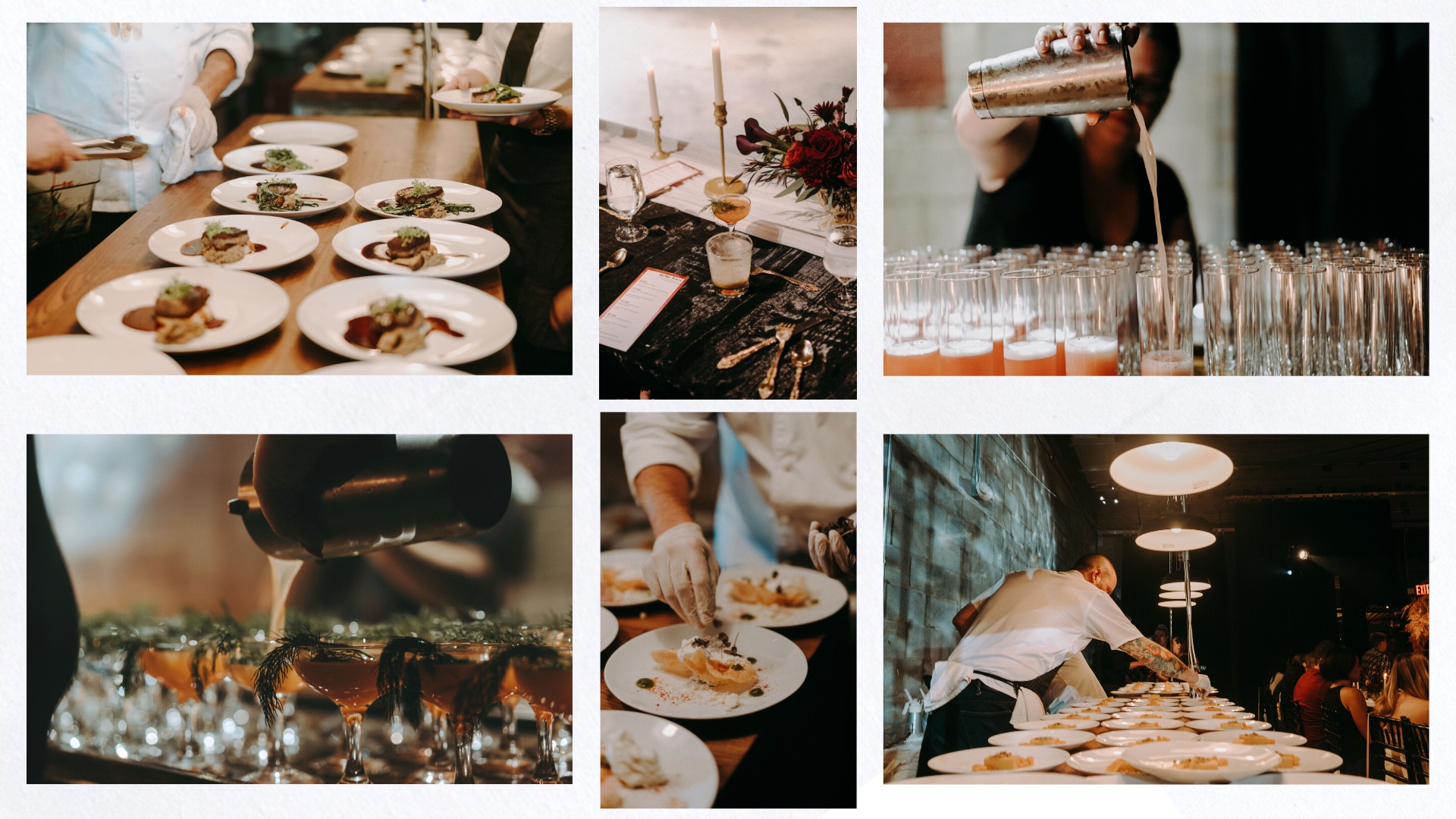 Next Plate Series: Night 3 Video Recap – The Littlefield Co.
Featured Guests
Night 4
This evening paired food and specialty drinks with live music – a recipe for success! This event really spoke to me – I'm a singer and a music-lover. We chose an edgy event design that used mixed metallics and black accents. Grey taffeta ceiling drapes, iron cube chandeliers, Truman chairs and Truman stools to Silver Felicity linens, Bronze Mirage linens, Hudson Grey plates, Marble Coupe plates, Hammered Glass plates and Fenton Charcoal flatware, this dinner was rocking! Chefs prepared an amuse bouche with 4 courses following that were savory, succulent, infused and masterfully prepared. During dinner, guests were entertained by a talented live rock band who played just a few feet from them. The music of Radiohead, Tears for Fears, Jimi Hendrix and Prince was themed to pair with the 4 courses – such a cool concept. Art by local artist, Jen Hill and moss art by The Savage Way made this such a well-rounded event. The night was a feast for the senses!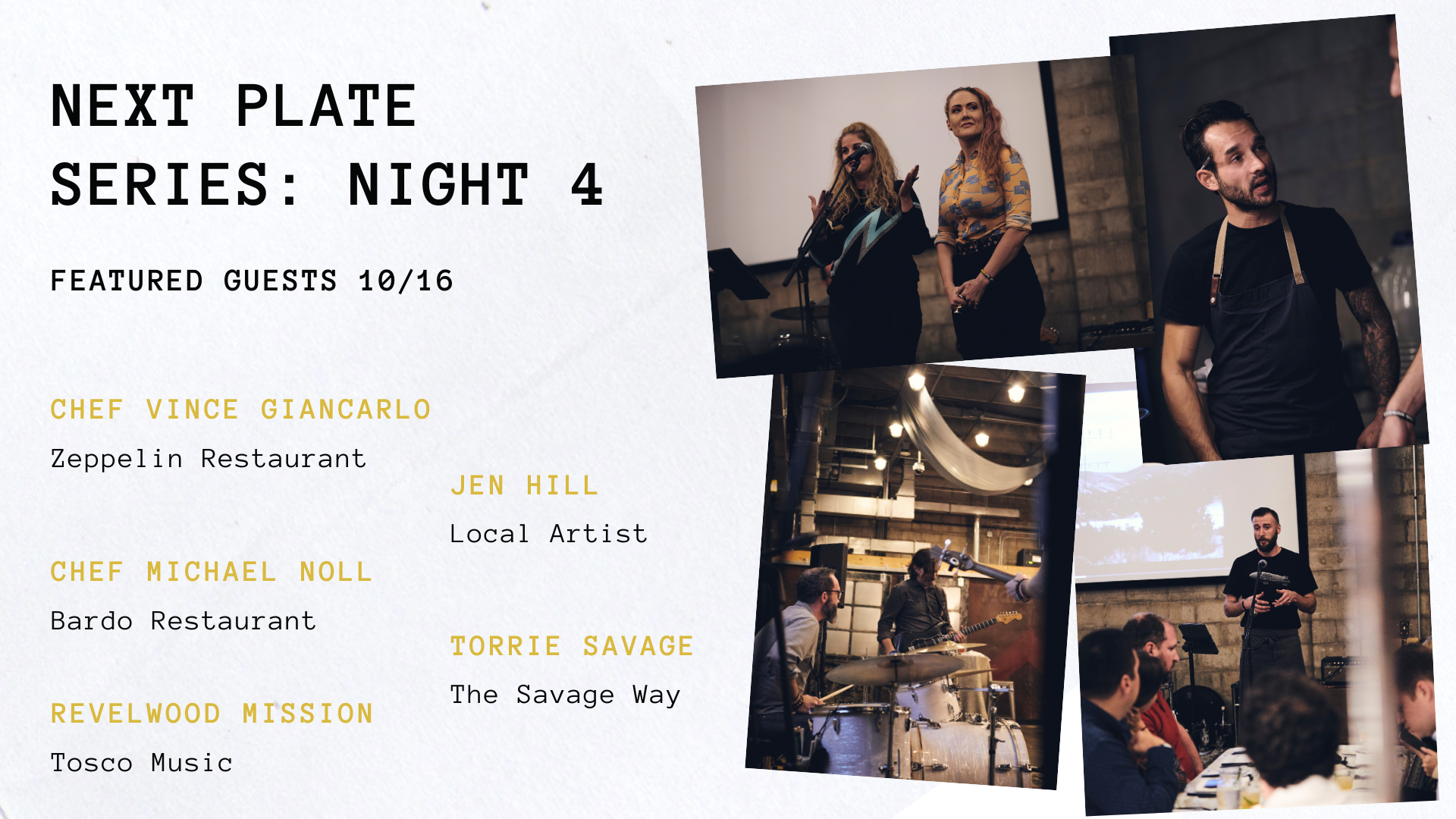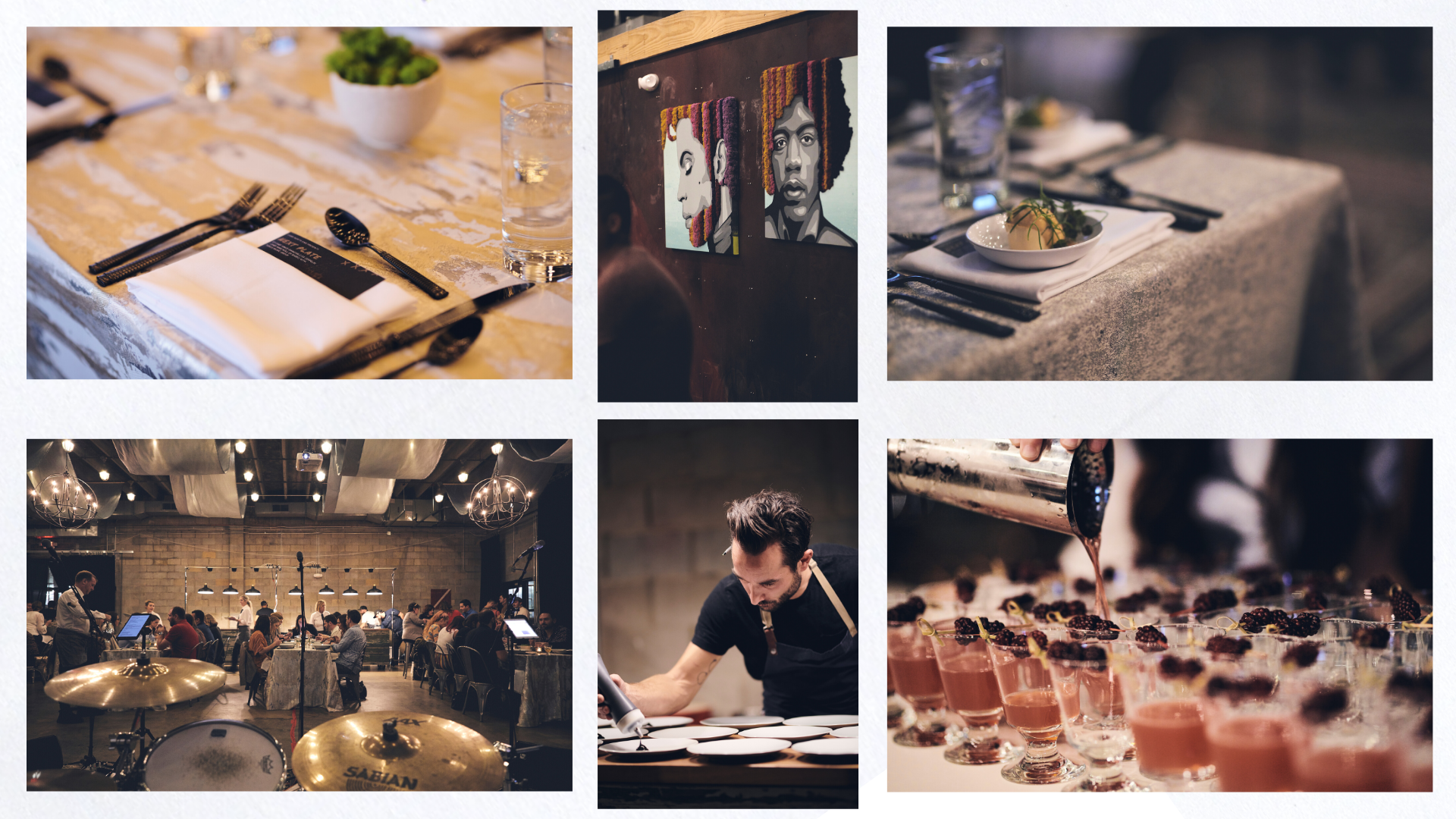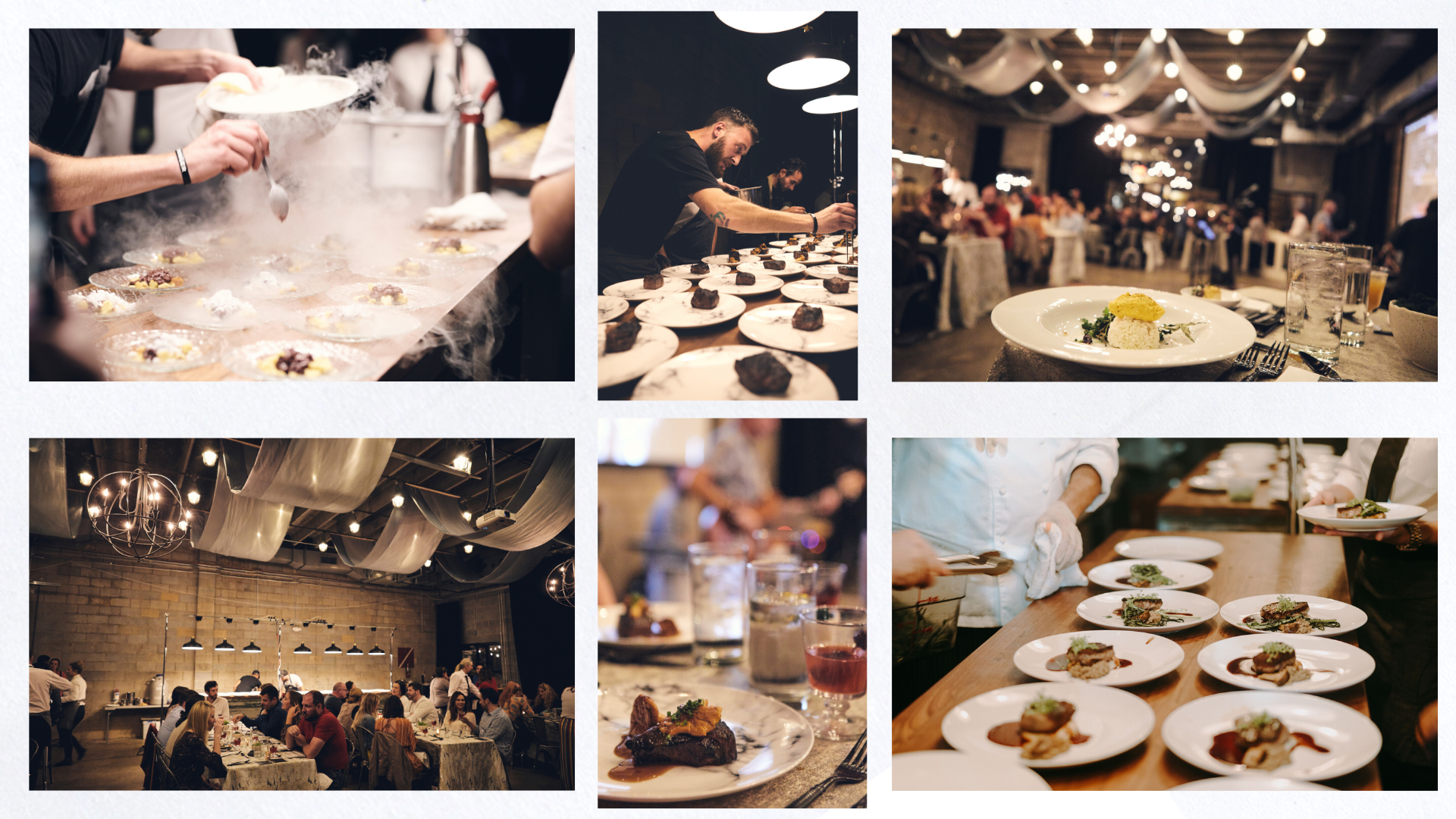 Next Plate Series: Night 4 Video Recap – The Littlefield Co.
Featured Guests
J. leigh Events has been a staple for making these events come to life. This is the 2nd accomplished round for the plated series. The series at Camp Northend started back in Spring, selling out quickly. From its success and creative aspect, the demand is what drives more dining ventures for The Next Plate Series to evolve. Check out upcoming Plated events at Camp Northend as they continue the plated series throughout the Fall.Get a closer look into Night 1, Night 2, Night 3 and Night 4 of The Next Plate Series by The Littlefield Co..