Now We Make It Happen In The Carolinas!
Posted in
-
Columbia
Reading Time

-

4 minute read
If you haven't heard the news we acquired Columbia, SC based Palmetto Party Rentals in late 2013. A remarkable opportunity arose for us to combine our efforts with the market leader in South Carolina's Capital thus strengthening our foot print in North and South Carolina.
From our humble beginnings of 1,500 square feet to over 150,000 square feet, which includes our warehouses and showrooms in Raleigh, Charlotte and Columbia, SC, we are excited about the new opportunities we will have in the region. With the addition of Palmetto Party Rentals' assets, inventory and market share, we are able to further our reach to a broader customer base.
"Palmetto Party Rental was the market leader in Columbia and had reached a pivotal point in the growth of a special events rental company. Having experienced this growth ourselves several years ago, we have the resources and staffing in place to help propel our new Columbia office to even greater heights," said Dan Hooks, President and CEO. "The driving element of growth has been unwavering attention to our customers. While this may sound trite, we take it very seriously."
We take it so seriously that our inventory is built around our clientele's needs and requests. If we are unable to perfectly facilitate a customer's vision, we will either get what they need from an outside vendor or build it ourselves. Our customers range from the housewife needing a single tablecloth to the Wyndham PGA Championship Tournament. If a bride envisions a triangular table in a particular corner of the dining hall, Party Reflections will stop at nothing to make her dream a reality. If a caterer requires a round table that seats sixteen, the company will search high and low to provide one.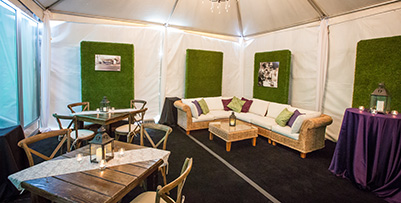 "While we are the largest company of our kind in the area, we strive to build relationships one at a time with clients both large and small," Hooks adds.
About their expertise, Dan says, "A client cannot get better advice on events than the resource team we have at Party Reflections. We work with the best of the best in the special events industry, and this gives us the opportunity to learn from the best and pass that knowledge along to our customers."It's this level of availability and commitment that separates us from the others. We have maintained a standard of excellence in both our products and our services. Among those services a customer will find CAD (Computer Aided Design), site survey, event management, and decade's worth of sound advice.
In addition to our industry expertise, we have been able to bring a more diverse inventory to the Columbia market including new and larger tent offerings, as well as a broader selection of linen and tabletop items. The additional inventory and staffing capabilities from Palmetto Party Rentals has allowed Party Reflections to pursue even larger events throughout the Carolinas, including the Carolina Cup in Camden, SC this past spring.
Party Reflections mission is to provide upscale event rental products and services to create innovative solutions and lasting memories for our partners and clients.