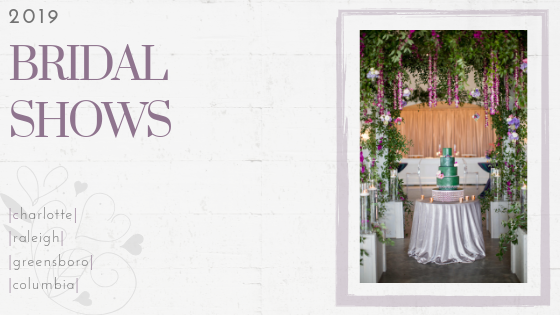 The regional bridal shows that the Party Reflections sales team attends bi-annually as a vendor, is a great opportunity for us to show our new products and highlight our rental services that we can provide for the next step in any event.
We make sure our booths have an array of chairs to showcase. We incorporate every color palette of our linen collection, including our new velvets while displaying china, flatware and glassware.
Having the bridal shows come to our four regions, we were sure to set up shop and show the attendees how amazing event rentals can really bring their event to life.
The Charlotte, Raleigh, Greensboro and Columbia teams sure did an amazing job. They not only set up and broke down the booth but showcasing what we do here at Party Reflections to the attendees exceeded all expectations.
Our event consultants, along with our account executives shared some of their insights on the bridal shows that they attended.
Check out below on what they had to say!
Erica Myers – Charlotte Event Consultant | emyers@partyreflections.com
"The attendees loved the table setup as they first walked into our booth, it was a fantastic way to start conversation about their event coming up!
Overall, I thought The Bridal Showcase was great way to network with brides and vendors in the Charlotte area. I loved talking to all the brides and listening the different ideas they had for their weddings."
---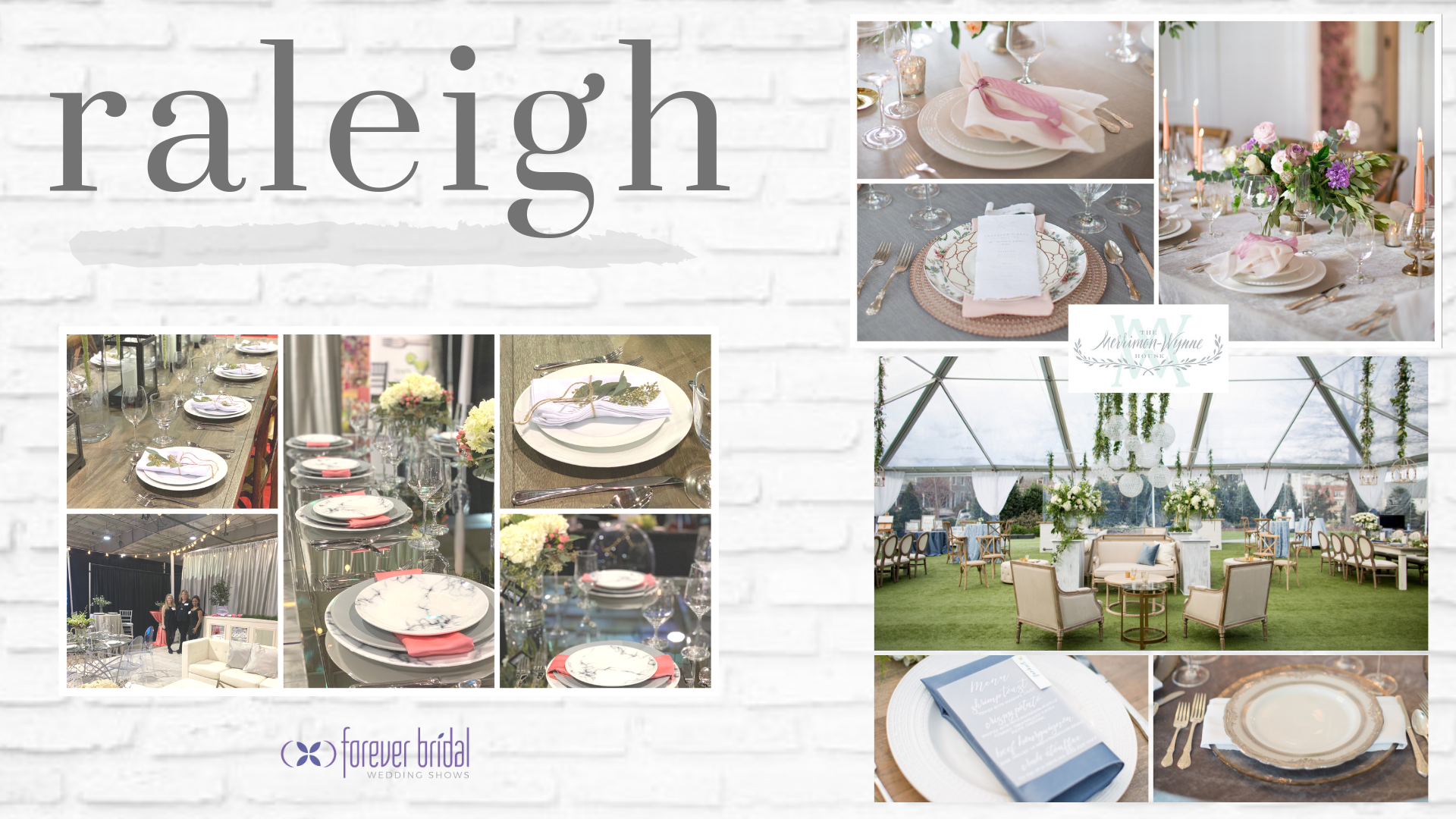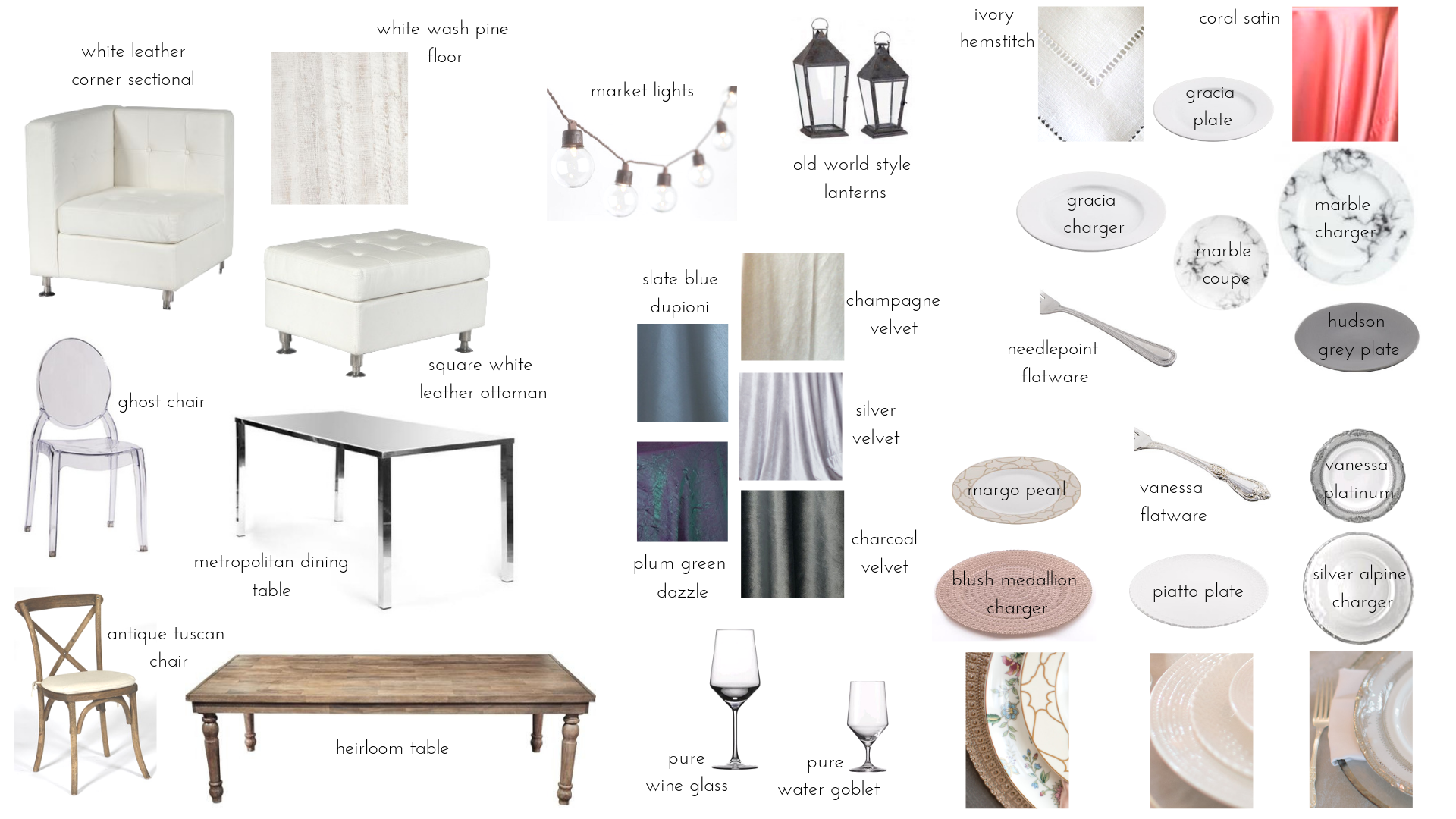 Katherine Dils – Raleigh Account Executive | kdils@partyreflections.com
"Participating in the Merrimon Wynne Bridal Showcase in January is the best way to kick-off the year! Party Reflections is always honored to be part of the show and grateful for the opportunity to show off our rentals. I always enjoy this show and the chance to work with the best vendors in Raleigh. The crown jewel of the showcase was definitely our 50'x65′ Clear Frame Tent with Slate Blue Dupioni linens under the tent. We added gorgeous White Taffeta Martini Drapesand accented with Slate Blue Dupioni ties to cuff the drape together. GetLit and English Garden provided lighting and greenery that really made Casey Harris with La Fete's design come to life. The Sally Oakley team in the historic Merrimon Wynne house went in a soft spring direction. Anna at Meristem and Sally Oakley dreamed up a romantic guest table using our Champagne Velvet, Tuscan Chairs, Ivory Hemstitch, and Viva/Piatto plates. The soft spring vibe continued with Anna's lush lilac hued flowers and peach candlesticks. McLean Events provided a show stopping design in the Carriage House. Erin McLean used the Charcoal Velvet and Plum Green Dazzle in such a fun and romantic way. I think any bride would be lucky to have that reception design!"
---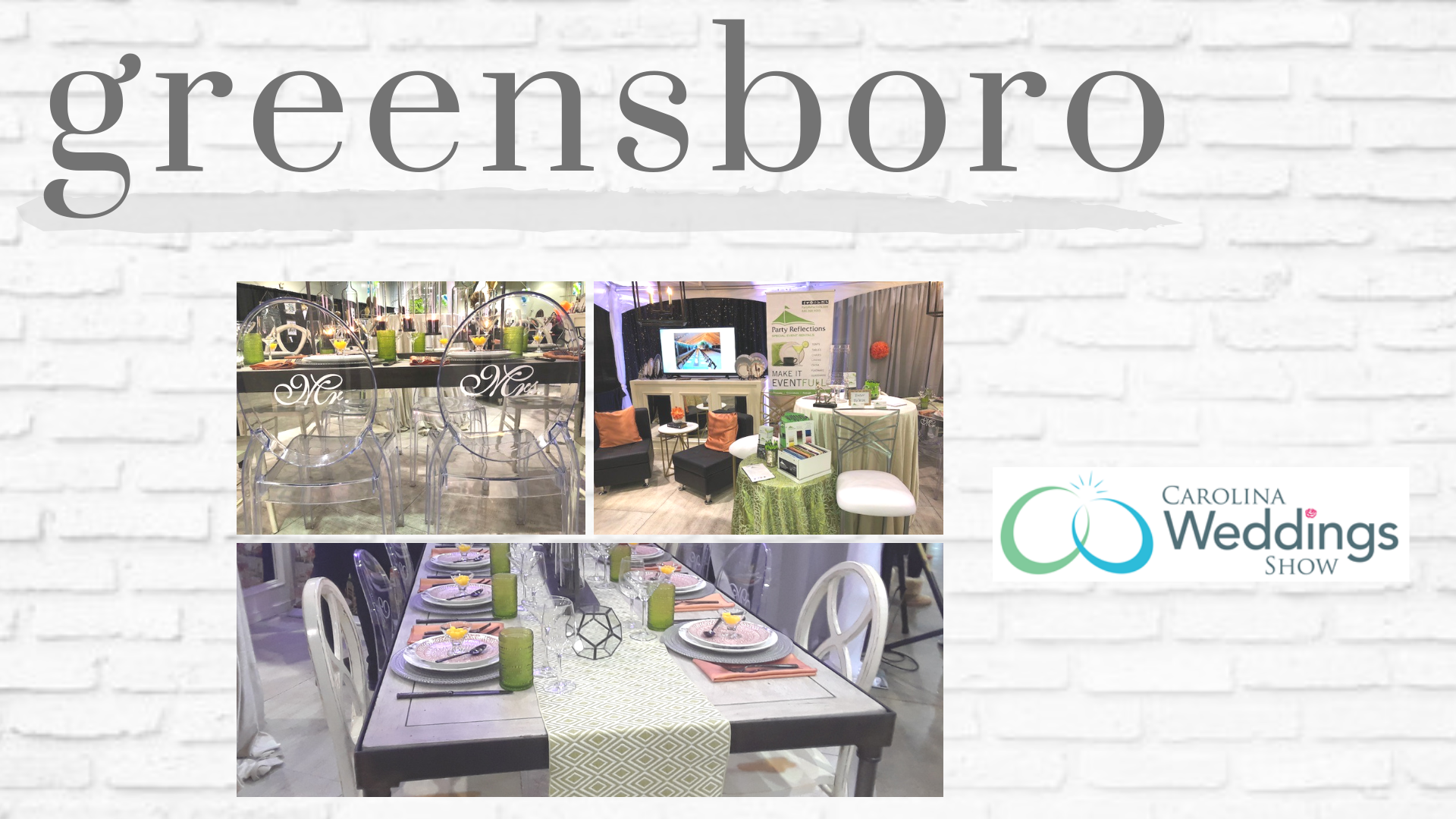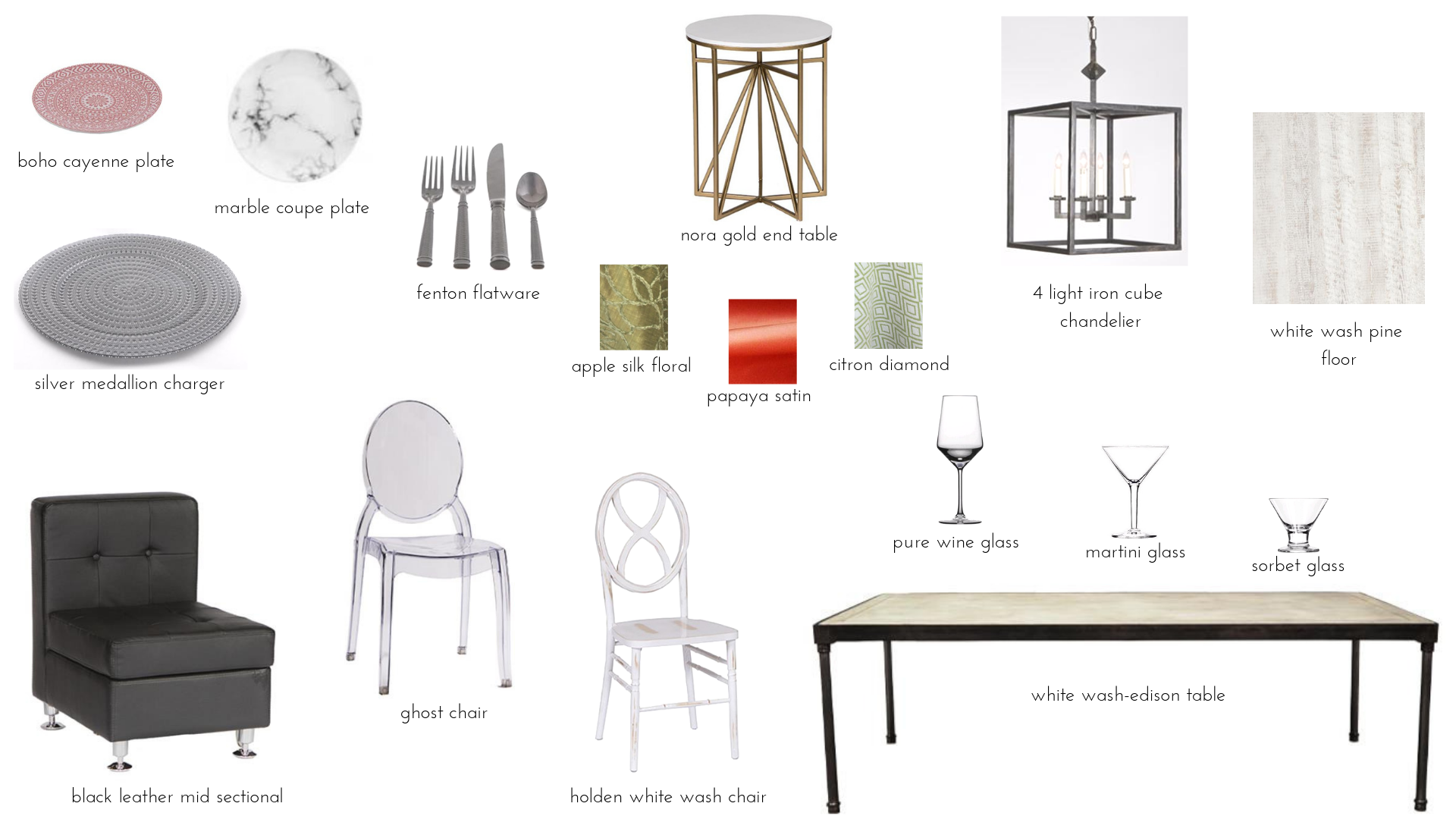 Janine Medcalf – Greensboro Account Executive | jmedcalf@partyreflections.com
"We used our black lounge furniture, cocktail tables, chameleon barstools, edison white wash table, white wash dance floor and a 10×20 clear top tent. We also used the hemsworth bar, and we had 2 ghost chairs with a Mr. & Mrs. decal on the back displaying sweetheart chairs. The Greensboro Coliseum is probably the biggest show around Greensboro, and we made a lot of good leads. "
---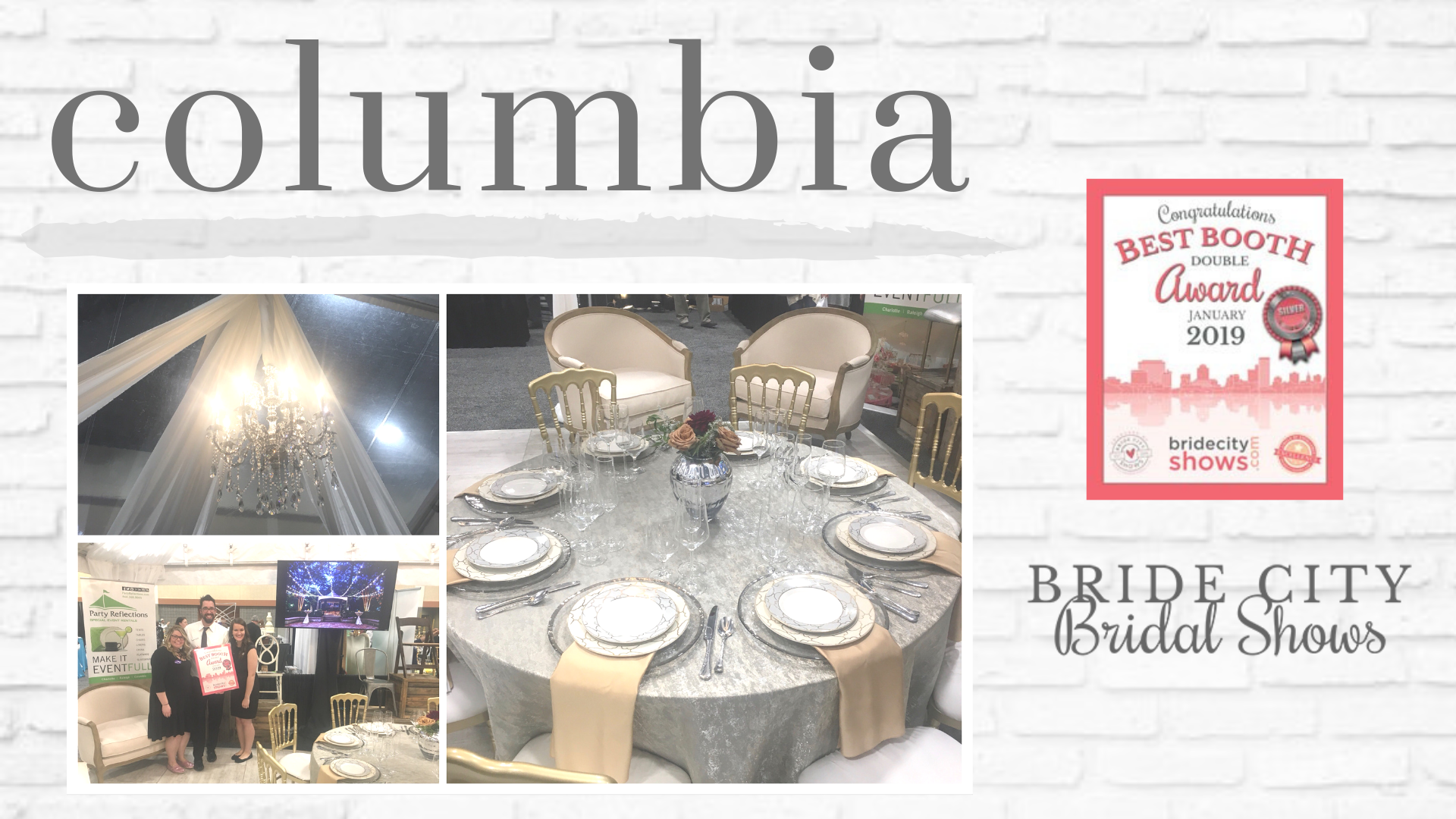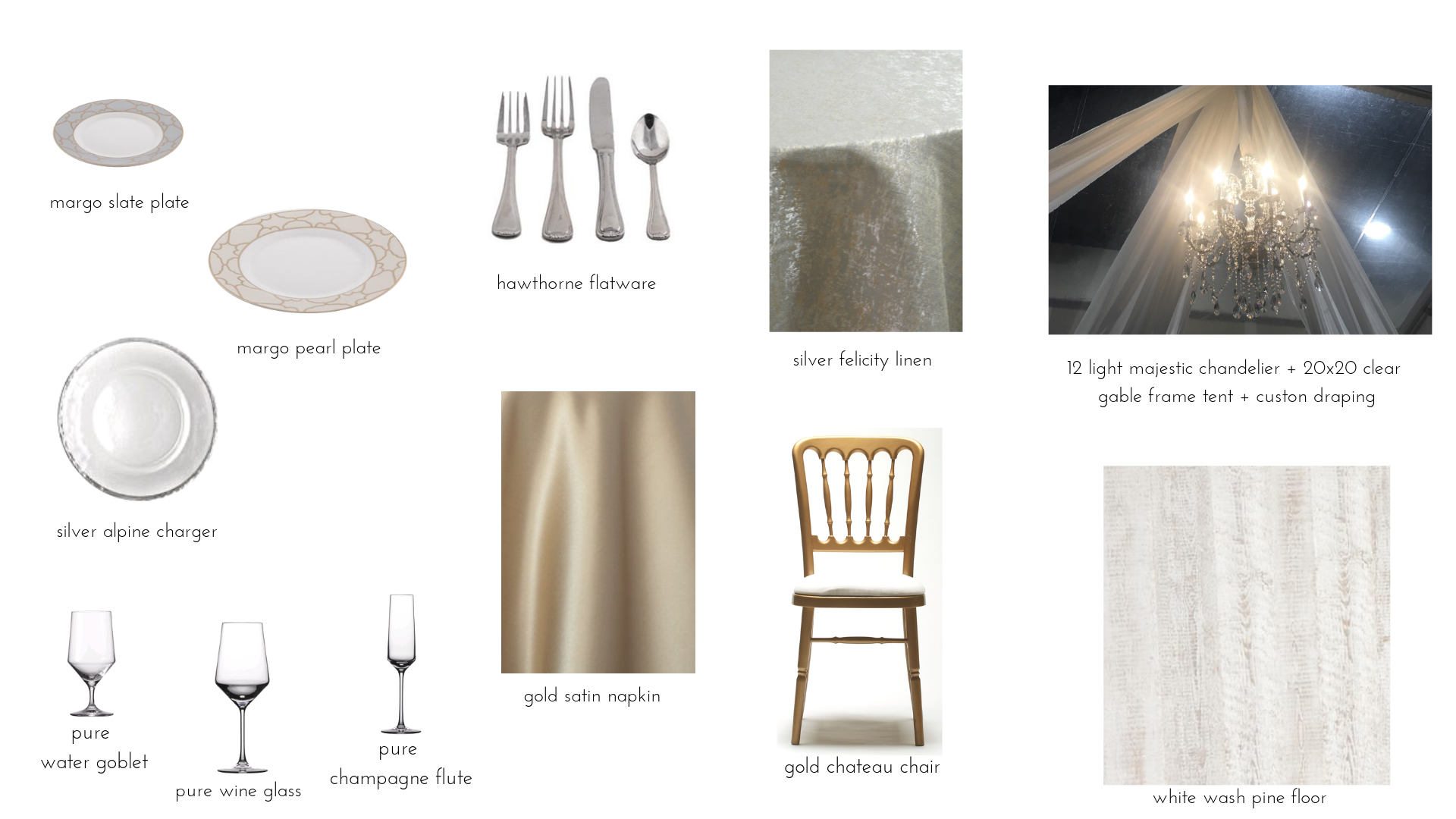 Sunny Cipriano – Columbia Account Executive | scipriano@partyreflections.com
"At the January 2019 Bridal Expo in the Columbia Convention Center, we were happy to make a bold statement by setting up a 20×20 clear gable frame tent. Noticed when walking through the entrance, it was a great way to show what we can do to bring elegance to any event. We displayed our new majestic chandelier and installed custom draping inside of the tent to bring softness to the structure and show an array of capabilities. As brides entered the booth, they were able to stand on our new white wash pine dance floor as we greeted them to our display of linen, china, glassware, and chair samples. We also had new lounge furniture set out that is specific to the Columbia market, and a show table to exhibit what everything could look like when put together. It was a wonderful show and we were happy to consult with newly engaged brides to help their dream wedding come to life."
---