The Party Reflections Approach to a Bridal Show
Bridal Shows by definition showcase a wide range of wedding vendors who can provide a service to couples planning their big day. If you are recently engaged and starting the planning process or if you need to find a vendor for a specific service, then a Bridal Show is a great opportunity to make those connections.
As an ongoing sponsor of The Bridal Showcase in Charlotte, Party Reflections takes extreme care to create our booth presence. The booth placement, the layout and how our team will interact with the attendees are taken into consideration.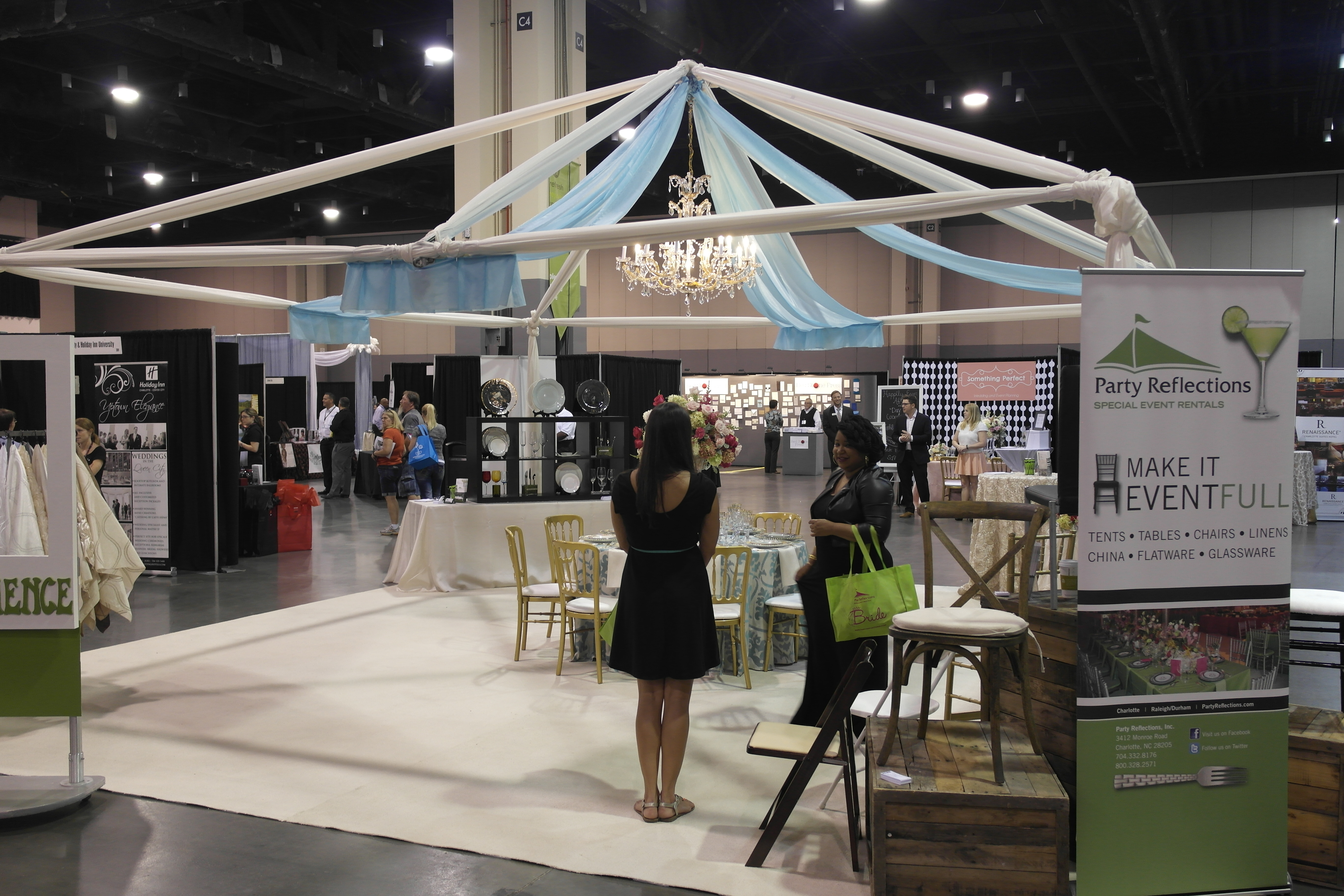 For the recent Bridal Showcase on August, 17th we decided to create specific focal points related to rentals,
showcase new products and add a social media photo opp.
Party Reflections is much more than a special events rental company however our products,
extensive inventory and capabilities is at the core of what we do. Therefore in our booth the rental
focal points consisted of linens in every color palate, a sample of china, flatware and glassware offerings and
an assortment of chairs. Before you know Party Reflections as a client,
you should know that we are a rental company.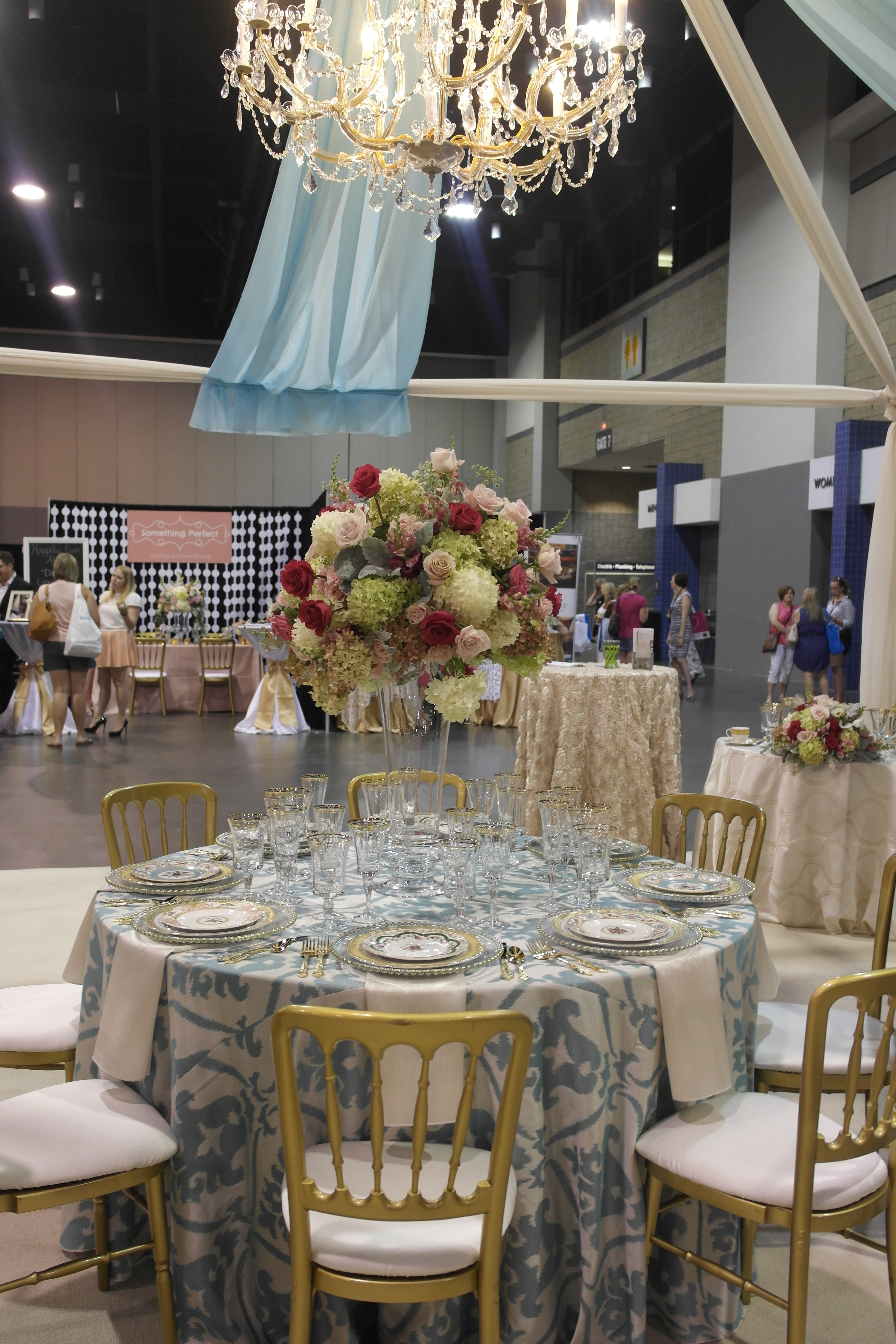 The Bridal Showcase is also a great opportunity for us to display new products and highlight custom services we can provide.
We designed a table scape that featured the new Turquois West Elm Ikat linen, mix matched Darcy 8" plates
accented by Estate Gold and Vanessa Gold dinner plates and sets of our Gold Bella glassware.
Custom draping of the tent frame allowed us visually connect the booth to the color palate of the table and
feature a 16 Light Chandelier. Together all of these elements can inspire attendees to create a vision
for their wedding and understand the important role of a rental company in the process.
At this point, attendees know what we do and the booth is gorgeous, so how do we get them to interact
with our team during the show? A social media photo opportunity of course!
Our warehouse team built an incredible, portable rolling Polaroid for the show.
The #PRexperience Polaroid provided an interactive component that allowed our team to engage
attendees by capturing their picture and at the same time to share those images on social platforms.
To see images of various attendees and vendors with the #PRexperience Polaroid,
check out the album on our Facebook Page.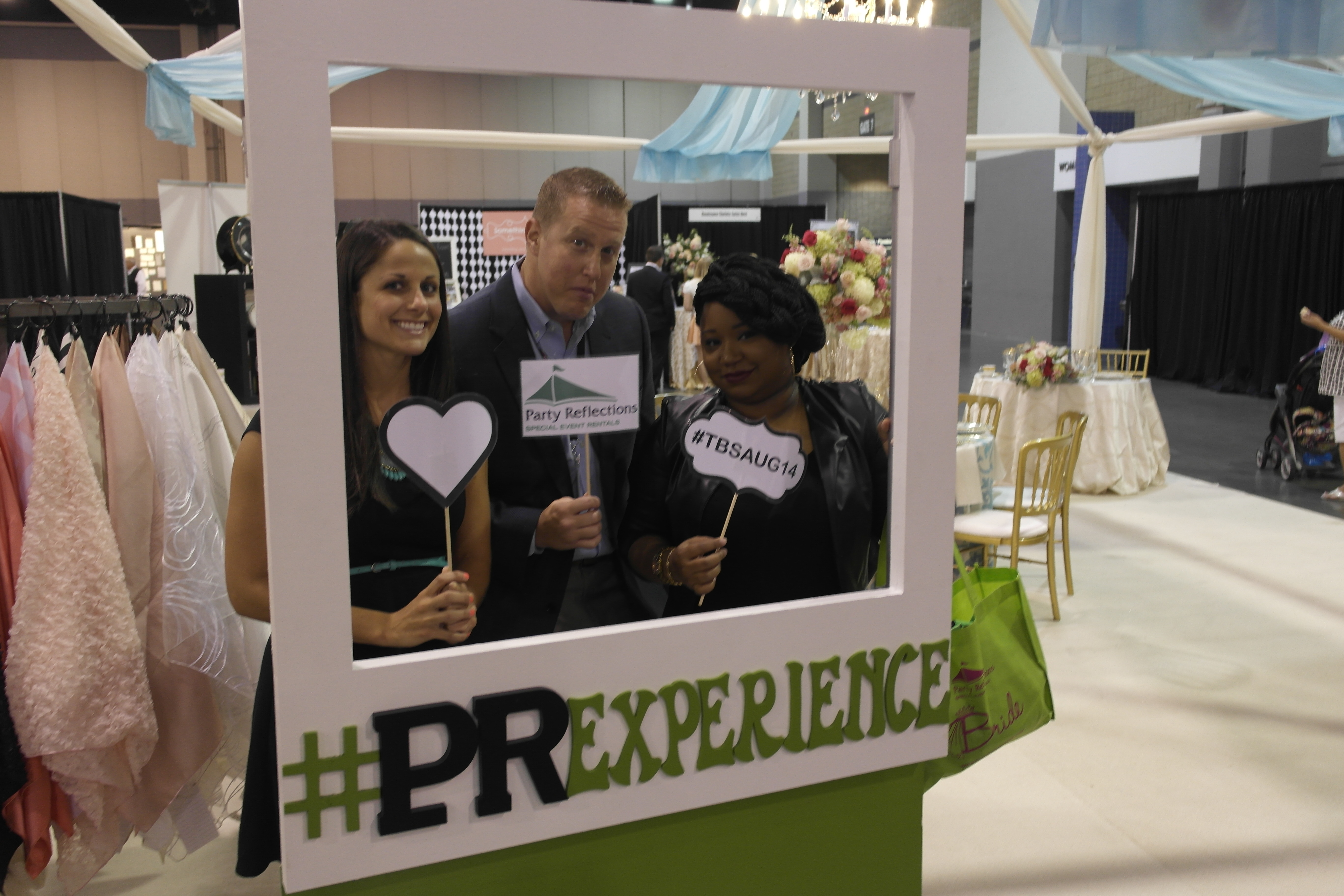 By all accounts, The Bridal Showcase was a success for Party Reflections as a sponsor and as a vendor.
We presented a booth that speaks to our inventory and capabilities all while interacting with show attendees and other wedding vendors in a fun and engaging way.