Christmas in the Carolinas… Inspiration From Our Showrooms
Posted in
-
Holiday
Reading Time

-

7 minute read
It's beginning to look a lot like Christmas …
Every year we decorate our showrooms to have the look and feel of a beautiful Christmas celebration. The intent of our showroom space it to inspire our clients to design their event as a one of a kind masterpiece. With layer upon layer of options they have to choose from, no one event ever needs to be the same. Each showroom this year has beautiful holiday displays that I wanted to share. Join me as I travel through "Christmas around the world…of Party Reflections."
Starting in our newest showroom to the family, Columbia, SC has a fun, modern and whimsical display of bright reds and lime greens set against the back drop of their rustic wood wall. The main seating table has a Red Lotus tablecloth and folding white resin chairs. I love how the typical "white, garden party chair" fits perfectly at this Christmas party. The tabletop is adorned with our square, green glass plates with a white square plate underneath it. It is completed with rope flatware and Milano glassware. The swirl pattern in the plates, linens and flatware creates a magical image of Santa's workshop filled with candy and toys. This setting provides you with the perfect atmosphere to host friends of any age for a wonderful gift exchange. Santa would feel right at home joining you at this table.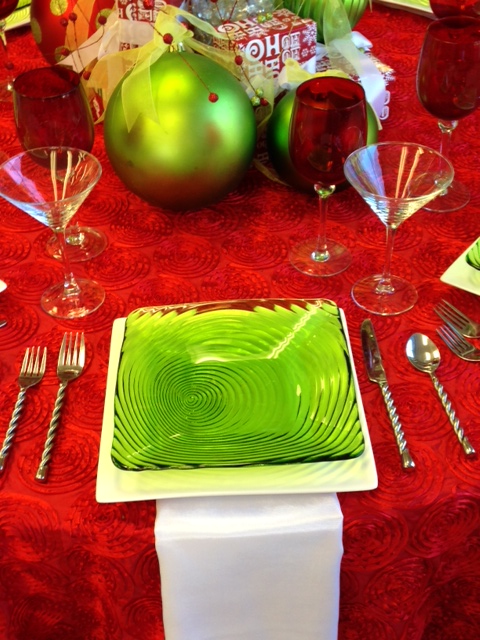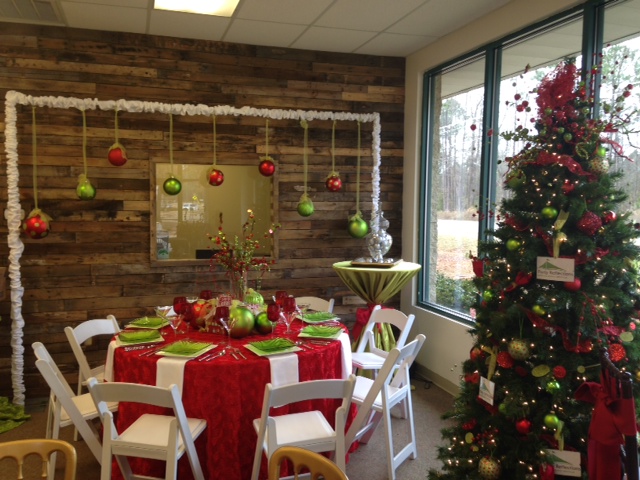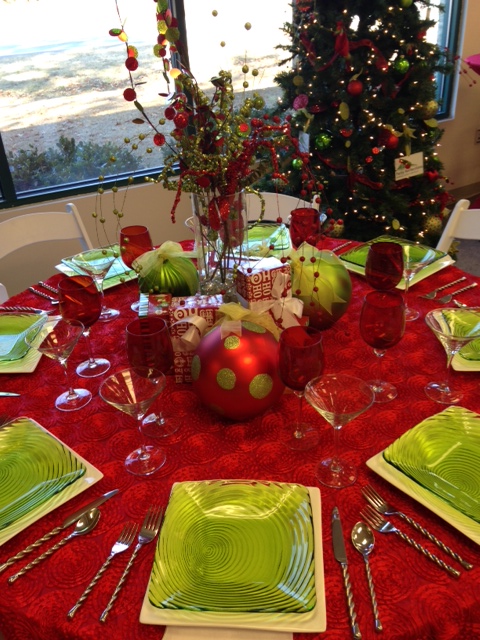 Ho!Ho! Ho! And off we go to the next stop on this Christmas tour. Our Raleigh Store chose a more "woodlands" theme and kept their tree and table setting very natural, warm and inviting. Using our hand crafted farm table as the foundation, they designed a beautiful and traditional place setting using our new vintage style Darcy plates as a focal point. These plates pair beautifully with either our estate gold china or our Vanessa gold china. The gold beaded charger and Abby gold flatware complete this rustic yet elegant design. Not to be overlooked are the Bella Gold stemware and the Arianna red goblet. Both of these items are new to our inventory this year and will make your table setting memorable. The silhouette of the Bella glass is unlike anything in our inventory. The colored glassware is so striking and wonderful addition to the holiday design. The Antique Tuscan chair was chosen as perfect option for this rustic, yet elegant setting. While sitting around this table, the warm and nostalgic feel, would cause you and your guests to begin reminiscing on holidays past. Friends would long remember this special gathering they shared.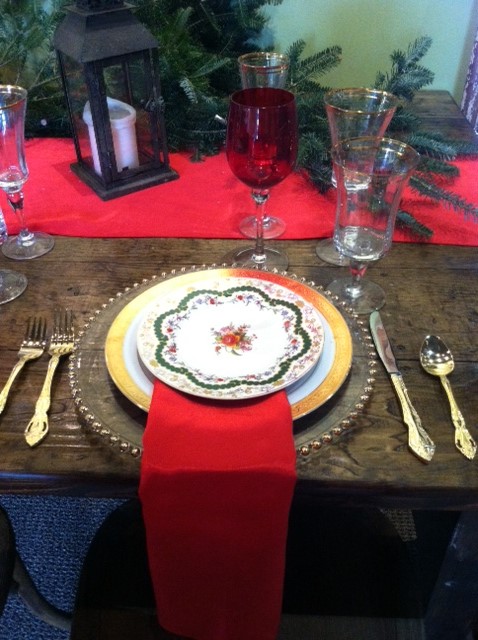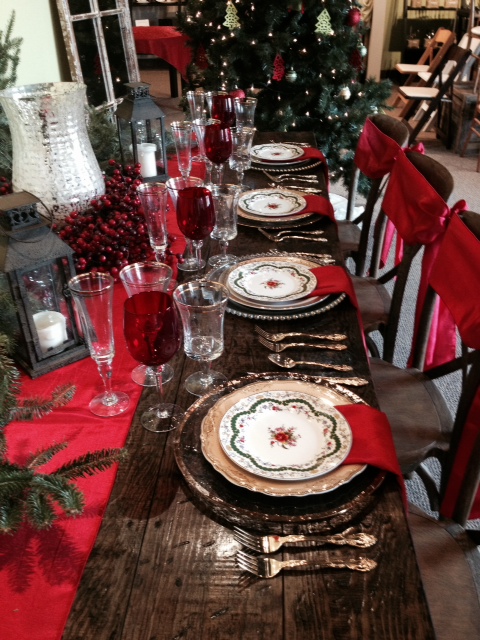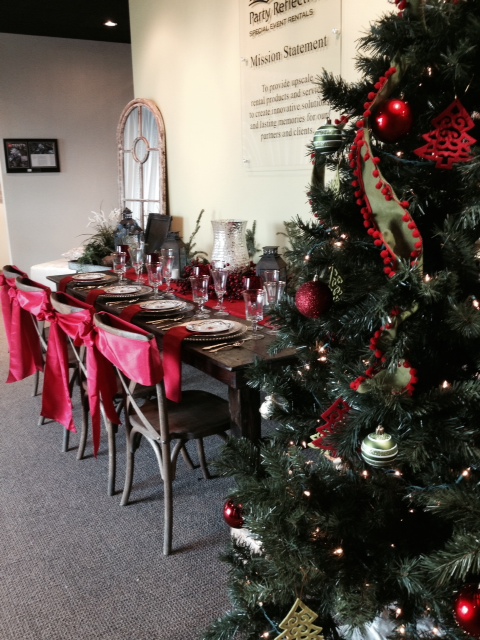 Our last stop on this holiday tour is in our Charlotte showroom. This display was inspired by the idea of creating options for designing your home for entertaining. So the large Christmas tree was set as the real focal point that the design centered around. The red and white color theme on the tree created the palette to work from while pulling linens. Our round guest table has white satin linen with White Fantasia Sheer overlay. This tone on tone white is like a snowy base to build on and has a wonderful play on modern and rustic with the addition of the Antique Tuscan Chairs for seating. The Red Arianna glass and the grass green crinkle napkin add the pop of color that removes any doubt as to what holiday we are celebrating. Standing in this space, you can almost hear the sound of traditional Christmas carols playing and the crackle of the fire coming from the fire place. The second guest seating area is a rectangular table seated for 8 that could be lovely for guests of any age. Its Turkey Red Bengaline tablecloth is merry and bright. The white leather chairs for seating has a modern clean line that make this table simple yet classic. Nearby is the most festive beverage station your guests will have ever seen. On a raised 4′ table there is a green bengaline cloth with a red and white stripe overlay. Directly in front of the tree we laid red carpet to set our white leather sectional furniture on. Custom made pillows in a variety of red and green fabrics fill the sofas. Any traditional Christmas gathering would not be complete without Santa and Mrs. Claus. There are 2 rocking chairs ready for them to join your party and allow guests to make their Christmas wishes known. You are sure to be on the nice list for throwing such a wonderful and festive holiday party.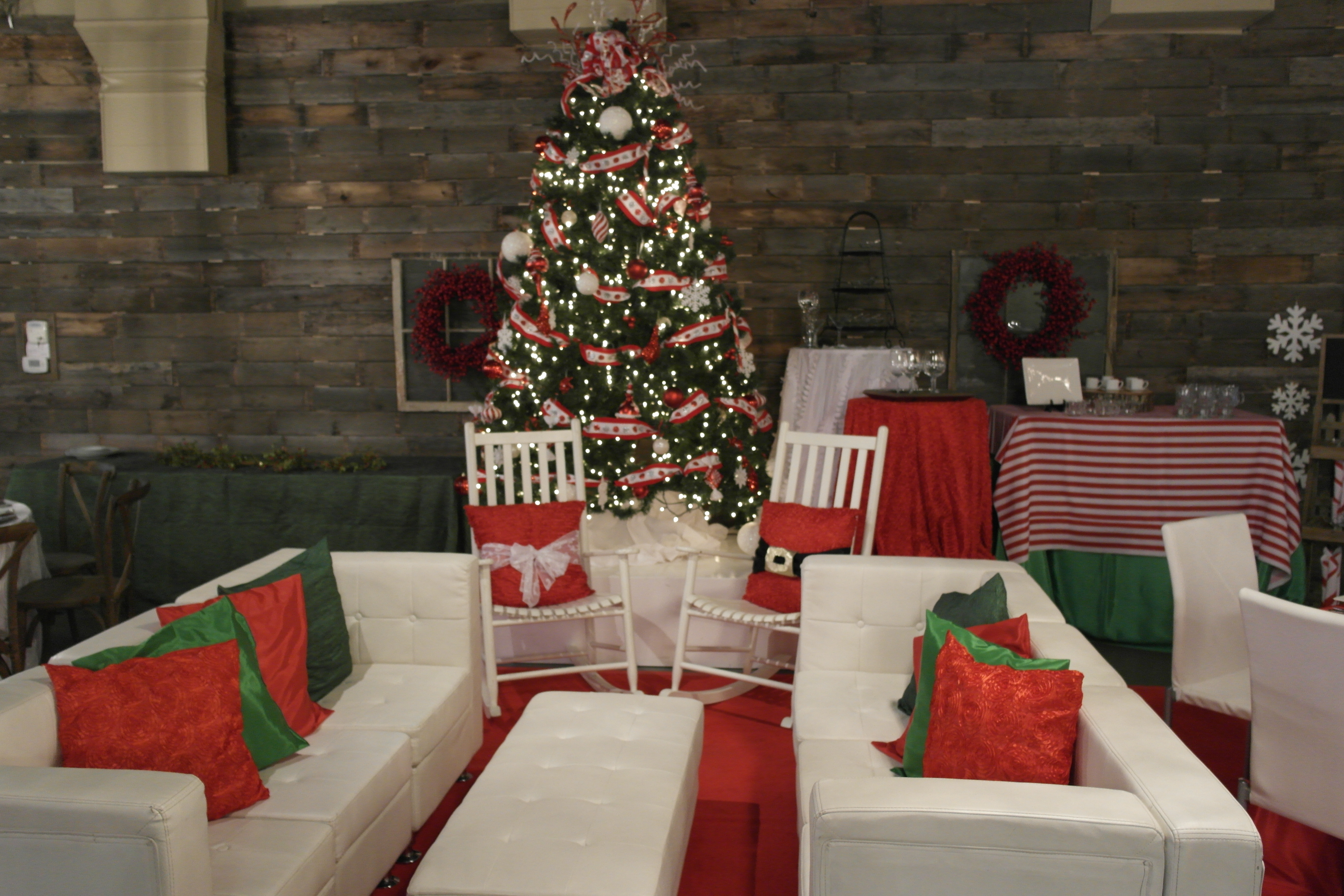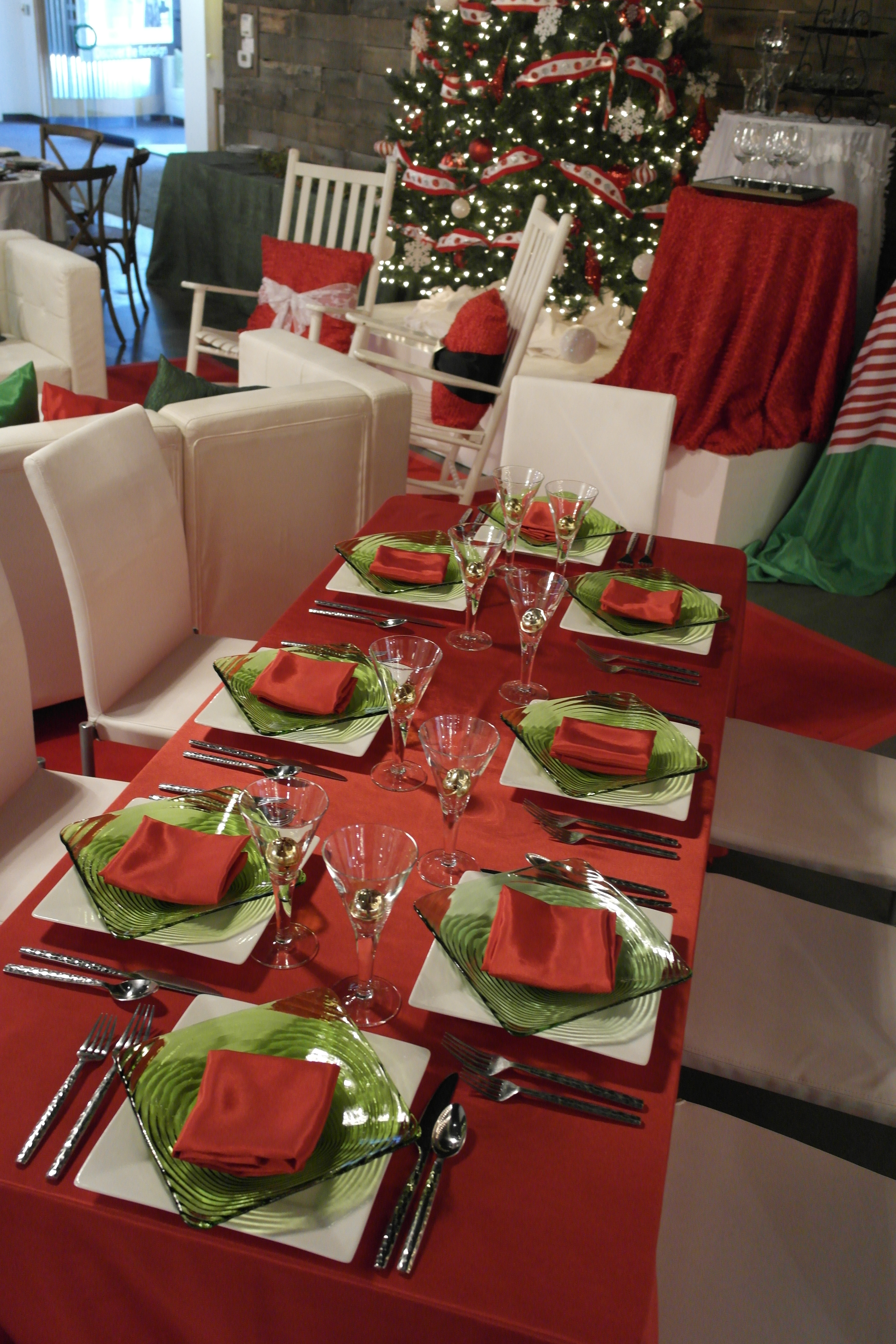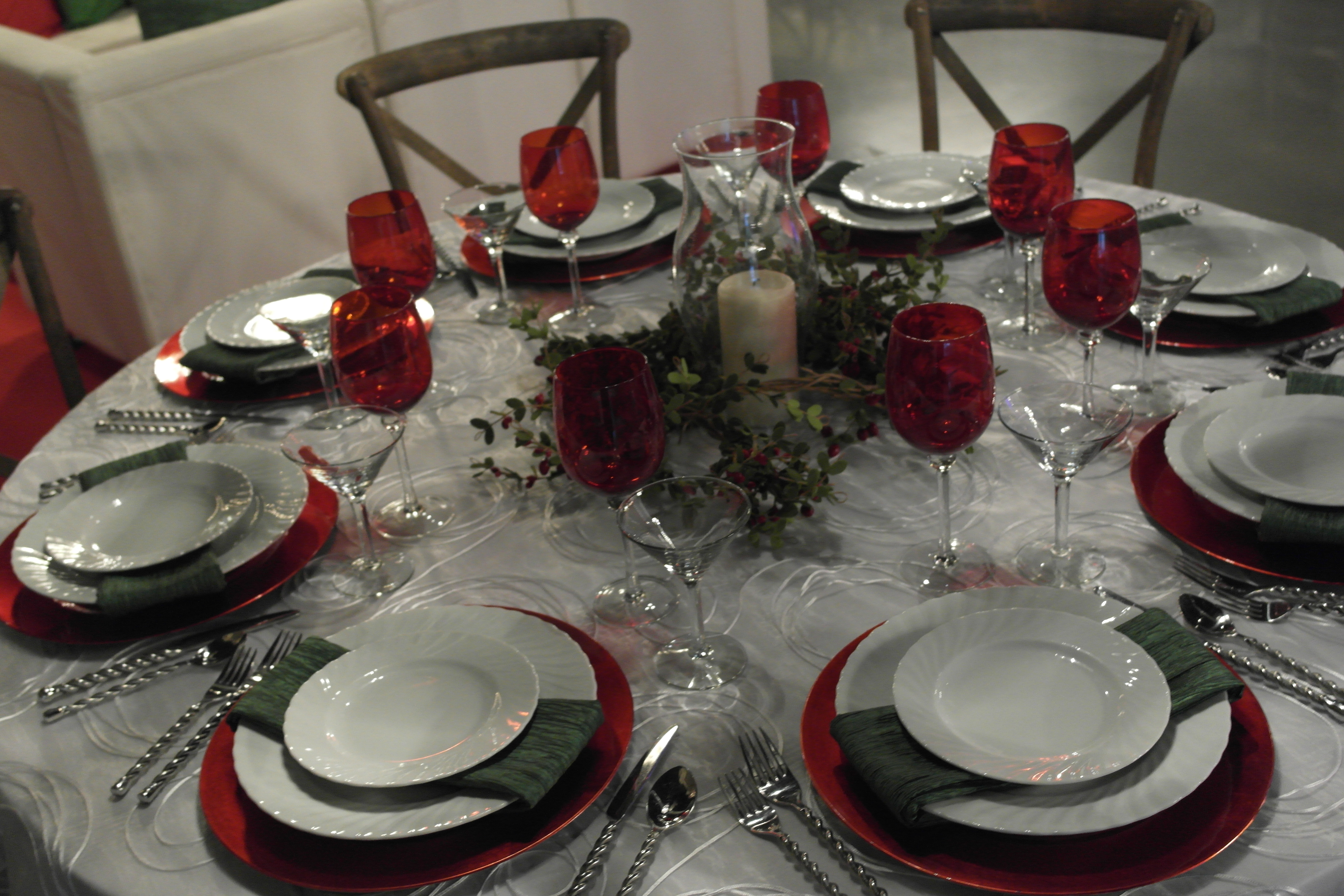 As we close this holiday tour, I hope you were inspired to design and host a memorable Christmas gathering for friends and family. It is a wonderful time of year to come together and share the life, light and hope that Christmas represents. From our Party Reflections family, we want this to be the best Christmas ever and that you will find a real Peace as you celebrate during this season. Be Inspired.
Maurisa Beaver,
Creative Director