Fall 2018 Showroom Designs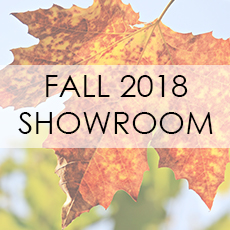 The Turn of a New Leaf!
It's finally fall and every quarter at Party Reflections we decorate our showroom to reflect the current season. The showroom design process involves selecting new products and researching current trends to create looks that will inspire. We then pull in fabric swatches and photo inspiration to construct a mood board that will set the tone for what we are trying to convey. This year we came up with four seasonal styles – Traditional Fall, Industrial Autumn, Formal Fall, and Nouveau Autumn. These different fall themes incorporated new trends, moody color palettes, and layers of interesting elements into the Party Reflections showroom.
When designing, we always strive to craft unique innovative looks that will draw in our clients and create an unforgettable #PRexperience. To us, the showroom is more than just a place to display our rental products but it's also an extremely influential space that fosters creative ideas that will translate into real event designs. As you read on to learn more about the four themes in our redesigned showroom, we hope you become inspired with some fun fall decorating ideas!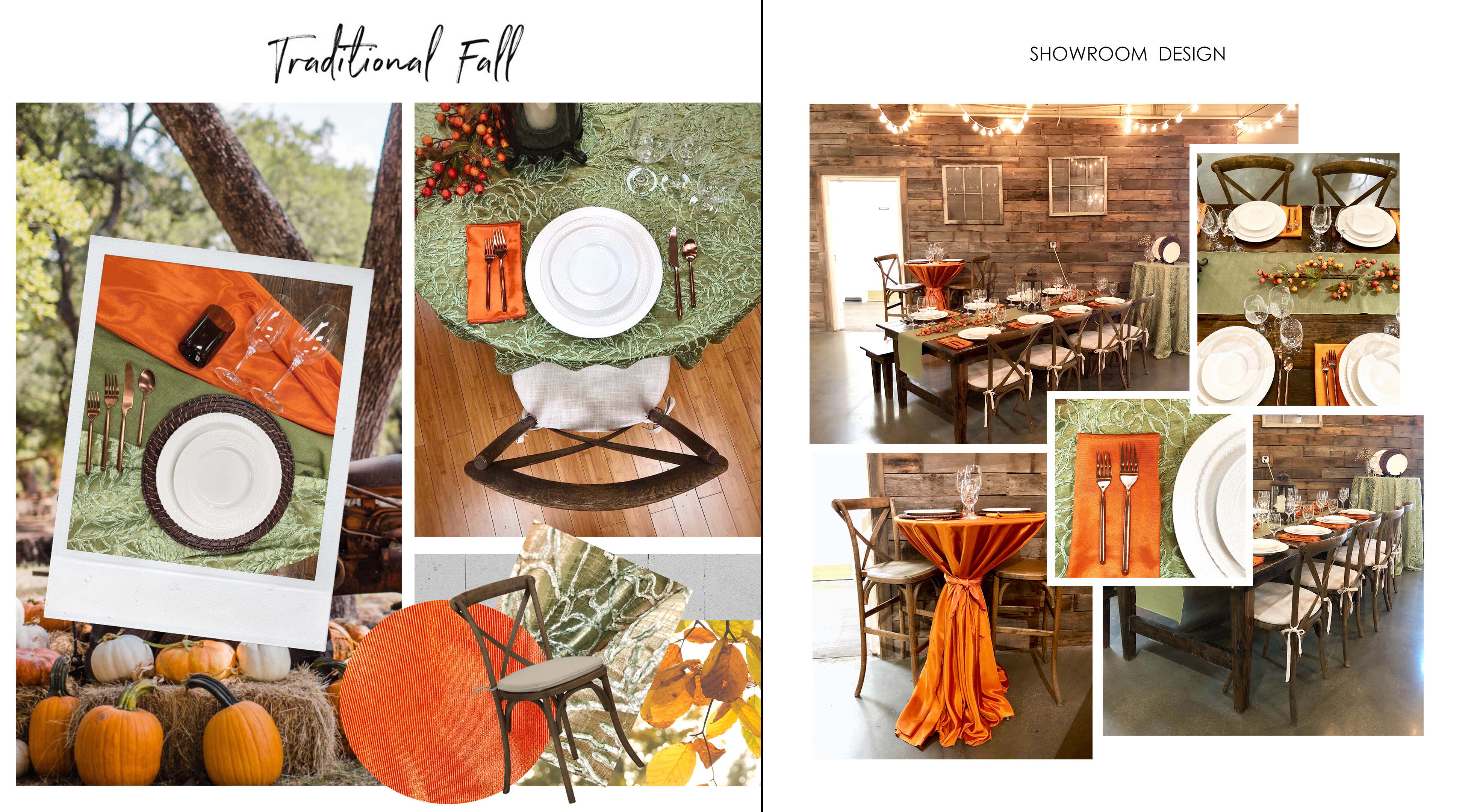 Traditional Fall:
Inspired by the natural beauty of the season, this quintessential fall design evokes warmth and comfort. Our Antique Tuscan chairs paired with our rustic farm table established a woodland charm to the space. The brilliant rich blend of colors in autumn leaves had us gravitating towards our Sun Copper Bengaline linen and Apple Silk Floral linen. On the tablescape, our Arden Rose Gold flatware was added for a simple touch of copper accent. Overall this beloved design is great for cozy gatherings, making it a classic favorite.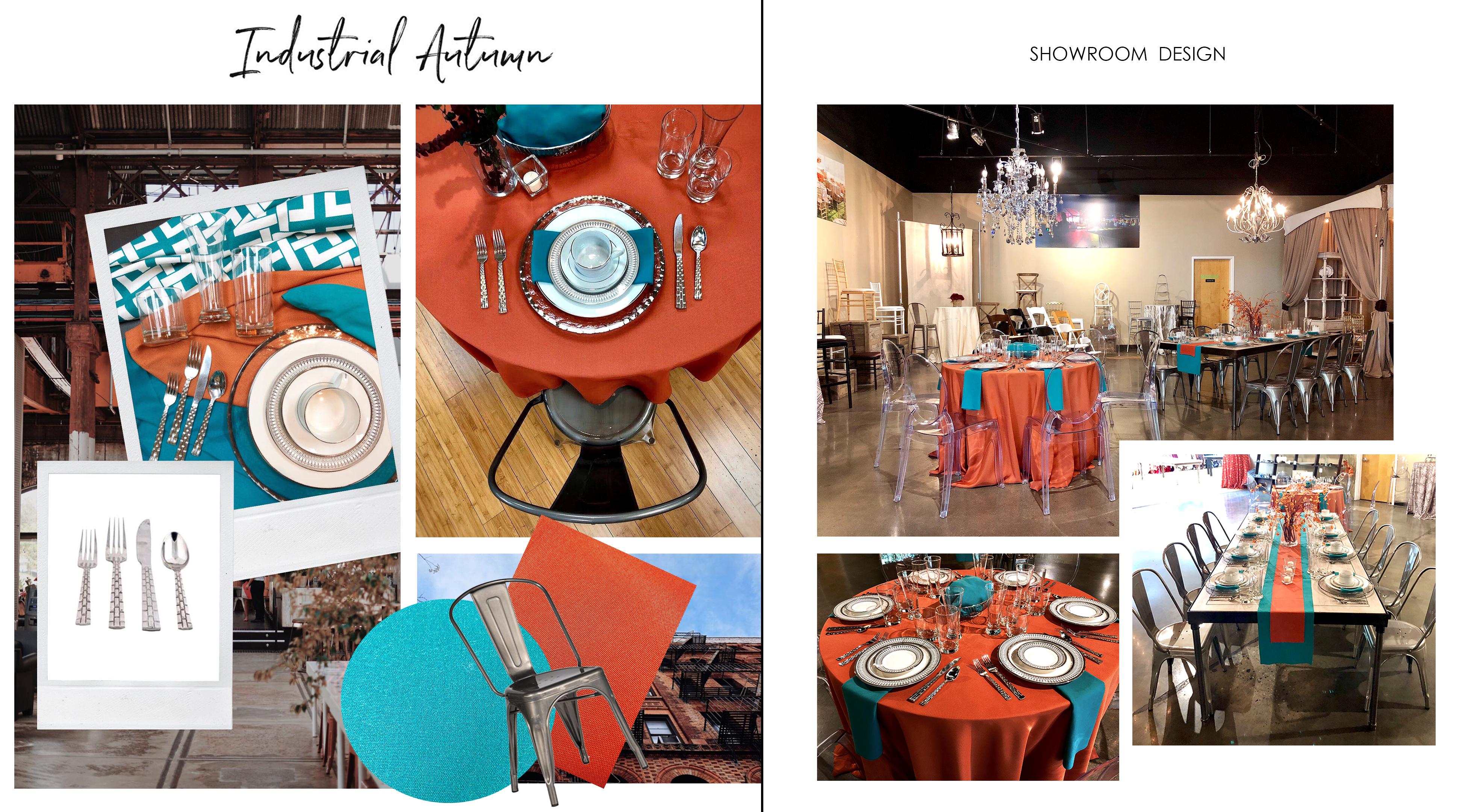 Industrial Autumn:
Industrial chic is a distinctive décor trend that is here to stay. Think exposed bricks, metal frames, and urban aesthetics. We saw this as the perfect opportunity to incorporate our new Edison table and Truman chairs into the mix. Although industrial can be characterized as cold and impersonal at times, we warmed up the raw industrial look for autumn by pulling in our Burnt Orange linen. A pop of our Teal Poly also made an appearance on the table, making a bold accent. These colors are part of the 2018 Fall Pantone color trend. To complete the sleek contemporary design, place settings included our Silver Alpine charger, Westminster plate, and Link flatware.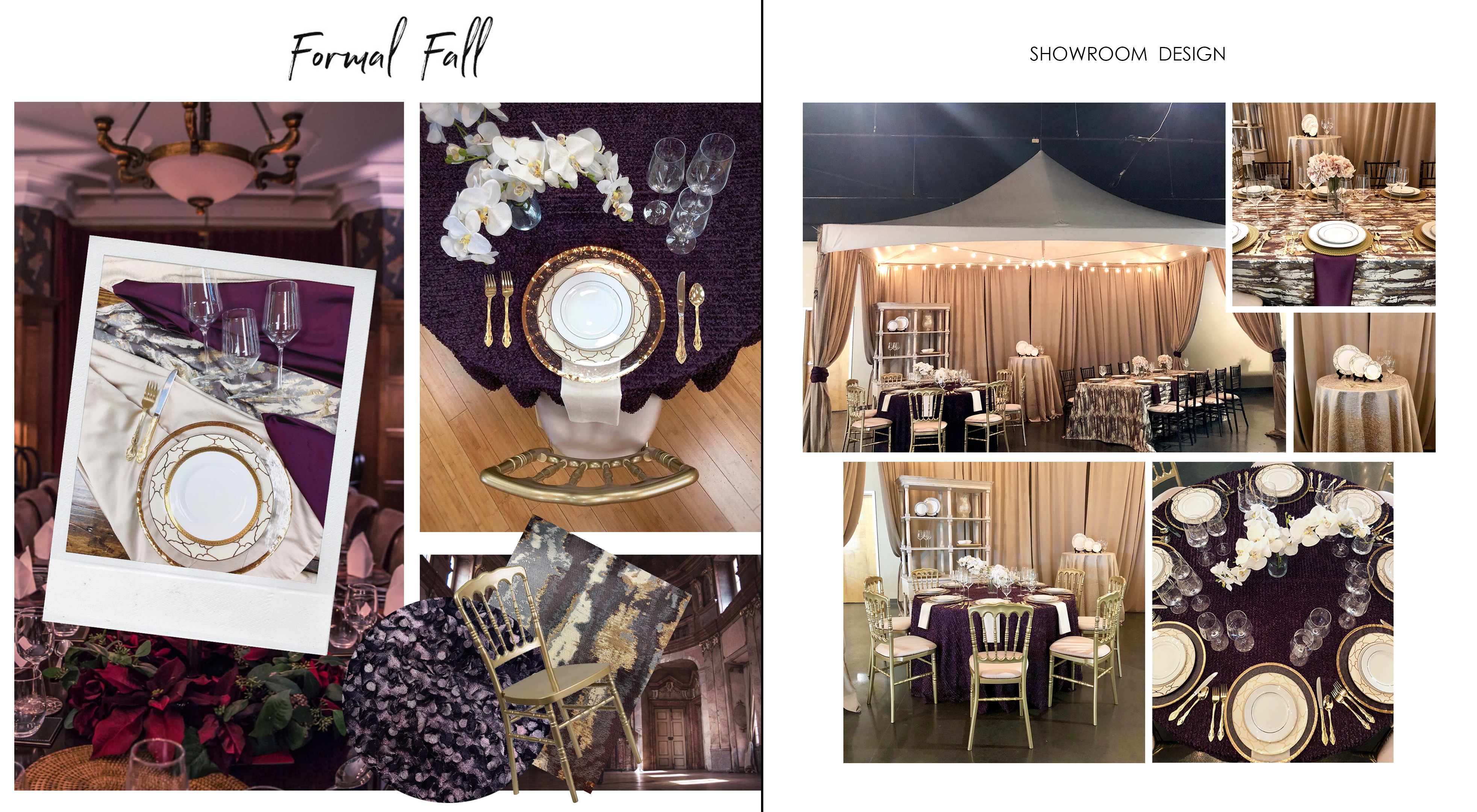 Formal Fall:
Deep shades of purples can exude elegance especially when it's paired with classic gold. To dress up our showroom design, our Eggplant Savvy tablecloth was added to the table setting for texture and drama. It was coupled with our updated Gold Chateau chairs to refine the polished look. Another linen that we are falling for this season is our Gold Mirage. This glamorous fabric can elevate any space with its one-of-kind pattern. To finish off this autumn soiree look, we included our sophisticated Margo Pearl plates with luxe gold details.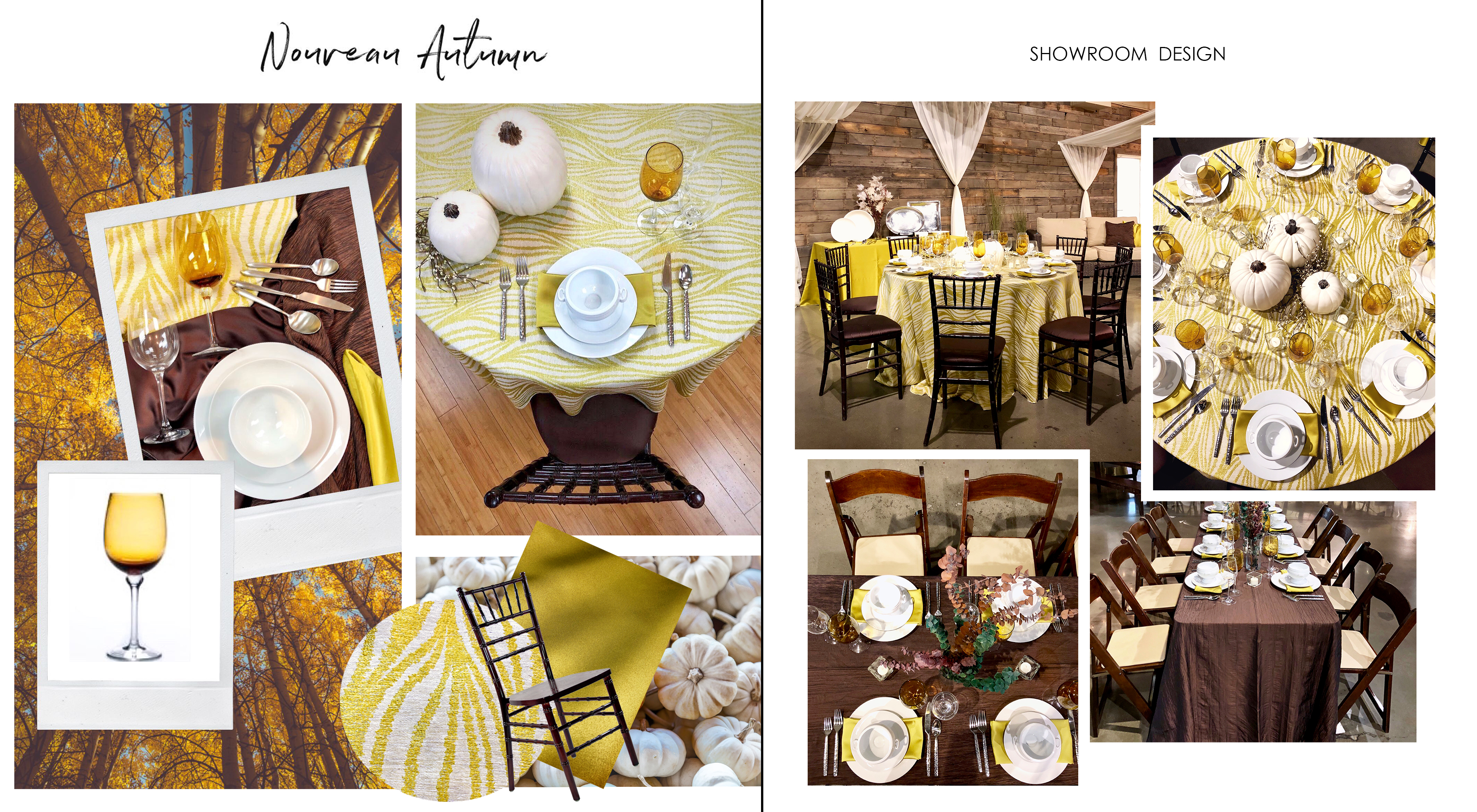 Nouveau Autumn:
Our final showroom design is one of our favorites! It's an avant-garde approach to autumn because it introduces fresh new concepts. Who would have thought to use a zebra-like print for fall?! Our striking Citron Prentice tablecloth is both eye-catching and unexpected for the season, and that's exactly why we love it! To counterbalance the sunny disposition of the linen, we brought in our Mahogany Chiavari chairs. On the table, our Green Goddess Satin napkin is a pop of rich color that gives a bold contrast to the neutral white place settings. This shade of green is a nod to the current mid-century modern look that is so popular in the home décor industry. White pumpkins and amber glassware were then placed as the final touches to this modern design with flair!