Escape to Ultimate Luxury: The New Cabana Product for Your Next Party Experience!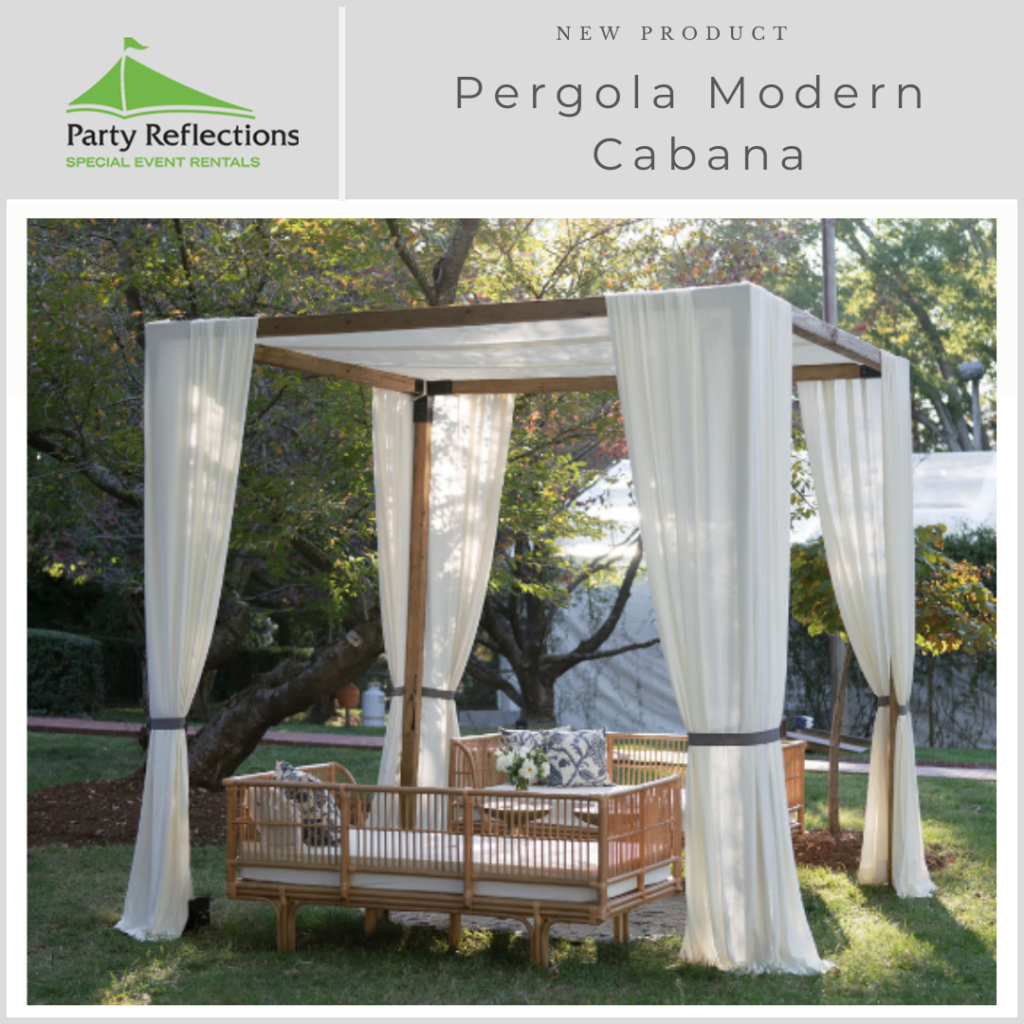 As an event planner, you strive to deliver a unique and unforgettable experience to your clients, especially when it comes to their wedding day. The ambiance and atmosphere are crucial in creating the perfect setting for the celebration. Are you a bride that wants something unique that your guests have not seen? If you're looking for a new and innovative way to transform your event space, then we have an exciting new product to share with you – the Pergola Modern Cabana.
This wood frame system is the perfect base for designing unforgettable wedding receptions and creating unique event experiences. Measuring at 8′ tall and 10'x10′ square, it can be customized according to your preferences. The Pergola Modern Cabana can be used just as the wood frame structure, or it can be covered with various fabrics such as an organic linen package add on, or explore custom fabric options for a more dramatic appeal.
Dramatic Chic Cabana
Some design elements are dramatic and some are chic. With the new Pergola Modern Cabana, you can be both! The wood frame system was draped in ivory fabric and the simple gathered look created an inviting outdoor seating space. Open and airy, the pergola gave alternate talking spots for guest to enjoy during cocktail hour and throughout the evening. The spaces transitioned from day to night and continued to be used. These cabanas were adjacent to a large structure tent that housed the reception. Scroll the pictures below to see how chic these gathering spots looked and how the light created a dramatic effect inviting guests to enjoy themselves.
Event Vendors: Ivy Robinson Events, Party Reflections, PR Design Collection, John Lupton Events, Corbin Gurkin, Beachview Rentals, Stradley Davidson,
Dreamy Seaside Cabana
Having your wedding reception seaside may feel like a dream. In this event design it became a reality. Nothing like a cabana to add style and design to this reception. Sprinkled throughout the venue, are gathering spaces that offer some shade as well as a comfy space to land and enjoy the view. The furniture chosen was from PR Design Collection and has a rattan, beachy influence that fit so well for this exclusive island wedding. These Cabanas had light fixtures added to provide form and function in the space. Our Wishbone chairs were the perfect dining chair to use for the waterside seating. The Ella Beaded Chandeliers made a huge statement over the custom bar by Elisabeth Rose. Get carried away by the below pictures of this destination wedding that gave the guests a seaside experience that they will not forget.
Event Vendors: Ivy Robinson Events, Party Reflections, Elisabeth Rose, Kelly Odom Flowers, Millie Holloman Photography, PR Design Collection, Stradley Davidson, Figure 8 Island
Classic Elegant Cabana
Keep things classy, elegant, and timelessly beautiful. The Pergola Modern Cabana with its clean lines and modern sensibility can provide an impressive backdrop to the reception. This design included custom sewn fabric to create a dreamy and lush fabric element. The draping was in the bride's signature shade of green, Complete the look with elegant lounge furniture and stylized furniture pieces. Cabanas were precisely placed both outside of the reception tent and inside of the tent to allow guests to move about the space and enjoy different event experiences. Along with the gathered fabric on the roof and on the corners, the smooth green fabric was used as a valence and as an accent on the leg drapes. Enjoy the inspiration found in these images that could come straight from a fairy tale.
Event Vendors: Ivy Robinson Events, Party Reflections, Elisabeth Rose, PR Design Collection, John Lupton Events, The Social Spool, Allison Kuhn Photography, CLUX, Quail Hollow Country Club
How do I get this?
If the images of these 3 weddings have you dreaming of your next event, we need to talk. Reach out to one of our account reps and have them quote you on the Cabanas. The wood frame system that is 8'H x10'x10′ can be rented by itself, no drape. It needs to go on a grass or asphalt surface. We prefer to stake the frame in the ground. If you want to add ivory batiste fabric, like in the Dramatic Chic wedding, we offer the draping package at an additional cost. If you like the more custom elegant gathered fabric, it would require a custom pricing and production discussion or you could source it through a decorator to be sewn and installed. Start the conversation by requesting a quote or contacting us.
Event Rentals
The Pergola Modern Cabana is the perfect solution for event planners looking to create a unique and customizable experience for their client's guests. Whether your event is a dramatic chic or classic elegance, the Pergola Modern Cabana can be the ideal design element to make your client's wedding a memorable and unforgettable experience. So, what are you waiting for? Add the Pergola Modern Cabana today and make your next event stand out.
Party Reflections has showrooms in Charlotte, Raleigh, Greensboro and Winston Salem, North Carolina, and Columbia, South Carolina. We offer event rentals for any size event. We specialize in chair and table rentals as well as tent rentals for your party. #PRexperience