Pop, Fizz, Clink – All Things Champagne

To rent that is… Here at Party Reflections we tend to stick to what we know and on the topic of Champagne that means Glassware and Linen! With so many holiday details featuring metallic tones and bubble bars, it is a perfect time to showcase all the items you can use to bring the "Pop, Fizz, Clink" to your event year-round.
Let's start at the bar! Numerous options are available when it comes to choosing the right glassware for a champagne toast. For a formal event, the sleek lines of a pure flute might be the sophisticated choice. Planning a gala for 500, the more economical basic flute might be the best option. Want to replicate the champagne pyramid you saw on Instagram, then the classic champagne saucer is for you. If none of those options are exactly what you had in mind, we have even more flutes to choose from in our catalog accessible by clicking here.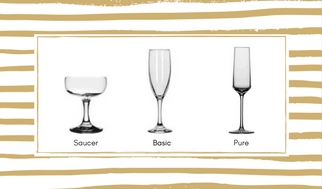 Now let's talk about the table! Rich metallic tones are everywhere you look and who could deny what gold and silver elements bring to a table design. Champagne as a neutral paired with metallic tones is always a showstopper and we have a wide variety of fabric options that will allow you to do just that. From Bright Champagne Satin and Champagne Dupioni to Champagne Bliss and Metallic Cobblestone, you can always find the perfect linen to create the table design of your dreams. Visit any of our four design centers in our showrooms to see all of the linen options available for your next celebration or access the Linen Gallery by clicking here. #PRexperience