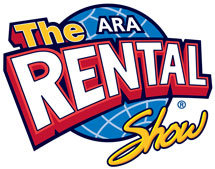 The American Rental Association (ARA) is the international trade association for owners of equipment rental operations and suppliers of rental equipment. ARA began in 1955 when 21 rental business owners met in Moline, Ill., to discuss issues relevant to their businesses. Now, over 60 years later, ARA serves as the principal trade association for the equipment rental industry. As a member of the ARA, Part Reflections has access to over 1,000 manufacturers and the ability to network with over 10,000 rental operations worldwide. Annually, ARA produces a trade show and convention for its members called "The Rental Show." This year it was held in Orlando, Florida, from February 25- March 1. A team of 6 people represented Party Reflections and participated in seminars and meetings as well as made critical buying decisions. The Executive team, Dan, Jonas, Christian and Maurisa, were joined by Kellie Nelson, the Purchasing Manager, and Mark Ermshur, the Raleigh General Manager.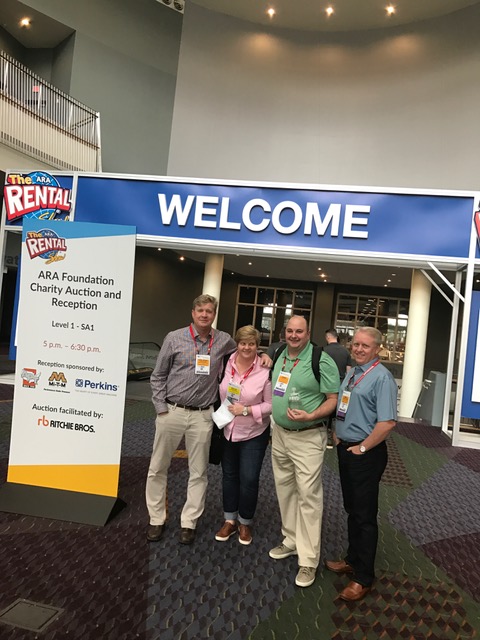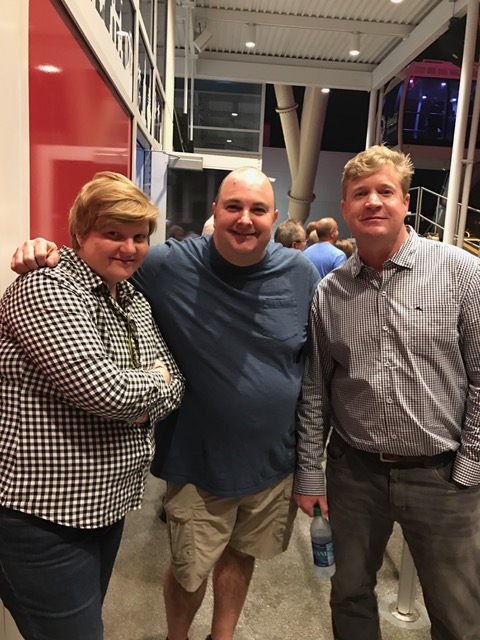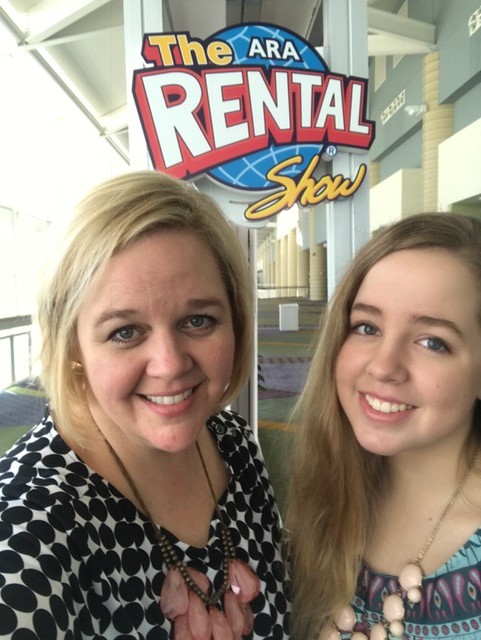 This group spent quality time working on the business as well as networking with many special event professionals during their time at the show. This year was notable for a couple of very significant reasons. Our president, Dan Hooks assumed his new role on the ARA Board of Directors as the ARA Party & Event Services SIG Chair representing the party and wedding segment of the association. During his 3 year term, he will help to drive and support our growing industry. By taking this position, Dan will not only bring insight to the board, but he will also be at the leading edge of knowledge and understanding of current business trends and strategies for the special event rental industry. Our team had the opportunity to meet the new incoming CEO for the ARA Association, Tony Conant, at an invitation only executive reception.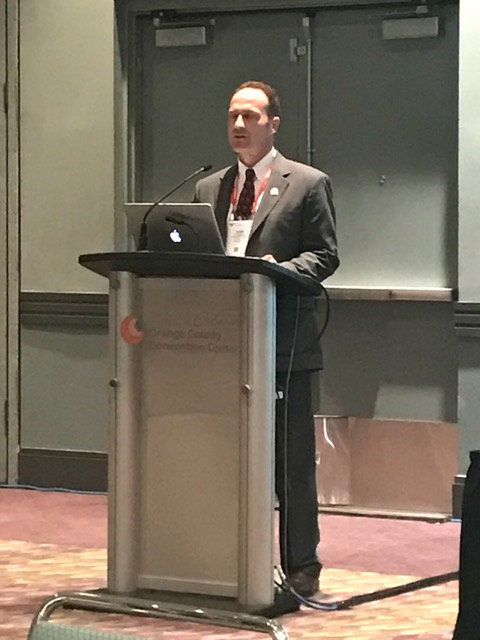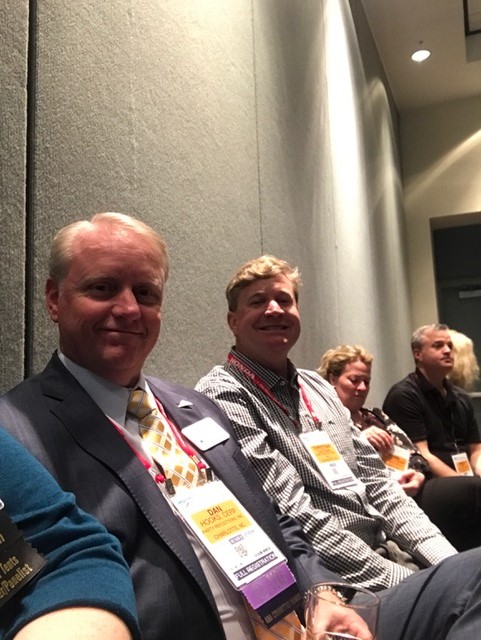 This year was also marked by the opportunity ARA extended to our Chief Cultural Officer, Maurisa Beaver, to be a speaker for the "Tents and Events" educational portion of the conference. While several folks on our team have participated on panel discussions and town halls in the past, this was the first time one of our team members taught an entire session. Maurisa's session was titled "Educate. Equip. Empower. Create Success as a Manager." Her approach to this traditional Human Resources topic is about training and developing talent in the people who work for Party Reflections. She shared real life, practical examples that she has encountered in her years in the rental business centered around her goal to inspire others. The audience was challenged to shift their thinking and approach to their internal customer (their employees) by attributing as much care and consideration as they do to their external customers. Engagement is the end game when training and developing people. It is important for people to have a connection with their supervisor and important for the supervisor to be more than a boss but a leader.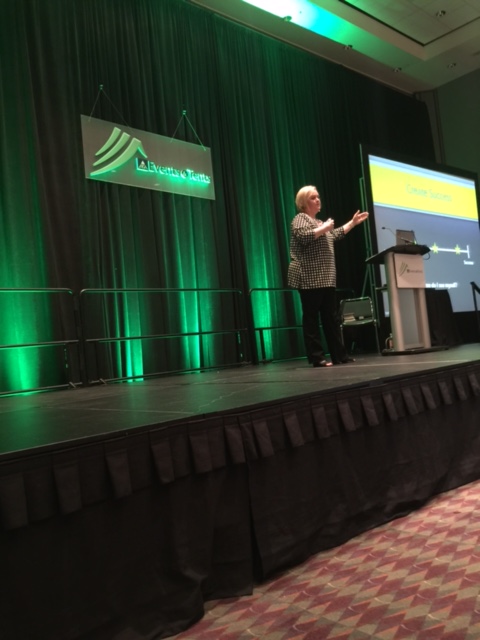 Another highlight of The Rental Show is the Inspiration Gallery on the show floor. Each year ARA sends out a call for submissions to be included in the annual showcase of event rental accomplishments. This year Party Reflections submitted and was selected as an Inspiration Gallery participant for our work as the rental provider for the 2016 Wyndham Championship. New this year, each finalist was asked to describe the challenges related to the job and what was done in order to ensure the event's success. Given the nature of a PGA golf tournament, the scope of event rental needs and the distance between Charlotte and Greensboro, Party Reflections submission was competitive amongst the other applicants. Here is what it looked like on the show floor.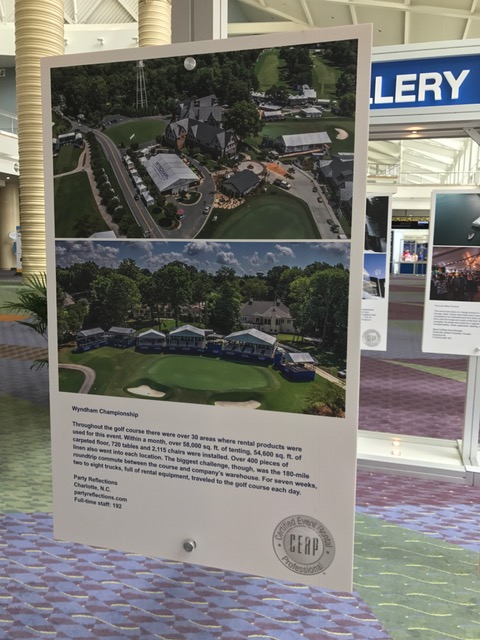 Our continued support and attendance of The Rental Show is important to ensuring we are aware of the newest product on the market and to maintain vendor relationships. This year our goal was to find a new style chair to introduce to our markets. We will be adding 2 new chairs to our extensive inventory and look forward to launching them upon their arrival later this spring. A new "white washed wood" dance floor was also purchased and will be available for use this spring season. There are several other new items on the horizon. Look for them in the coming weeks.