What Does The Hashtag #PREXPERIENCE Mean and Why it is Not Just Another Hashtag?
What does the hashtag #PRexperience mean and why it is not just another hashtag?
"To live means to experience–through doing, feeling, thinking. Experience takes place in time, so time is the ultimate scarce resource we have. Over the years, the content of experience will determine the quality of life. Therefore one of the most essential decisions any of us can make is about how one's time is allocated or invested." –Mihaly Csikszentmihalyi
There are so many inspirational quotes on the internet about experience but this quote captures the essence of a #PRexperience to me.

Our clients have choices when it comes to determining a rental partner – our EXPEREIENCE in terms of knowledge and years of service takes the guess work out of why they should choose to work with us.
As Maurisa Beaver, our Creative Director says – "We do life together here in the work place but also in the lives of our partners and clients." The EXPERIENCE that each of our clients have when working with their Account Representative, the Delivery Crew and the Accounting Department is the reason each location has loyal clients.

With the redesign of the Party Reflections website, we were able to ensure that our company's online presence is a positive and engaging EXPERIENCE both internally and externally. This includes how we are found on search engines to the content we provide as a thought leader in our industry.
You would think that creating a hashtag to capture all of those elements would be easy. In fact, determining our official hashtag was the most difficult step in the launch of our new website this past August. We had to answer some questions before making a final decision. Has someone else already been using the hashtag we brainstormed? Does it translate to all of the services and products that we offer? Is it too industry specific? Is it easy enough to remember so that our clients and partners can tag us in their post?

All of this for a hashtag, you may be thinking. The simple answer is yes. Our hashtag #PRexperience is an important component of our marketing strategy. When I use the hashtag #PRexperience on social media, it is not to just curate our content online. I use the hashtag #PRexperience because it represents all of the ways in which we experience interacting with Party Reflections. I hope that you will use #PRexperience too!
Here are some of my recent favorites: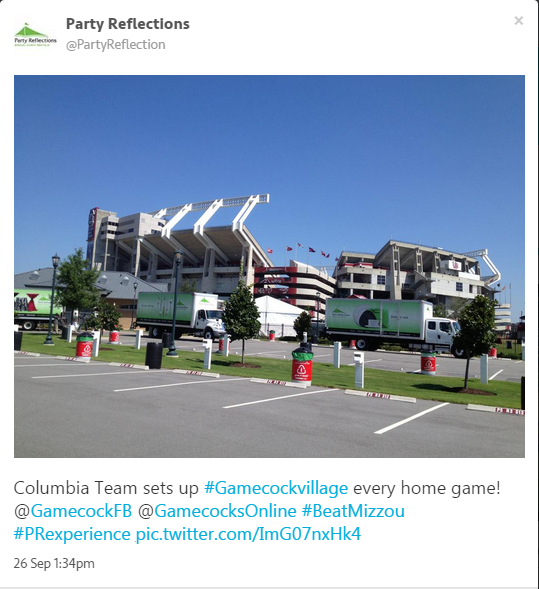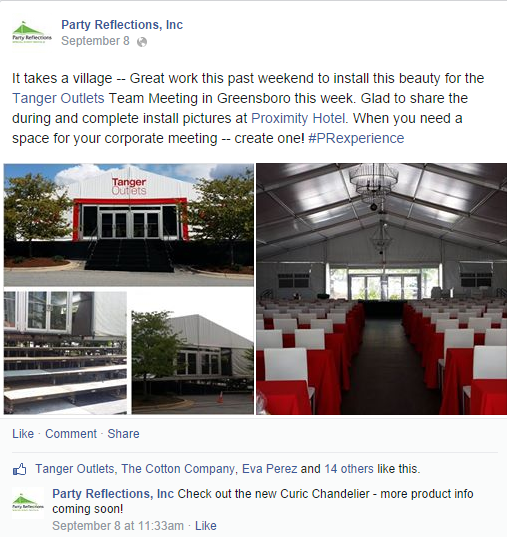 Although you may have #Hashtag fatigue and skim right over them on your favorite social media platforms, know that when you see the hashtag #PRexperience it represents so much more.
Cristin Lee
Marketing Communications Coordinator