Wyndham Championship 2018 Interviews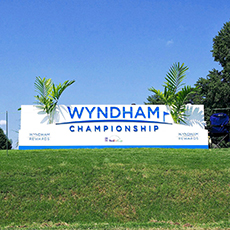 In this blog post we interviewed different members of our team to gain insight on the biggest event of the year, the Wyndham Championship.

Kathryn Meyer:
Kathryn has been the account manager for The Wyndham Championship since 2012. This event involves well over 250 tickets and work orders that involve product, logistics and design. Her expertise has been instrumental in seeing our capabilities support the course needs as well as drive growth and development for the tournament.
Q: What is something you take pride in when you think of your involvement with The Wyndham Championship?
A: It was bringing a higher level of options to the tournament than they used when we first started working with them. We suggested using linens to the floor instead of disposable table covers on all the skyboxes and viewing platforms. We have also added Velon wall finishes to the hospitality suites. It was creating a finished product that we were proud of and were proficient doing for other PGA tournaments.
Q: Were there any big changes you implemented this year?
A: we changed 90% of the Astroturf used around course on the viewing platforms and in the hospitality suites from tan to grey. It looked so much better. It did created a need to evaluate all the other design elements that were within each space. Overall, it was a cleaner, fresh look.
Q: Were there any other design changes that you were able to drive?
A: Party Reflections is a tournament sponsor and this year we chose to invest into the Women's Day Luncheon and we brought in specialty linens and added pipe and drape to the stage set. It warmed up the space and created an event experience for the women professionals and executives to network and enjoy a day on the course. We also completed a redesign of the "Wyndham Beach" décor that included moving the wood accents to walnut finish with tropical colors and design.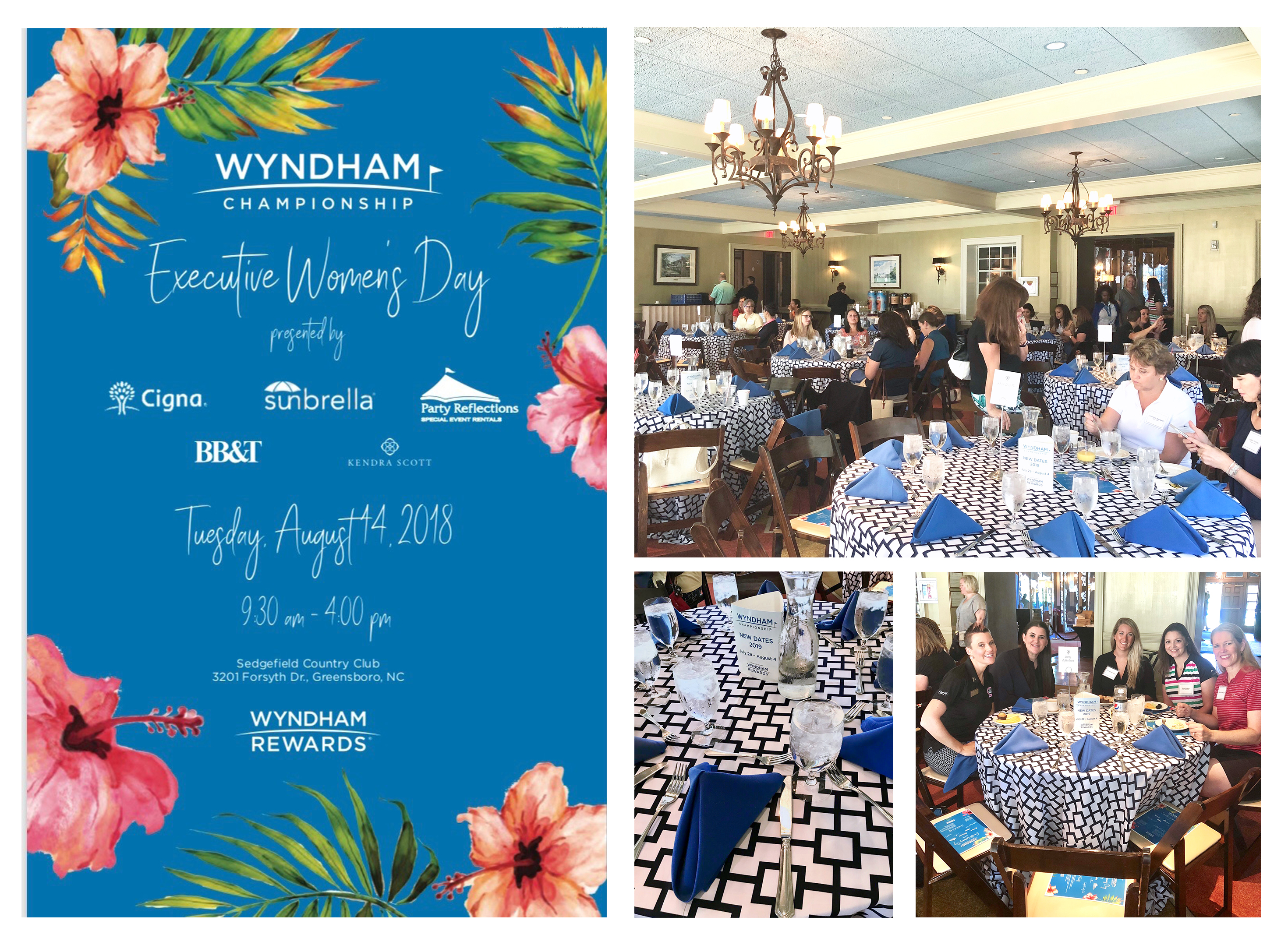 Q: What was your favorite memory of this year?
A: Being able to have my mom join me on the Sunday before the tournament opened was priceless. I loved being able to ride her around course as I created our final punch list. Sharing the hard work I had done with someone who has supported me through the years was priceless.
Q: What is most rewarding about managing such a high-profile event?
A: I love tuning in on Sunday afternoon, the last day of the tournament, and seeing all the tents and equipment that we were able to provide. Just knowing thousands of people are enjoying a world class event and we as a team have made it happen.
Dan Hooks:
Owner of Party Reflections, resident tent expert and golf aficionado.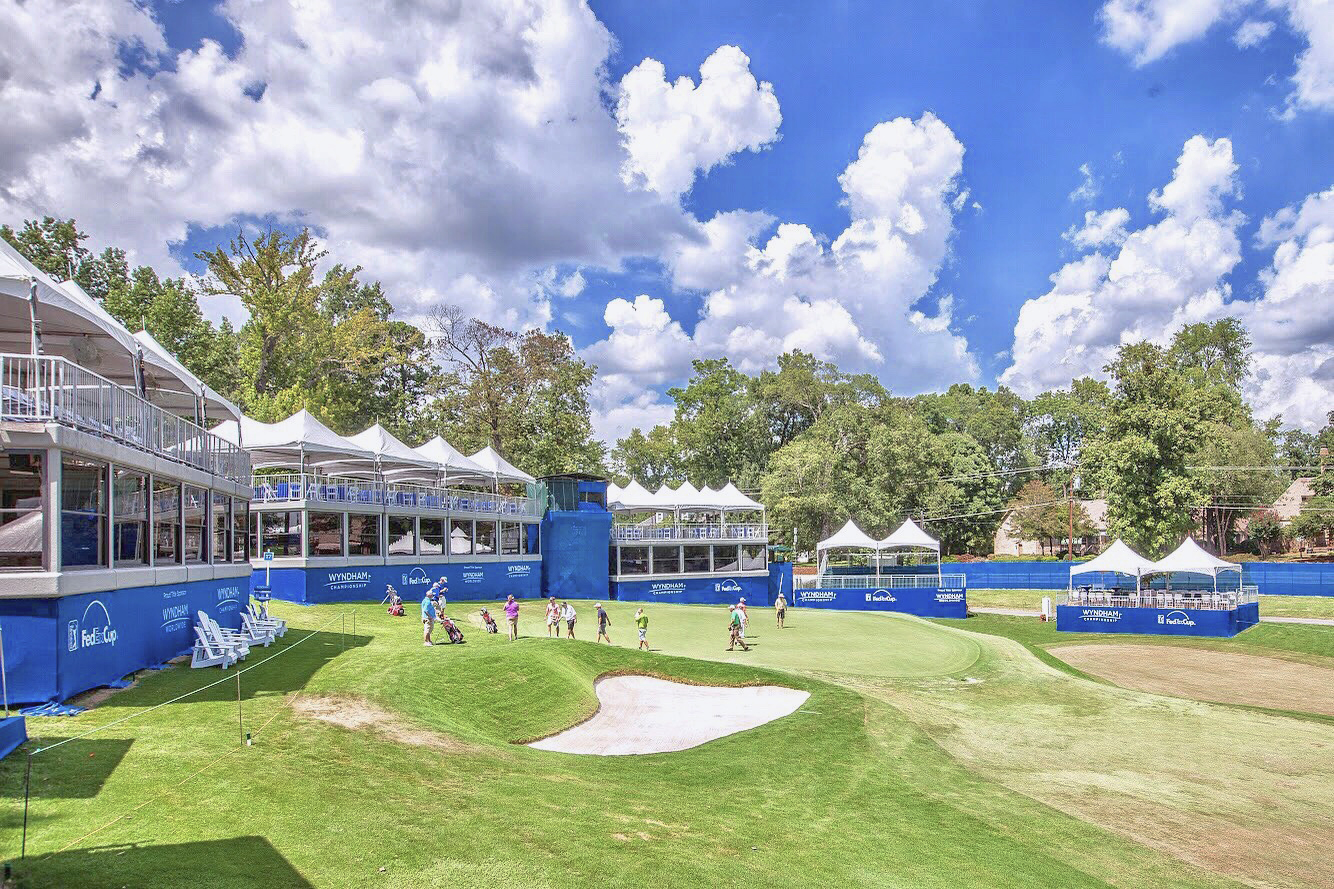 Q: Was there anything different Party Reflections did this year to improve the install of the tournament?
A: We chose to rent an apartment to house 6-8 guys and keep them in the Greensboro area to support the install locally. In the past we would send people daily back and for the and the time proved to be inefficient and start the work day later. This change added to our success and helped to keep projects moving on course.
Q: What was your biggest challenge this year:
A: the weather! It was one of the rainiest install to date and it created problems on meeting deadlines and changing logistics load in.
Q: You get to play in the Pro Am every year. What do you enjoy most about that?
A: GOLF! While it is great to imagine yourself as a pro golfer, for me a life- long "Tent Guy" it is awesome to see the event from a player's perspective. Being on course and seeing the tents and knowing the logistics it took to create this event is amazing. I am humbled and in awe of what is possible and of the expertise of our team that execute this event every year. It is truly gratifying.
Brandon Hooks:
Served onsite as a production tech and was involved in daily installs and projects. He also served as the onsite tech during the tournament. He is grandson to the PR founders, Wayne and Sue Hooks and son to Dan Hooks, PR President.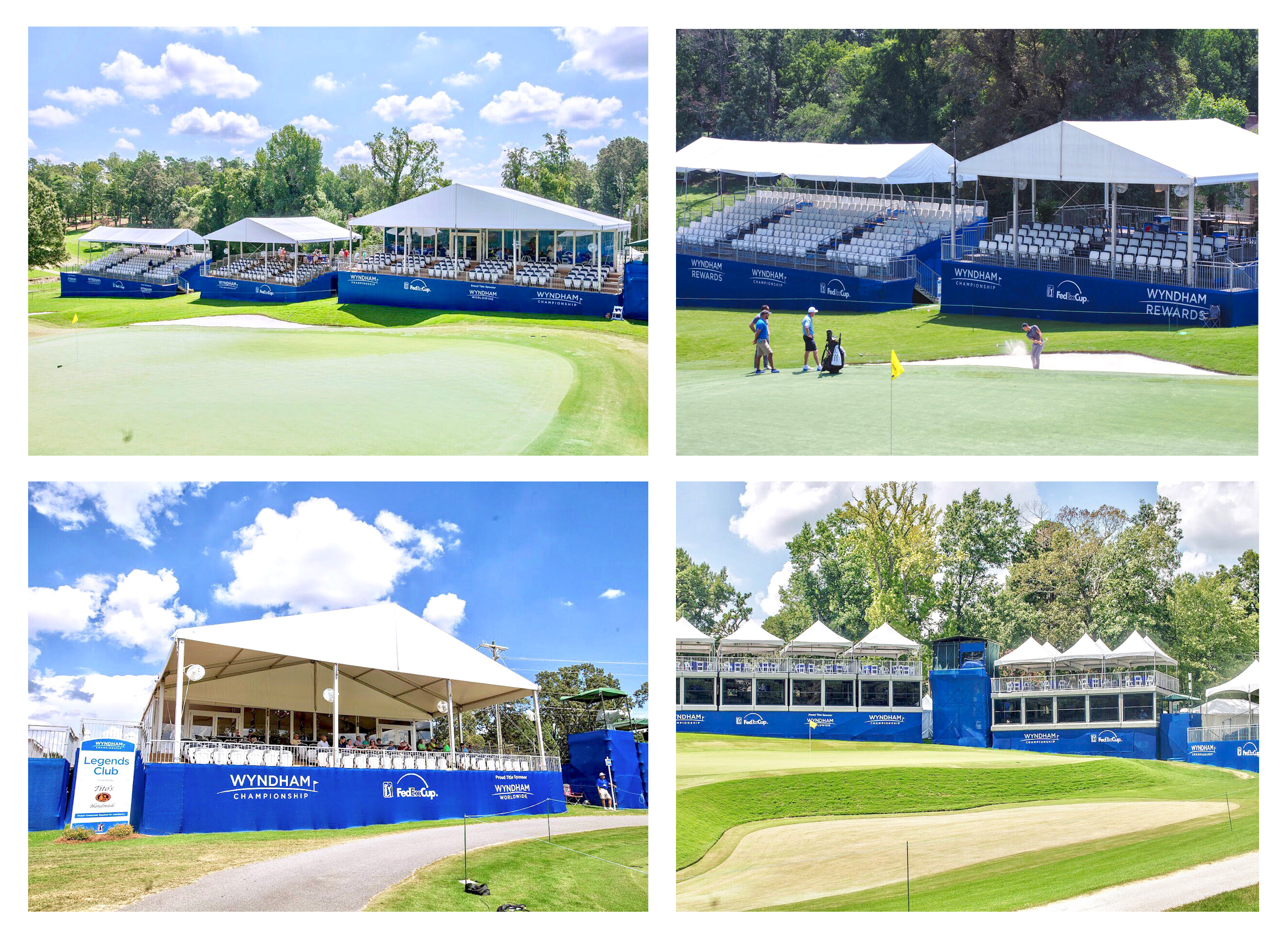 Q: What was the biggest challenge you faced this year?
A: Getting organized. Daily. We had to make sure crews were daily on task and manage product coming and going.
Q: What were you most proud of this year?
A: It was amazing to drive around the course and realize these were all out tents. Our crews had installed and detailed every one of them and the equipment under it. I was proud to know I had a part in making it happen.
Q: What was unique about this event and install?
A: Every suite we built was different. They all required intricate details and no set up was "standard". Tent legs had to be custom fit to accommodate each platform. No two set ups were the same. We had to treat each tent as a custom job.
DeBloise Payne:
Payne is a Field Supervisor and an 8-year Party Reflections veteran. He has been a lead on the Wyndham Championship install for the last 6 years. His knowledge of tenting and event installation surpasses most in our industry.
Q: What was one thing that was done this year that made a difference?
A: Preplanning was a part of our strategy this year and it paid off. We decided ahead of time who was managing certain aspects on site and in the warehouse. As an operations team we worked together to make sure we stayed on time with our deadlines and could figure out when something was missing.
Q: Is there a decision you all made this year that improved the overall success?
A: We decided to increase our labor force by 1-2 people daily and that made a difference in being able to produce all that was required. Also, the added benefit of an apartment in the area to not have to travel back and forth to Charlotte was perfect. We had full work days without the extra drive time.
Q: Is there something about the install that you are most proud of?
A: The Margaritaville Tent is always impressive. We changed the floor up a bit this year, but the overall design with fabric and furniture creates a great space. Being inside of that tent you are proud of our custom work and the way we integrate custom design elements.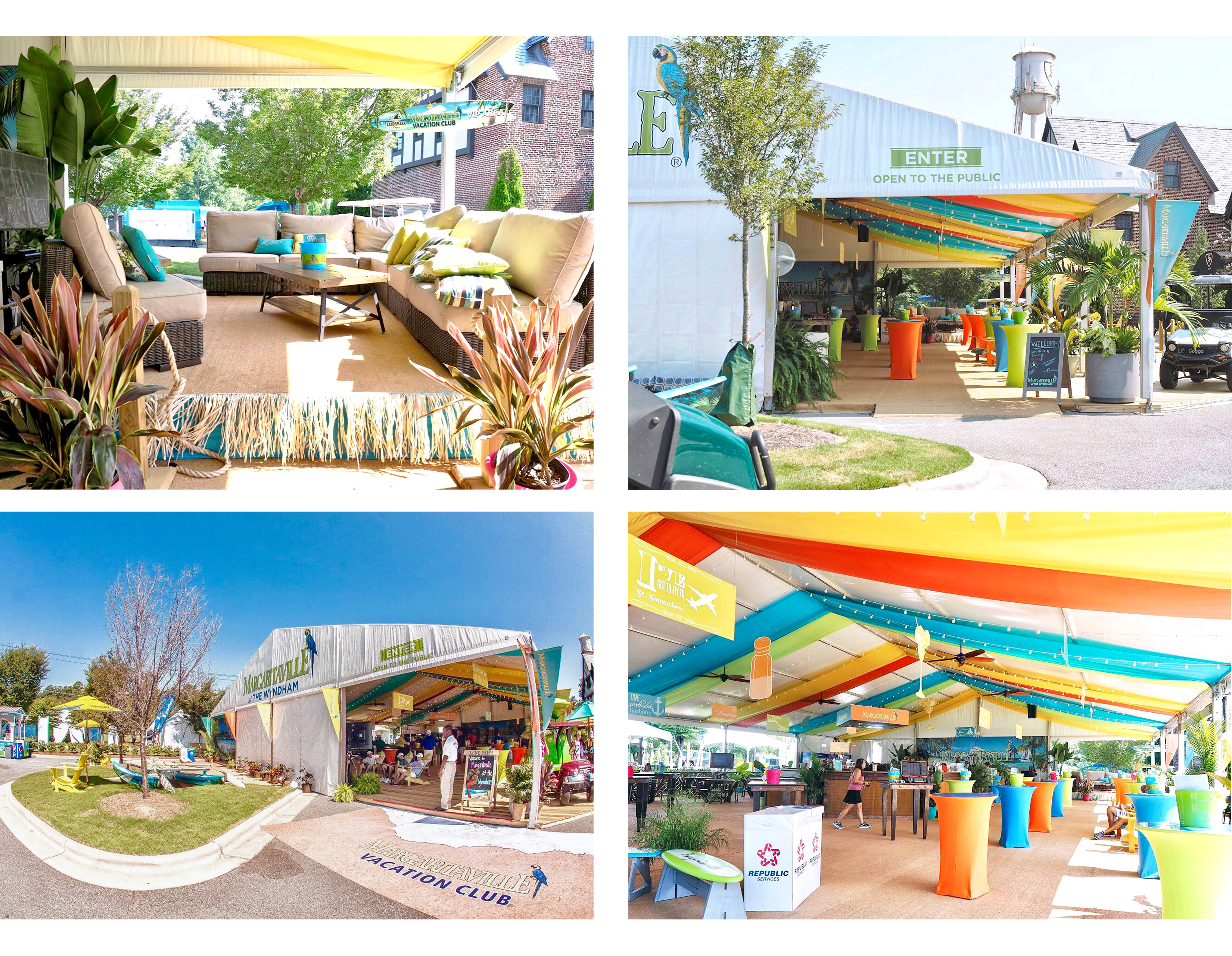 Q: If you were to attend the tournament as a patron for the day, which hospitality suite would you want a ticket for and why?
A: Skybox 15 or 16. Skybox 16 is the "Wyndham Beach" and it is beautiful. And Skybox 15 has a great view of the beach, and the volunteers there were so nice. I appreciate other people who work hard to make this a great event. I would choose box 15 for the people and the view.