Let Me Introduce You Pt.2
We have added more sales team members and we want you to meet them. Get to know them and come to depend on their expertise in all things event rentals. At Party Reflections, we believe partnership is the cornerstone of success. We want to collaborate on your rental needs and ensure that you have the most innovative solutions for your event.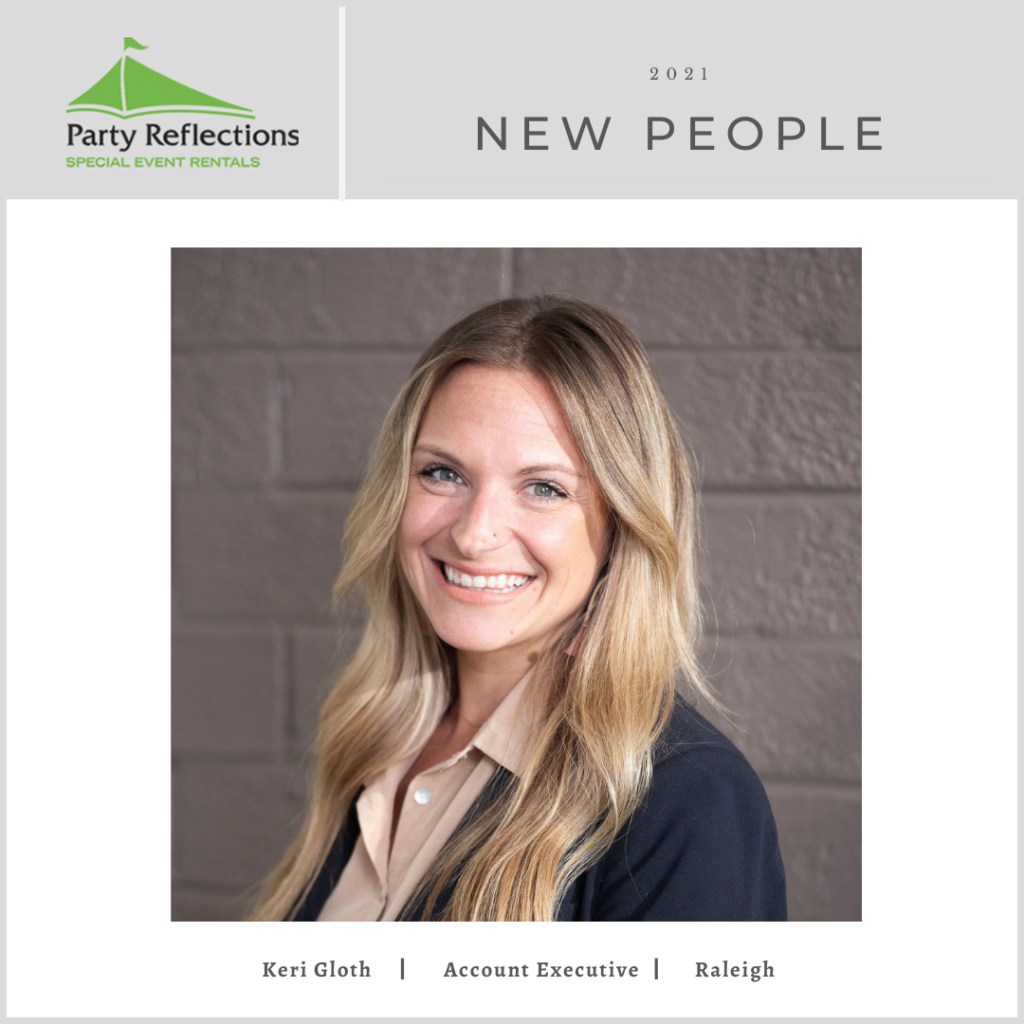 Keri Gloth, Account Executive
A Jersey native who relocated to North Carolina six years ago, Keri Gloth brings over 12 years of experience in the world of events to Party Reflections. Her extensive background spans from hospitality management to catering business development, bridal show production to corporate event production, and tradeshow coordination to coordinating events for the Raleigh Chamber. We are thrilled to have Keri bring these experiences, her passion for events, and great enthusiasm for building relationships to our team here at Party Reflections.
Over the last five years, Keri has had the opportunity to educate and engage the Triangle's event industry through innovation and collaboration with her fellow board members of ILEA Raleigh Durham. The last two years, she has been delighted to have served as Chapter President.
Keri dedicates her time outside of Party Reflections to her husband, Matt, their new addition, Tanner, and their two dogs, Zoey and Reece. She and her family enjoy exploring Raleigh's Greenway System and beautiful parks, as well as scout the Triangle's food and beverage scene. Keri also loves running, yes you read that right.. she loves running; and will be completing her third marathon this October.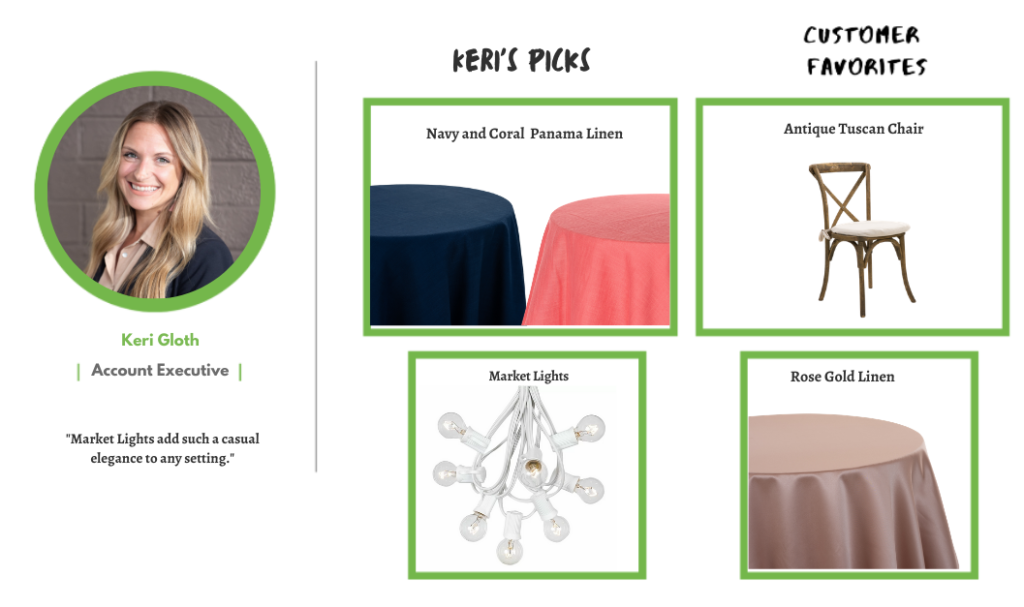 You can meet Keri at our Raleigh Showroom, located at 3006 Industrial Drive, Suite 100, Raleigh, N.C. Her contact information is P: 919.926.4774 | Contact Keri by email.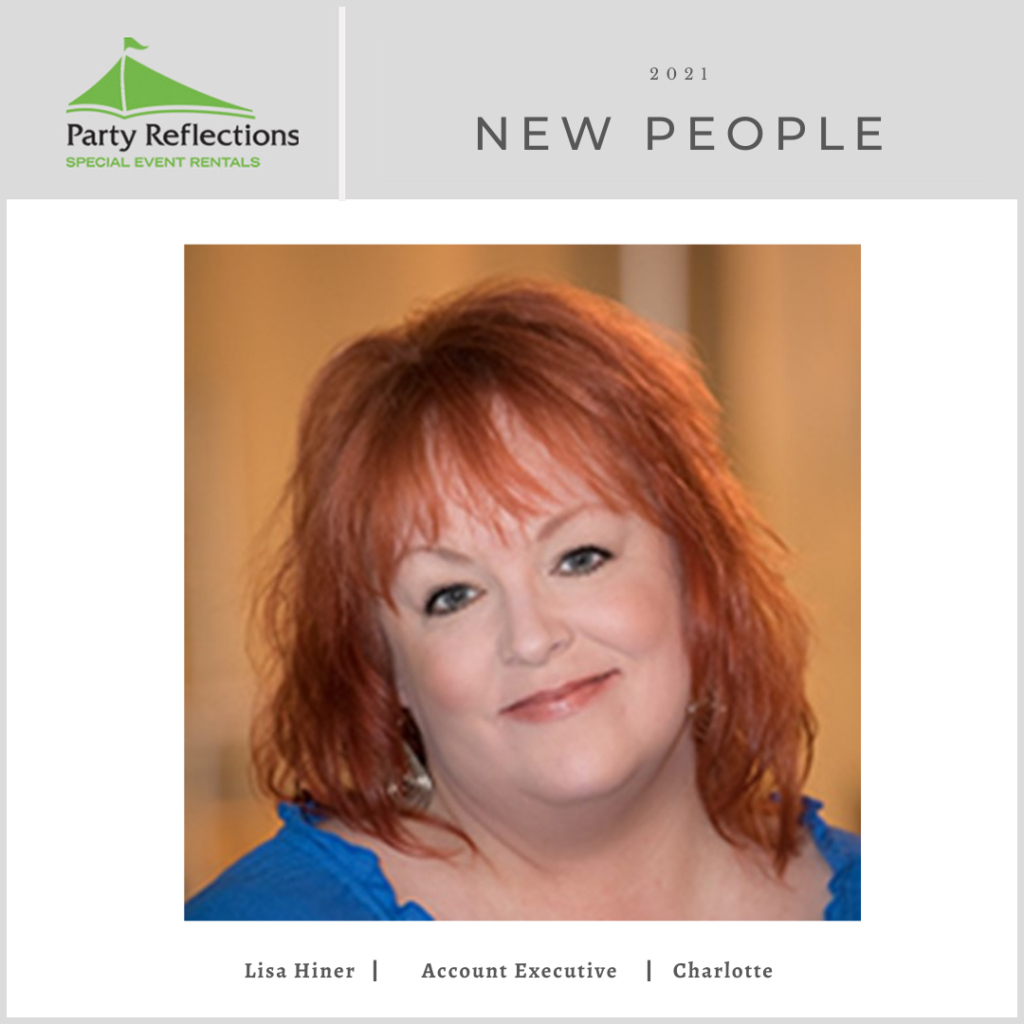 Lisa Hiner, Account Executive
Lisa is a native Charlottean who's been in the event industry since 1999. She's a proud graduate of Winthrop University. Lisa began her career in special events after organizing corporate and family events for fun. She found her true calling. Over her 22 years in special events, she has worked with all of the best caterers, event planners, venues, schools, wedding planners and festivals in NC. Helping brides plan for their big day has always been her joy. Seeing an event come to life, from conception to completion, is what it's all about.
As an Account Executive, she is able to pair her passion for creative, cutting-edge event design with her love of details. Lisa enjoys helping her clients bring their vision to life. She welcomes challenges, problem-solving and thinking outside the box. Her clientele count on her to be their partner.
When not at work, Lisa enjoys going to concerts and art galleries, singing karaoke, trying new Charlotte eateries, photography, traveling and spending time with her husband and their 2 Pembroke Welsh Corgis.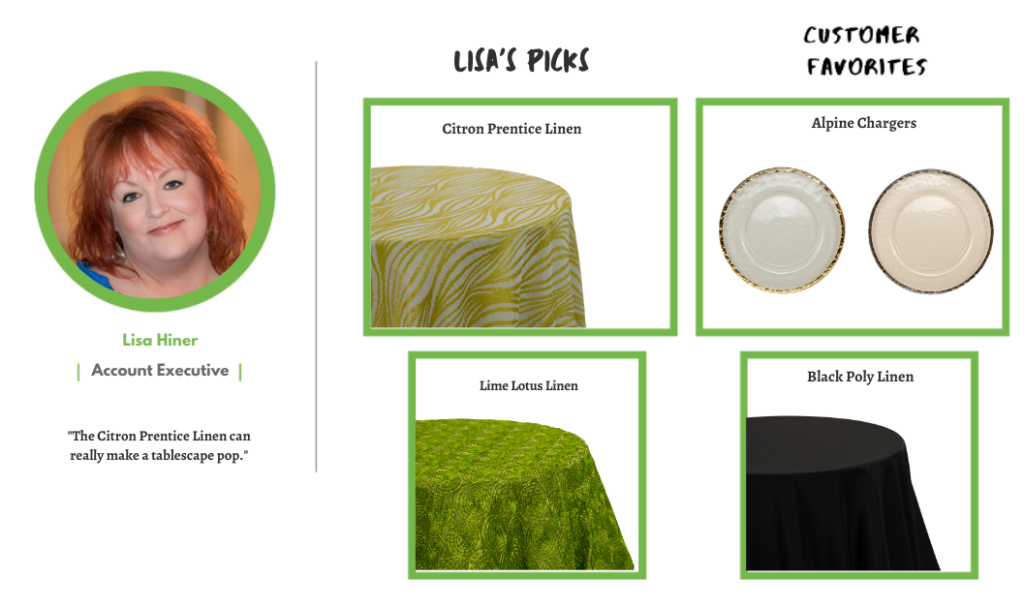 You can meet Lisa at our Charlotte showroom, located at 2750 Whitehall Park Drive, Charlotte, NC. Her contact information is P: 704.927.9717 | Contact Lisa by email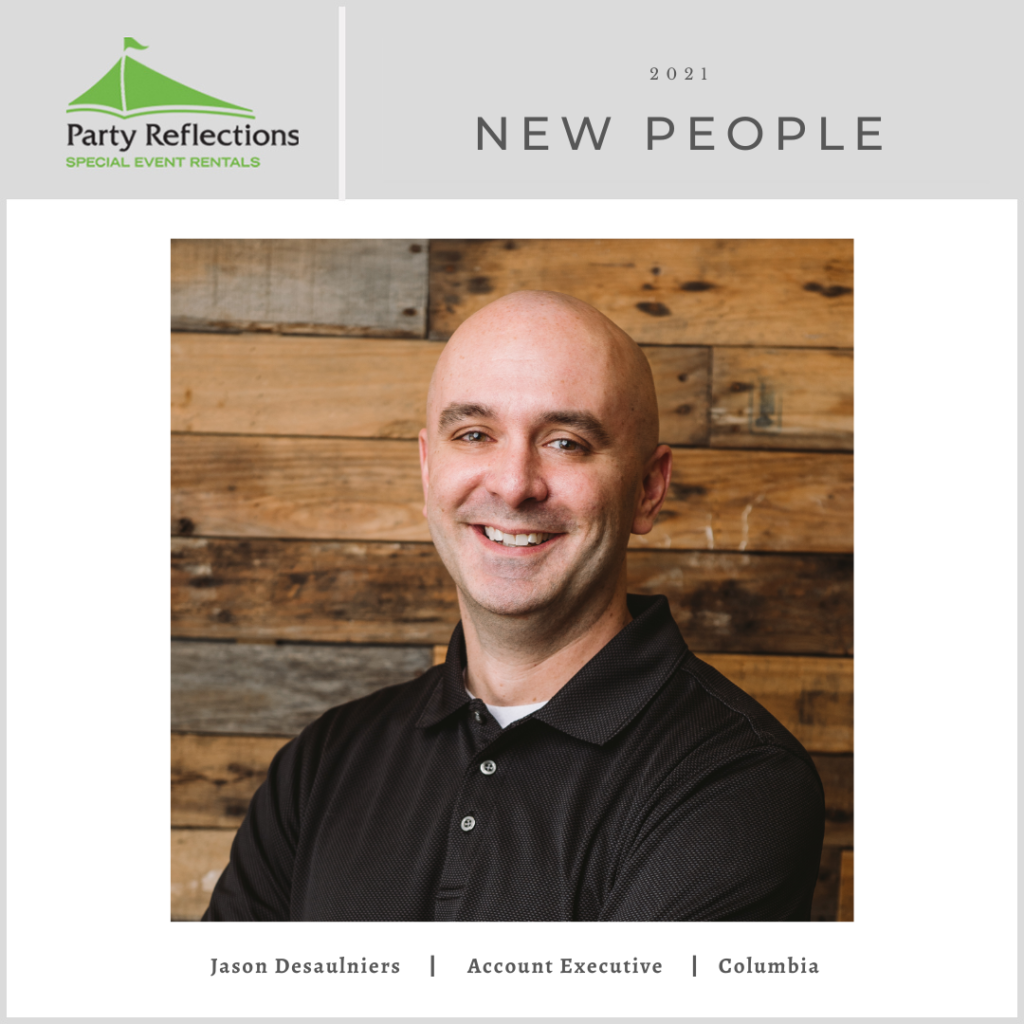 Jason Desaunliers, Account Executive
Jason joined our team in 2021 as a transplant from Virginia, bringing 10 years of event world experience with him from the Washington D.C. market. Jason loves making the event world his career and thrives in a fast passed work environment. He started his career in inside sales and was promoted to Event Manager where he oversaw day to day installations and being the face the clients could rely on to ensure there events went smoothly, Promoted to Senior Account Executive, Jason continued his career by building and maintaining long standing relationships. Prior to the event world Jason spent 10 years in Interior design where he was able to master his craft and bring his design experience to the event work.
Jason grew up in a military family moving around from Georgia, Mississippi, Hawaii and finally ending up in Virginia where he spent most of his time.  Upon joining the PR team, Jason relocated to Columbia SC with his two dogs.  In his spare time Jason enjoys taking long hike with his dogs, mountain bike riding, concerts, sporting events or just about any outdoor activity.
You can meet Jason at our Columbia Showroom, located at 196 Shop Grove Drive, Columbia, SC. His contact information is P: 803.978.9718 | Contact Jason by email
We are thrilled to have these folks part of our team and are so thankful for the expertise and passion they bring to Party Reflections. Learn more about each of or teams by reading about them on our city specific pages: Columbia, SC, Charlotte, NC, Raleigh, NC.
Related Articles