Meet some of our newest staff members to join our sales and management teams. Get to know them and come to depend on their expertise in all things event rentals. At Party Reflections, we believe partnership is the cornerstone of success. We want to collaborate on your rental needs and ensure that you have the most innovative solutions for your event.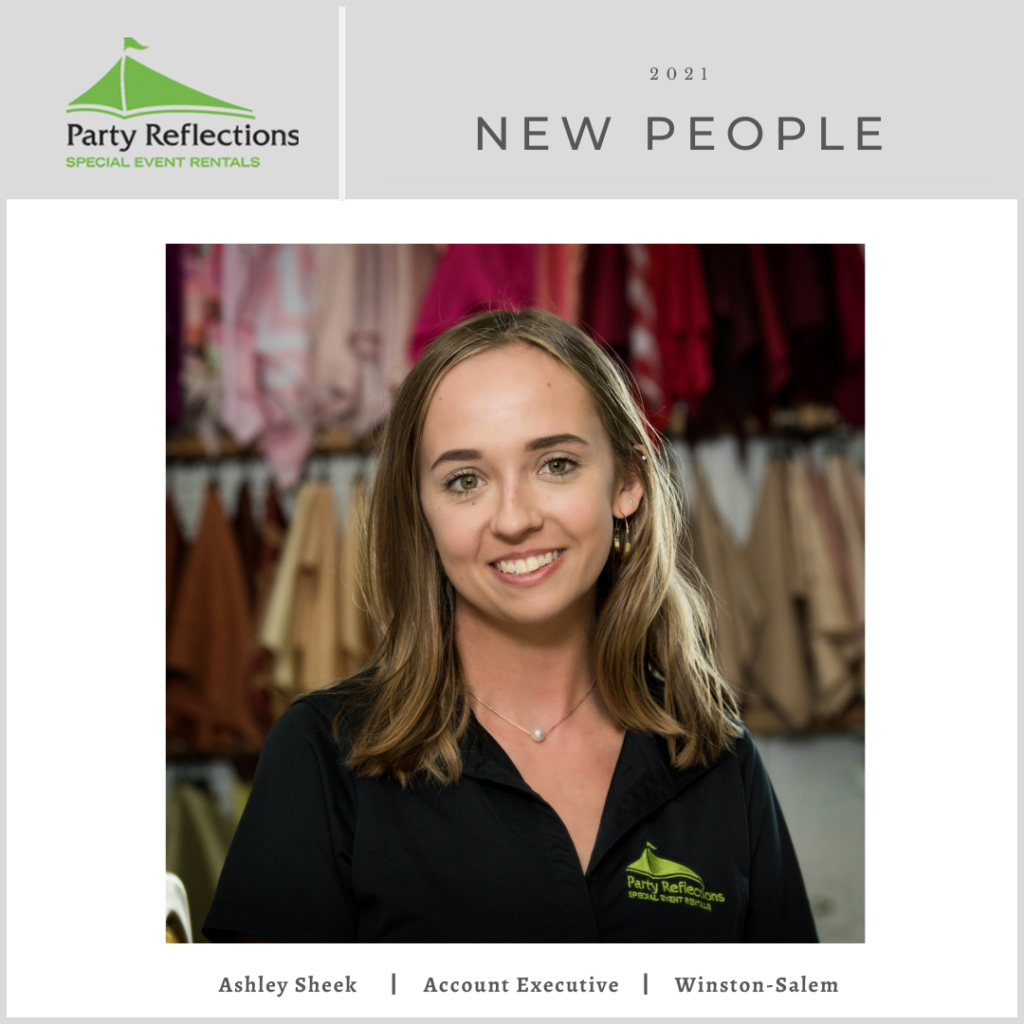 Ashley Sheek, Account Executive
Ashley was born and raised in North Carolina. She is an alumna of Western Carolina University where she earned her bachelor's degree in Hospitality & Tourism Management. Ashley found her passion in events by working in various areas of hospitality across North Carolina. She knew the event industry was for her during her college internship with a wedding venue. Ashley loves working to help bring people's dream events to life! When out of the office, Ashley enjoys spending time with her boyfriend, friends and family, as well as painting, golfing, and attending live music events.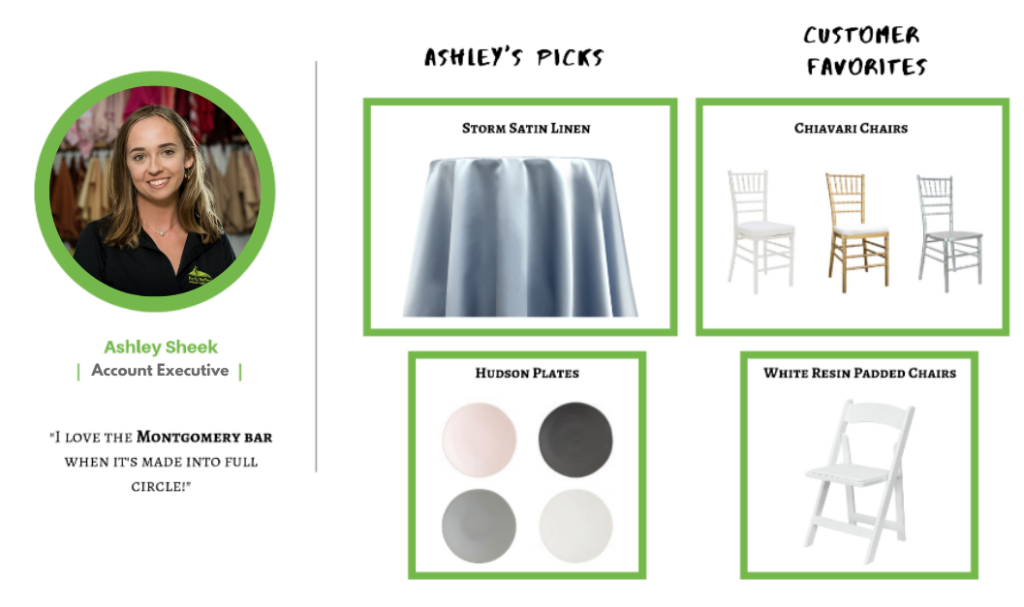 You can meet with Ashley at our Winston- Salem showroom, located at 2540 Somerset Center Drive, Winston-Salem, NC. Her contact information is: P. 336.279.7174 | Contact Ashley by Email
Internet Sales Consultant
With the increase in virtual client needs and online ordering, Party Reflections decided to create a position completely dedicated to handling our internet leads and inquiries. This position services all of our locations and manages the orders that do not require in person meetings or site visits. Any request that has more involved needs or is larger in scope, will be distributed to our local level account executives to manage.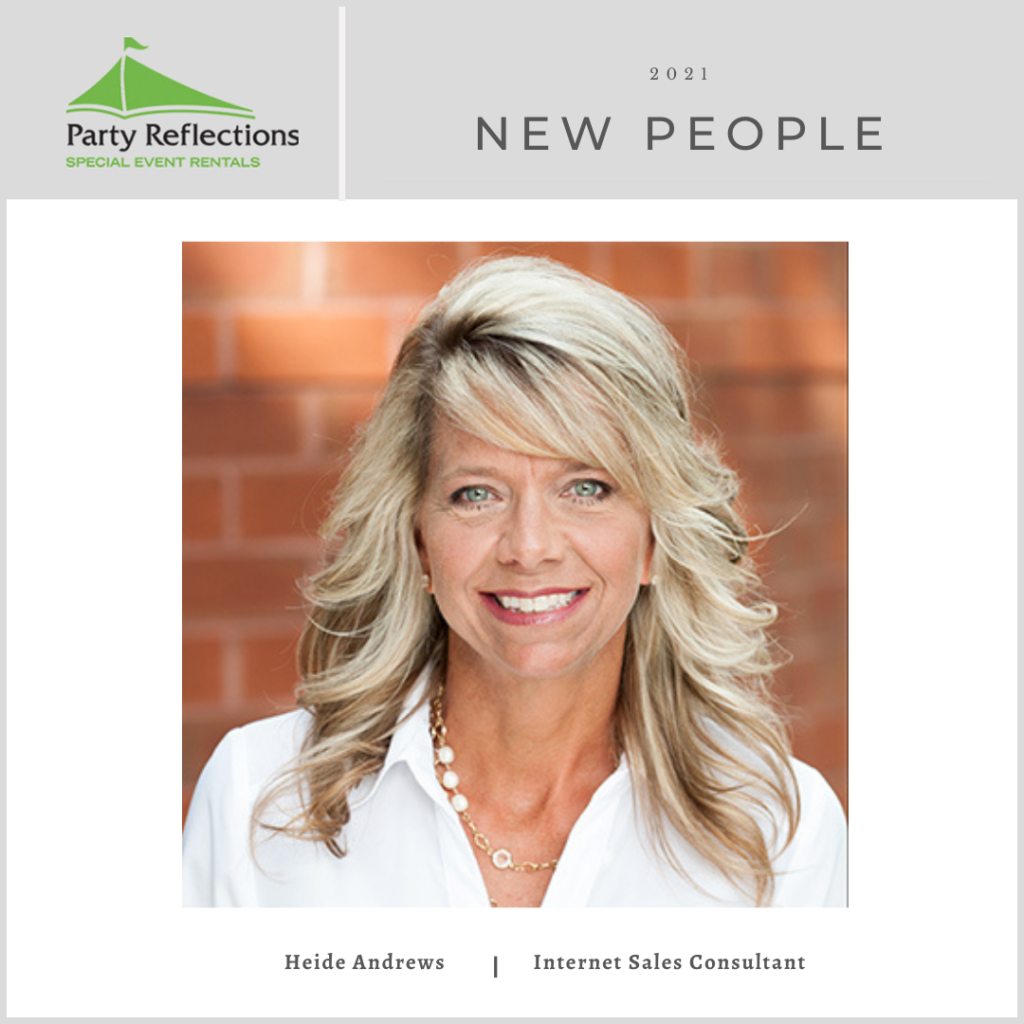 Heide Andrews, Internet Sales Consultant
Heide was born in New Jersey and lived there until the age of 10 when she and her family moved to North Carolina. Heide started her career in the special event industry in May 2016 after being a stay at home mom for 20 years. Not knowing exactly what to expect entering back into the workforce, she quickly adapted and became very enthusiastic and excited about this new chapter in her life. She enjoys interacting with new and existing clients and helping them make their dream a reality.
In her spare time, Heide enjoys cooking, wine tasting, being outdoors, spending time with friends, and the three most important men in her life, her two sons Nicholas and Nathan and her grandson Zane. She considers being a mother and "Gigi" two of her most rewarding and greatest accomplishments in life.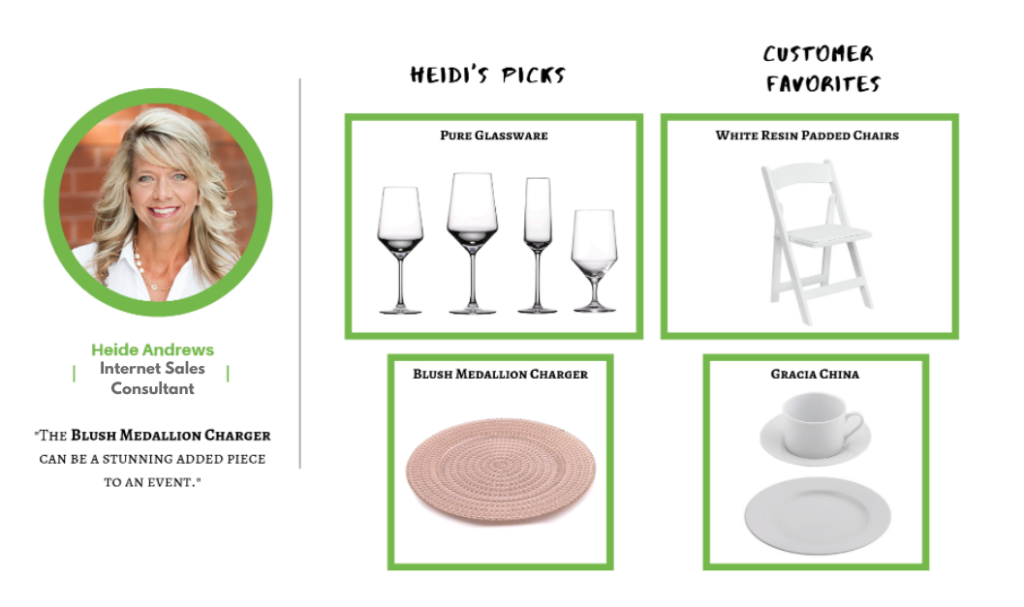 You can reach Heide through any of our internet contact forms at partyreflections.com . Her contact information is: P. 336.279.7175 | Contact Heide by Email
General Manager
The role of General Manager at Party Reflections is key to the success of the location. It is someone who can manage operational needs and tempo, as well as manage customer needs and a sales team. the GM makes sure we hit our mark with the production of an event from start to finish. While it is the responsibility of one, it is not achieved without the effort of the whole team. From account executives to warehouse staff to the delivery personal, every team member is vital to creating memories for our partners and clients.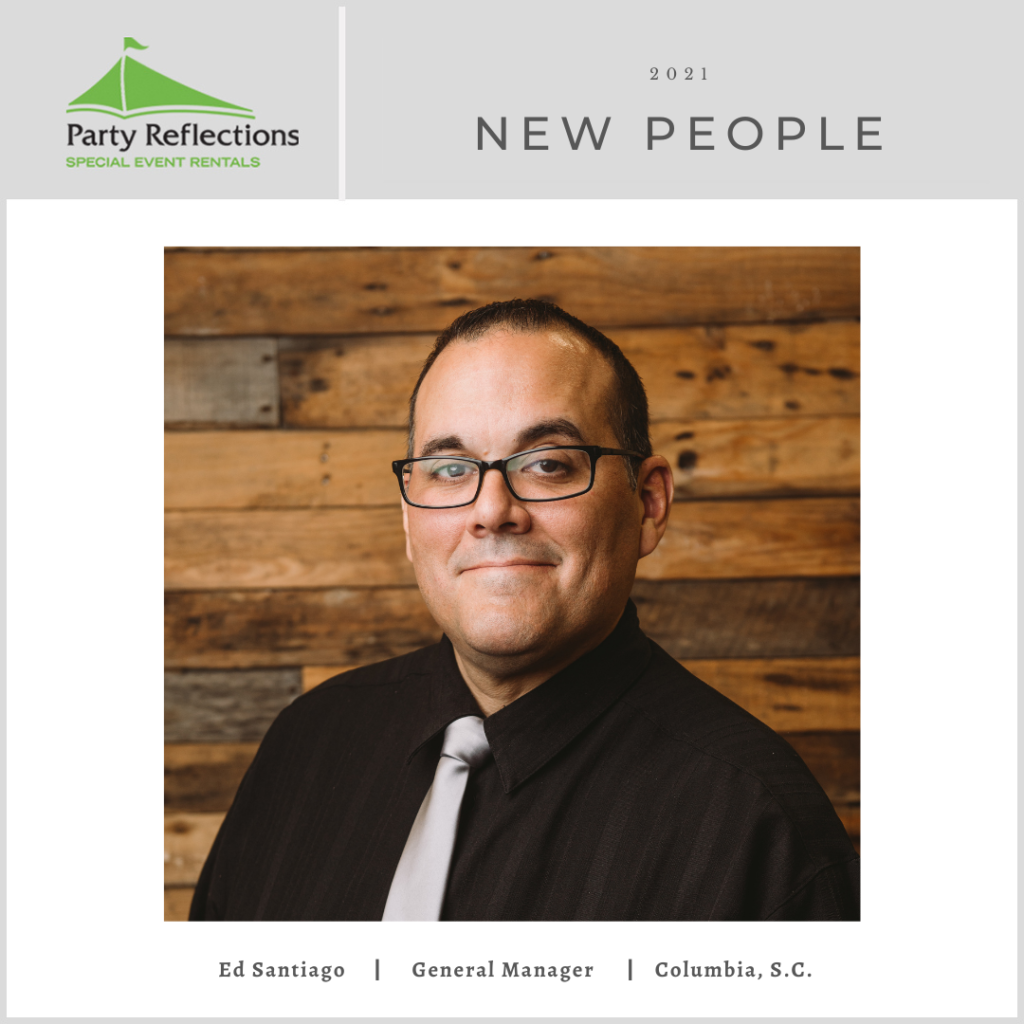 Ed Santiago, General Manager
Ed brings nearly 10 years of experience working in the high-paced, events industry of the Washington D.C., Northern Virginia, and Southern Maryland region. Ed is well known for consistently exceeding his client's expectations and developing lifelong business relationships. His event rental career started with inside sales and was quickly promoted to Event Manager where he continued to excel becoming a Senior Event consultant. Ed also gained experience serving as a MOD (Manager on Duty) and a SCIT (Safety Committee Internal Trainer) team leader during his previous roles.
Ed is a graduate from Grand Canyon University. He was born in San Juan, Puerto Rico, but grew up in Northern Virginia. Upon joining the PR team, Ed relocated to Columbia, SC with his wife and his two younger daughters, as well as his flat-coated retriever and cat. His oldest daughter attends college in Jacksonville, Florida and his oldest son will be moving to Surfside, SC in the fall of 2021. In his spare time, Ed enjoys being outdoors and going mountain biking and hiking.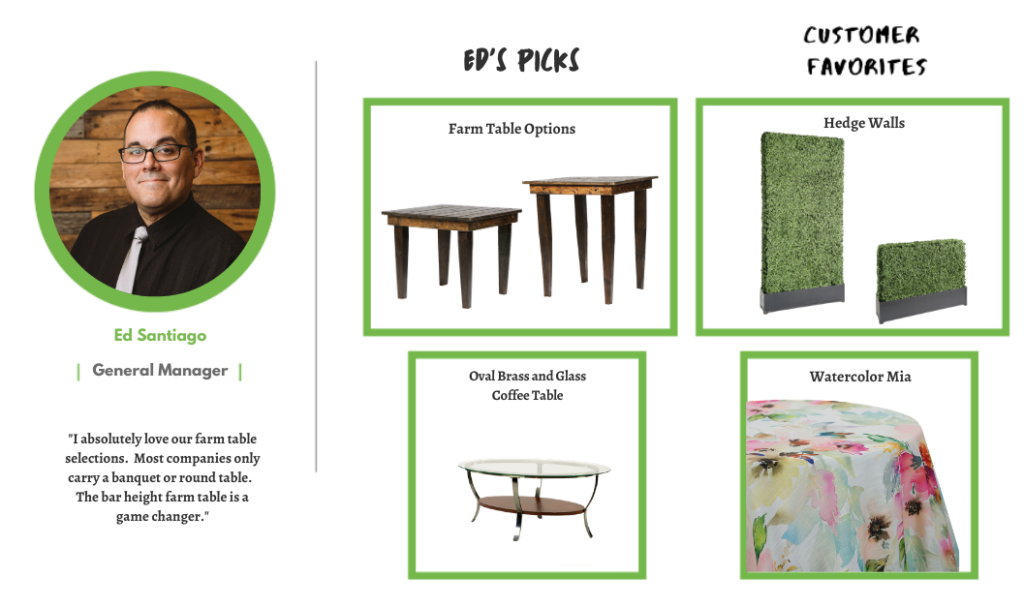 You can find Ed at our Columbia location, 196 Shop Grove Road, Columbia, SC. His contact information is: P. 803.978.9710 | Contact Ed by Email
We are thrilled to have these folks part of our team and are so thankful for the expertise and passion they bring to Party Reflections. Learn more about each of or teams by reading about them on our city specific pages: Columbia, SC, Charlotte, NC, Winston-Salem, NC, Greensboro, NC, Raleigh, NC.