New Product Available Summer 2021
The new Fairway Chair is available in barstool height and standard height. The barstool is available in both black and white and the chair is only in white. They are a resin material that could work great for outdoor settings but equally well indoors. They are a stacking style chair a do not fold. The seat is solid and slightly contoured. The back is also contoured but has a an open pattern that is reminiscent of a golf ball texture, hence the name "Fairway." These chairs pair well with the new palmer tables but could go well with any of our tables. They are a comfortable option for seating and will add a unique design element to your next event. Contact our team and get more information on this special event rental product launch.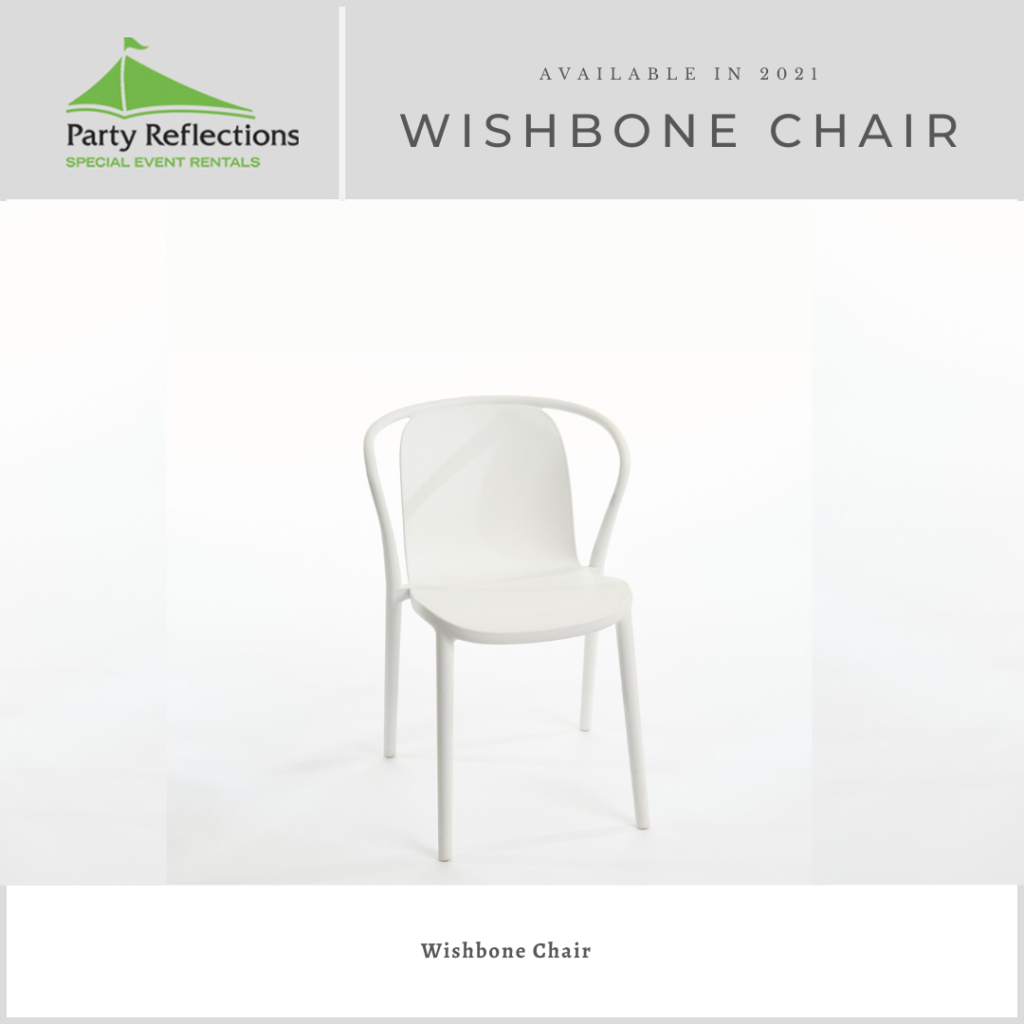 The Wishbone chair is a molded white resin chair that is stacking in design and does not fold. The solid seat and back are contoured for a comfortable fit. There are pseudo arms on the chair to give it a stylized mid-century modern look. The arms are more for style than comfort or use. These chairs pair well with the new palmer table or any of our industrial looking options. It also would go great many of our linens, especially a bold geometric print! We have a smaller quantity of this style chair, so reserve early if you want to use it at your next event.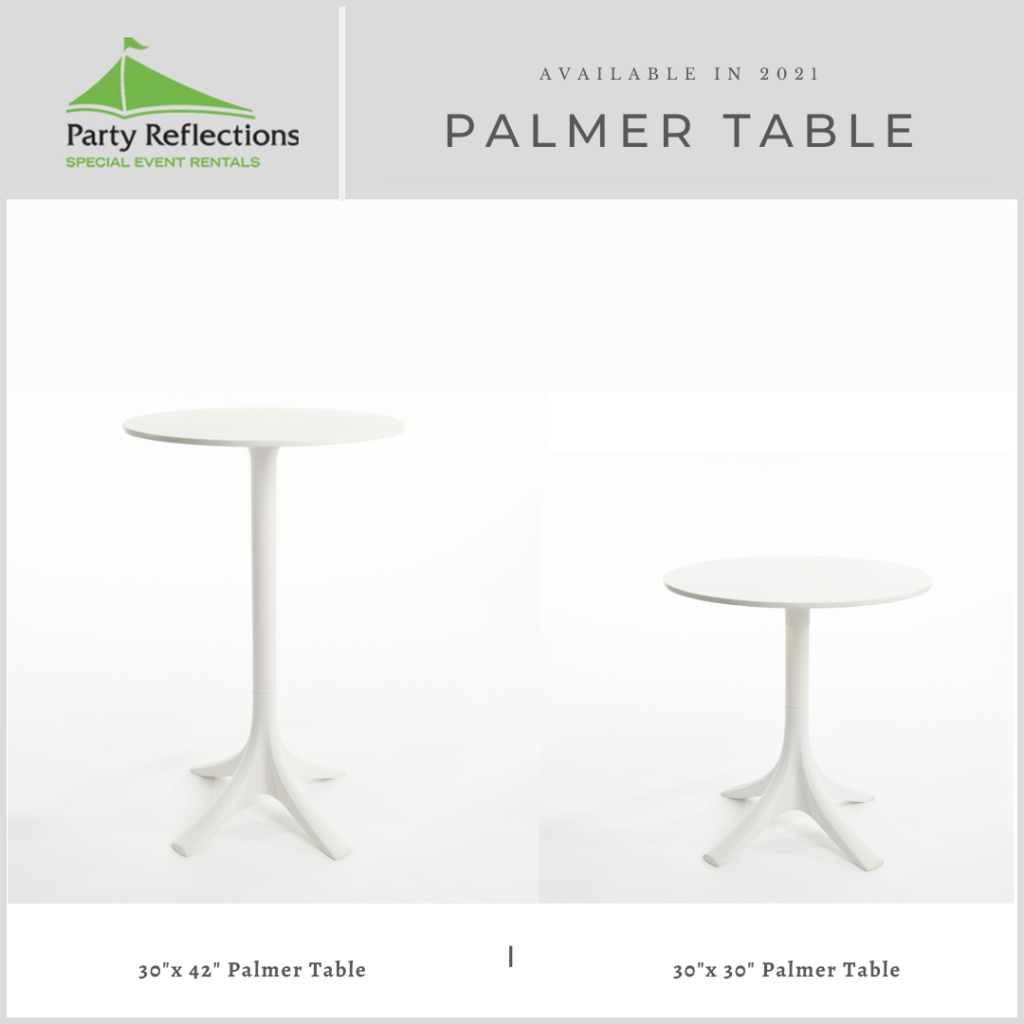 The Palmer Table is a a clean, modern style that can be used indoor or outdoor. It is a white resin material that has a solid construction base that supports the 30″ round top. There are 2 sizes available in the 42″ high cocktail or the 30″ high standard table height. These will pair well with the new Fairway or Wishbone Chairs.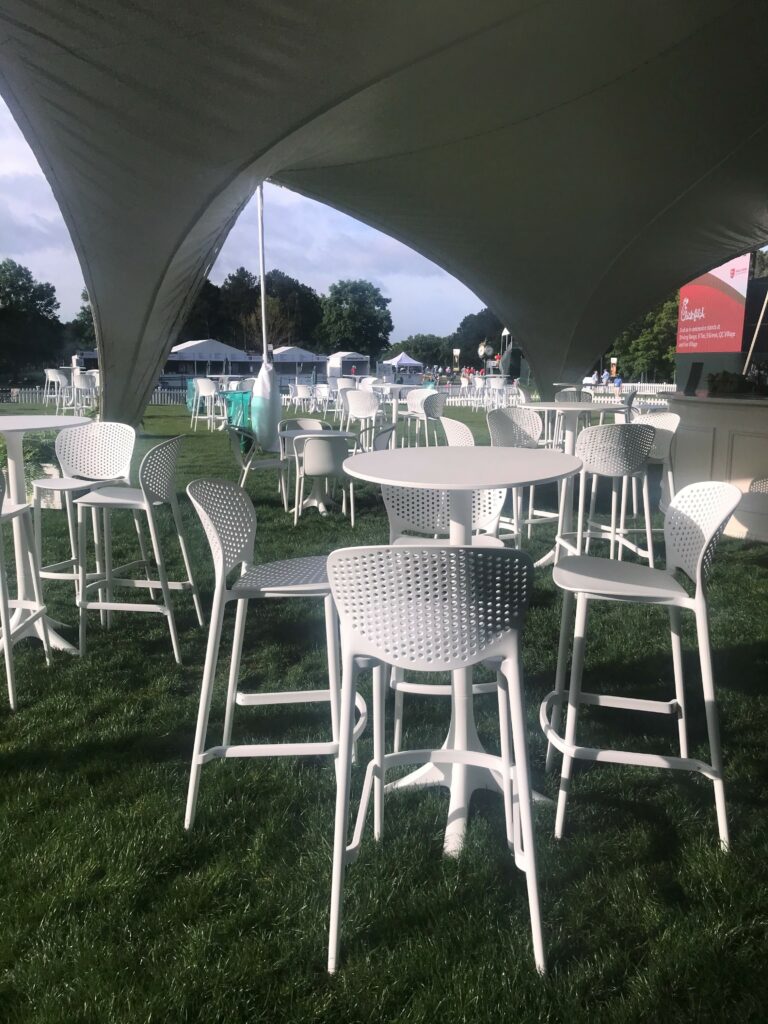 If these new products have inspired you to plan an event then take the next steps by contacting any of our locations to get started. We have design centers in each location where you can pick your event rentals and start planning for your special occasion. If you want to rent a tent, our account executives can help determine what size you will need and get a logistical plan in place to make it happen! Visit our tents page to learn more about the types of tents we offer. Browse our catalog to get information on specific products and scroll through our gallery pages to see how we have helped others with their event rental needs. #PRexperience
FOOTNOTE:
Most of the above images were captured while onsite at the 2021 Wells Fargo Championship held in Charlotte, North Carolina. The tournament is played at Quail Hollow Club. We have serviced the tournament as a vendor for the last 15 years. As we bring new product to market for the tournament we are happy to get to utilize it for other events around North and South Carolina and for other PGA events we service on the East Coast.