2022 Queen's Cup Steeplechase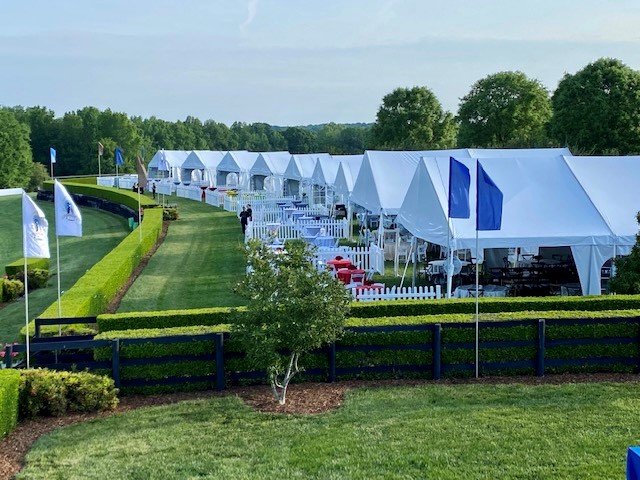 The Queen's Cup Steeplechase celebrated its 25th anniversary this past weekend. After 2 years of waiting until they can have a full audience, it was highly anticipated and did not disappoint. As the official event rental supplier of the steeplechase, we were anxious to see all the tents in the air and the patrons dressed ready to celebrate. This immaculate property, located in Mineral Springs, NC, hosts the annual horse races with all its grandeur. The Queen's Cup is hosted by Bill and Carrington Price, the founders of the event. Bill says " it is a great big lawn party where the horses are invited."
With a party this size, it certainly requires a large amount of tents. Out team installed 255 tents over a 9 day period starting in early April. We averaged around 16 installers onsite per day. On top of that, 25 truck loads of additional, non-tent related equipment was also delivered to ensure guests had all they needed for the ultimate tailgating experience.
While months of pre planning and weeks of installation were involved, the morning of race day crews had to be onsite by 5am to begin the installation of linens throughout the hospitality tents and lawn boxes. Being on course to watch the sunrise is a beautiful thing. However, these folks did more working than watching to make sure everything was ready to go!
Décor and design
Party Reflections first worked with Queen's Cup Steeplechase in 2014. Kathryn Meyer, Party Reflection's Senior Account Executive, has managed the event every year. This year has been the biggest in race history and was completely sold out. With capacity crowds, it was important for Kathryn to ensure our logistics and operations crews had what they needed to begin the lengthy install. Kathryn shared, she "enjoys working with the sponsor tents to help them find the perfect design and stay in budget all while creating a branded hospitality suite." It is also a delight to see what the Queen's Cup staff picks for the Elkridge Club tent each year. This year it was pretty in pink and included our Watercolor Mia linens. This tent always coordinates with the lawn box seating adjacent to the tented area. The pretty décor on course can only be outdone by the fabulous hats seen worn that day. There is always a contest and certainly the perfect winner was the 25th anniversary hat, pictured here with Sir Pur. Individual orders placed by attendees were handled by Morgan Arvoy, account executive. That piece of the event is tedious in nature but allows guests to have their rentals needs onsite when they arrive.
These are arial shots from previous years events to show the size and scope of the job It is truly hard to take in from one vantage point. The property covers hundreds of acres and still give guests up close views from the fence line.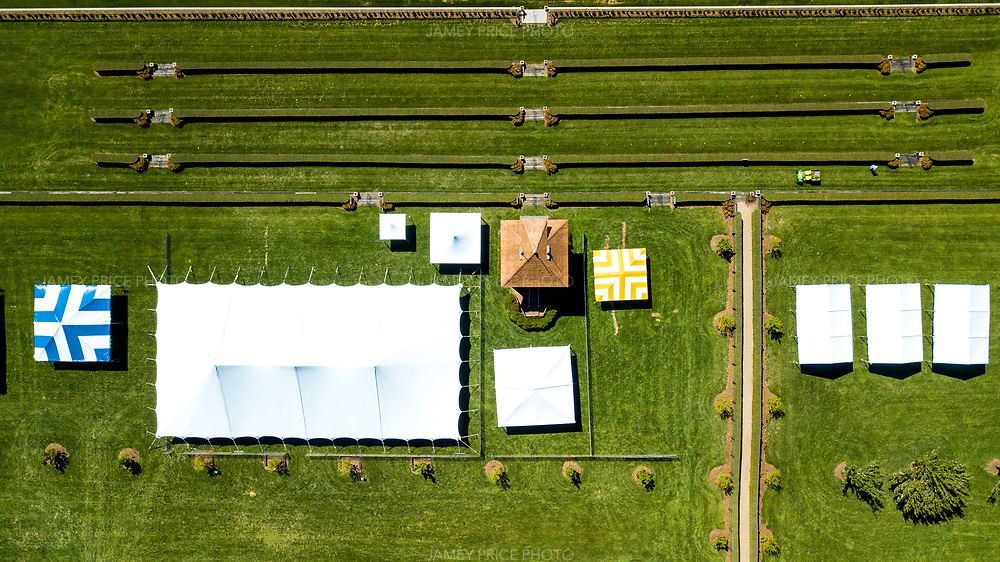 Install and logistics
The project was managed onsite by Christian Eastman, Party Reflections VP of Sales and assisted by Matt Jarina, a Charlotte field production lead. Together these gentlemen built a virtual tent city that was enjoyed by 15,000+ fans of horse racing and a good tailgate party. Eastman says "the Queens Cup is one, if not the, most challenging events we produce each year. Tenting and equipment is spread around the two mile track, so attention to detail and our logistical planning has to be spot on. This year we installed over 250 tents for the race while also delivering 165 additional and individual client orders throughout the race grounds." Their tireless efforts combined with the efforts of the entire Party Reflections field, warehouse and sales teams delivered a spectacular event for the Charlotte region.
Thanks to the PR team members, Livan, Shelby and Christian, that shared their photos while onsite. Including below of Greta Johnston who attended the event and of course had a fabulous hat to show for it. Party Reflections provides, tents, tables, chairs, linens, china, food service equipment. lighting and anything you would need for an event, large scale or small. Our offices are in Raleigh, Greensboro, Winston-Salem and Charlotte North Carolina and Columbia, SC.